An Inspector Calls Generation Gap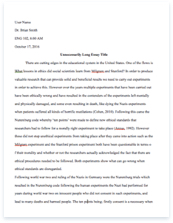 The whole doc is available only for registered users
A limited time offer! Get a custom sample essay written according to your requirements urgent 3h delivery guaranteed
Order Now
J.B. Priestley demonstrates the differences in attitude of the younger generation and older generation by presenting them with the same problems and seeing how their reactions differ from each other. We see that the younger generation, overall, is more open­minded and honest in regards to the death of Eva Smith, while the older generation is resistant and very certain in their own ways.
Mrs. Birling is critical to the girls of the younger generation. "What an expression, Sheila! Really, the things you girls pick up these days!" Mrs. Birling looks down on the younger generation and categorizes them all into a group that she believed to be illogical, and continues on by criticizing them. Mr. Birling has much confidence in himself which explains why he is very set in his ways. "Just let me finish, Eric. You've a lot to learn yet." Taking Eric's youth into consideration, Birling refuses to listen and thinks of Eric as incorrect and foolish. These are just two examples of how the older generation is extremely set in their way and how overconfident
they are. Because of these attributes, they always believe themselves to be right, which in turn causes them to see the younger generation as foolish. The older generation will also do anything to protect themselves and be on the safe side, which could include lying or using selective truths to come off as innocent.
Related Topics