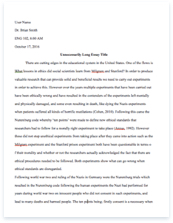 The whole doc is available only for registered users
Pages: 3
Word count: 662
Category: America
A limited time offer! Get a custom sample essay written according to your requirements urgent 3h delivery guaranteed
Order Now
Since The American Red Cross (ARC) was founded in 1881, its mission has been to "provide relief to victims of disasters and help people prevent, prepare for and respond to emergencies". They are an independent organization, supported by public donations and volunteerism, and is one of a handful of organizations chartered by the United States government, joining more than 175 other national societies in bringing aid to victims of disaster through the world. Consisting of more than 700 local chapters across the country, the ARC is the Nation's largest disaster mass care service provider, providing sheltering, feeding, bulk distribution of needed items, basic first aid, welfare information, and casework, among other services. The American Red Cross follows seven fundamental bylaws, which all Red Cross societies must obey: humanity, impartiality, neutrality, independence, voluntary service, unity, and universality.
The Stakeholders
The ARC has a stakeholder obligation to fulfill its charter's expectations and deliver these promises effectively and efficiently. Some of the organizations stakeholders are their volunteers/employees, donors, communities, governments and regulators, and non-government organizations. The volunteers and donors are especially important given that the ARC is a non-profit organization that depends on their volunteers to provide service for those in need. Addressing stakeholder needs is an ongoing challenge for an organization, especially those of the ARC's thousands of donors.
The Problem
The ARC has not been perfect inside the organization's walls. Facing many ethical risks and challenges, they have had to address allegations of fraud, bribery, and even theft on the part of volunteers and employees working for the organization. They have also faced a number of other internal challenges regarding executive turnover, employee misconduct, charges of overcompensation and possible corruption among its board of directors and upper management.
One of biggest concerns has been how The ARC has been criticized for a number of things, including the risks with its disaster response duties. Specifically, the ways in which they handled the 9/11 terrorists attacks on New York City's World Trade Center in 2001 and Hurricane Katrina in 2005, were considered as inadequate and poorly managed. Beginning as early as the day of the incident on September 11, 2001, the Pentagon called President Healy of the Red Cross to ask, "Where the hell are you guys? Where is the Red Cross?" showing how early the criticism of the ARC's responses started.
Especially damaging to the stakeholders that day being the victims and those injured, that more than a day after the Disaster Operations Center (DOC) failed to activate their specialized teams normally sent out after certain disasters.
The ethical issue of asking for funds for 9/11 relief efforts, and then appropriating those funds for other purposes, created an explosive debate. After 9/11, Healy created a separate fund for donations earmarked for the victims called the "Liberty Fund," which had received $543 million in pledges
In an article in the New York Times, Hurricane Katrina evacuees said, "the program has been too secretive and strict, and its money too limited".
Alternatives
The ARC has alternative courses of action that were examined by the major decision-makers of the organization.
Transparent, honest reporting of the ARC's goals, accomplishments, opportunities for improvement, and mistakes would go a long way to restoring the country's trust in the organization.
Personally, I admire the changes that have been publicly made for the organization, but I believe that only holds an insufficient amount of water considering those changes were only made after facing criticism and ethical internal challenges. I found it interesting that not once does the word "ethics" appear in a single item in the main promotional document provided to governmental agencies by the ARC. For an organization whose mission is to help those in need, witnessing life's most catastrophic disasters, to believe that something like ethics will automatically occur in that organization is just plain naive. Above all, I think that should be the first step to building a stronger organization. If society believes they have individuals that stand for ethics, they will be able to regain their trust in the organization.
Related Topics