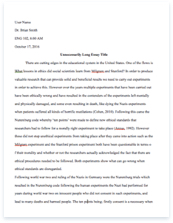 The whole doc is available only for registered users
A limited time offer! Get a custom sample essay written according to your requirements urgent 3h delivery guaranteed
Order Now
In the last stage of KU Consulting analysis we will examine an in-depth look at Albatross Anchor. Albatross Anchor is a family business that has been in business for over 35 years. During that period they have built long lasting relationships with business partners and recognized in the industry. They have built strong name recognition and known for their quality product. These are some of the strengths that distinguish Albatross Anchor from competition. KU Consulting will address four primary challenges identified and set possible solutions. Also there will be discussion about possible building alternation that will improve Albatross Anchor's operations. KU Consulting will make it a top priority to not impose a high expense on Albatross Anchor, but only include what is necessary to remain best at operations. Question one
Challenge one: Time Management
The production timeline for Albatross Anchor's primary product is currently at a slow pace and affecting their ability to meet their customers demand in a timely manner. One of the most noticeable is that there is a 36 hour changeover period. This creates a high production cost because during this period the employees are still being paid while no goods are being produced. When companies are placing large orders, they are taking on average four weeks to be made. Albatross Anchor maybe losing re-peat business from these clients due to the long time it takes to produce.
Albatross Anchor must take action as quickly as possible in order to cure this problem without further losses. Albatross Anchor must take all possible actions to try to eliminate the 36 hour transition period or reduce it to the lowest possible level. The scientific management method can help drastically reduce this time by analyzing each step and giving it a solution. A closer in depth analysis of each step would result in a better operating procedure that would increase efficiency. One of the best ways to eliminate this problem and long transition period would be the purchase of new equipment and update current inventory (Russell & Taylor, 2011). This may be a costly expense buying new equipment and updating the current inventory, but a vital change for Albatross Anchor to survive. Albatross Anchor is running behind on losing business because it cannot deliver on a timely manner. They must invest in this equipment in order to start keeping up with demand and stay in business. Challenge two: Cost Management
There is a high production cost due to the 36 hour changeover transitional period. The goal of a product manager is to complete the project on time within a budget (Elyse, 2006). Albatross Anchor is primarily and manufacturing facility. Most of Albatross Anchor's employees are laborers and during the 36 hour transition period a very high expense will be paid out to employees for no output. Having such an expense will hurt and affect Albatross Anchor ability to keep producing in the future. Albatross Anchor is incurring a real high expense and not using effective cost management techniques to eliminate this problem. If there were twenty employees in charge of the changeover at an average salary of $12.00, that would come out to $8,640 loss each time the transition take place. No anchors are being produced and inventory is in idle in the storage area. Each time this transition period takes place; there is a potential loss due to the downtime of production. Albatross Anchor can add a second railroad spur for international shipping and that would help ease congestion with the receiving department. This will be less costly and will have great significance on improvement for the facility. Challenge three: Technology Adaption
Current equipment in the Albatross Anchor facility fails to provide multifunctional capabilities. This is the primary reason why Albatross Anchor is behind on production and takes a long time to produce its product. The manufacturing system is antiquated and needs to be updated. Technology alters the work environment, creating new routines and conditions, new problems develop (Johnson, 2007).This is the major affect on Albatross Anchor ability to produce their products in a timely manner. Albatross Anchor does not currently have an ordering system and tracking system in place. This is why Albatross Anchor has an idle inventory issue. Albatross Anchor must be willing to properly address the technology issue and update their system in order to resolve these problems.
This will require Albatross Anchor to make a capital investment which can be costly in order to replace current equipment. Replacing this outdated and antiquated equipment will have a lot of long term benefits towards the company. This change is also a necessity to remain in business and not risk losing top clients due to lengthy production. Any component on the factory floor that can be replaced by a multifunctional machine should receive close attention. The change of the current floor to become a one multi-service machine will take care of the changeover time and reduce production time. Challenge four: Supply Chain Management
There has been a defective incoming and outgoing scheduling that has affected shipping and receiving procedures. Incoming raw material and international shipping are conducted at the same rail road spur. This can create a conflict and slows the process down. Albatross Anchor's inventory forecasting is not managed well which results in prolonged wait times on some orders or idle inventory. These inefficiencies are due to a lack of system that controls inventory and orders. There should be a system that covers orders from receiving through delivery. Albatross Anchor must establish a schedule of the railroad spur to reduce any chance of friction. Introducing a system like ERP or MRP can be a significant step for Albatross Anchor. This system will be able to more accurately forecast heavy loads and reduce or eliminate idle inventory. This will make every department aware of its specific needs. This will also allow receiving to ensure the necessary raw material is in stock, direct labor staff provided, and timely updates. This will allow the administration to serve the customer in a more responsive manner (Russell & Taylor, 2011).
Question two
(a)
Proposed changes: Initial proposed changes are utilizing resources mainly towards the replacement of equipment. This is one of the most important changes that need to take place. The manufacturing floor must be reorganized and there should be proper placement of the machinery. Raw product storage would be located towards the western wall. This would be a direct connection between receiving raw material and storage area. Doing this will eliminate any unnecessary foot traffic. After this would be move the finished product storage to the northern end of the facility and create two separate shipping departments. International shipping and domestic shipping, the domestic shipping department would be located where the general shipping area is currently. The international shipping would be next to the receiving area. The finished product would be stored in an area between the domestic and international shipping section. The factory floor would occupy the bulk of the southeastern corner of the facility. This should allow for a smoother transition from one stage to the next. (b)
Implication one
Moving the raw product storage to the rear of the facility will place it closer to the receiving department and will make needed materials more available. This will have a reduction in movement across the manufacturing floor when raw material is received. Implication two
Albatross Anchor will have a larger production floor. There will be more space in the larger floor that will encompass the multifunctional machinery. Having a layout like this will allow the workers to move more freely and efficiently. This will also affect cost of production by reducing cost and increase in production. Implication three
With the finished product storage area next to the international/domestic shipping areas will minimize the movement of finished goods throughout the facility. This will ensure quick and prompt movement of the final product to the designated shipping destination. Complication one
It will take time to adjust. There may be minimal downtime while employees adjust and fully understand the new system. There needs to be training and experienced staff ready to train everyone about new changes coming to the facility. Complication two
Updating the facility may require a long period of time. The amount of work that needs to be done a new floor plan, construction on the facility, and update of the equipment can be a time consuming process. Complication three
Having two areas for shipping may require dual inventory of the same product. This can cause double inventory, but would provide a higher level of efficiency for Albatross Anchor that will enhance their service among their customers. (c)
(01) Gannt chart
(02) Explanation of the Gannt Chart
The chart lays out a basic timeline of how the progress will take place in the Albatross Anchor facility. The renovation will take 60 days to complete. The southern storage of the facility will be redesigned as a portion of the factory floor. It would be a practical idea to have an alternate location is constructed for the floor to allow for continued production. The construction should include a fenced in, covered storage area for raw and finished product. A security guard needs to be hired to ensure no theft occurs after hours. Inventory will be relocated so the demolition process can begin. Once the area is cleared the equipment will be relocated to the consolidated floor. The new raw product storage area will be constructed along the western wall, and the inventory will be returned. The final step will include new construction of the new shipping and finished product areas. After completion all inventory will be returned and temporary structure will be removed. Conclusion
KU Consulting mission is the success of Albatross Anchor. The success of Albatross Anchor is what keeps companies like KU Consulting in business. KU Consulting established a cost effective budget that will allow Albatross Anchor achieve greater sales and continuous service of their customers. KU Consulting understands that change can be difficult and will stand by their client Albatross Anchor to ensure that they meet the required change necessary to succeed. KU Consulting will assist Albatross Anchor in future related assistance and stand by their clients.
References
Albatross Anchor Case Study
Elyse, (2006). Cost Management Planning. Retrieved 11-15-2011, from
http://www.anticlue.net/archives/000716.htm
Johnson, W (2007). Technology Adaptation Theory. Retrieved 11/15/2011, from http://www.ehow.com/about_6515759_technology-adaptation-theory.html
Russell, R.S., Taylor III, B.W. (2011). Operations management: creating value along the supply chain; 7th edition. Danvers: John Wiley & Sons, Inc.
Related Topics