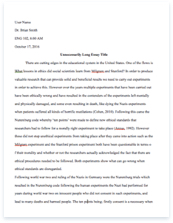 The whole doc is available only for registered users
A limited time offer! Get a custom sample essay written according to your requirements urgent 3h delivery guaranteed
Order Now
An outline of what is meant by 'agreed ways of working'. The term 'agreed ways of working' relates to the way an employee must work and the rules that they must adhere to. As an employee you should work in a way that is clearly set out in the job description – this will then mean that you know what areas of care you would be responsible for and those that should be reported to a higher member of staff etc. The 'agreed ways of working' have been set out in accordance with the policies and procedures of the care organization, for example, the health and safety policies and procedures or the safeguarding of vulnerable adults.
The employee will/should be informed about any updates that will be put in place in the policies and procedures – this would usually be passed over in handover or in a staff meeting. The policies and procedures should be regularly updated, documented in hard form i.e. on paper, kept in a file and easily accessible to all staff. Informal supervisions, for example, observations, will enable the employer to identify the employee's strengths and weaknesses; thus proving if they are working to the 'agreed ways'. Appraisals can be just one formal way that offers both the employee and employer the opportunity to resolve the weaknesses through discussion and suggestions can be made for improvement.
Work place policies and procedures should be regularly updated, in full and fully implemented by all staff members. All policies and procedures should fall in line with any new legislation relating to the care of others. This means that new laws and legislations change all the time, so the policies and procedures need to be in full and up to date to relate to these changes. It is a legal requirement that all staff follow the policies and procedures. The agreed ways of working are based on the legal requirements and standards set out by the regulatory boards; CQC codes of practice and essential standards therefore full knowledge is essential. Following the limits of your role. The agreed ways of working are up to date and that you have full knowledge of these as they are in place to protect staff, individuals and the organization itself.
Related Topics