About How to Avoid Kids From Any Troubles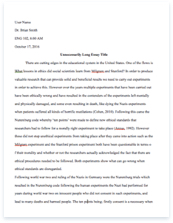 The whole doc is available only for registered users
A limited time offer! Get a custom sample essay written according to your requirements urgent 3h delivery guaranteed
Order Now
The main problems with kids that struggle in school or get in trouble. They have nowhere to go, to get help and keep them in check. This isn't just some program to help them learn, it's somewhere they could have fun when school is getting a little too stressful. Kids shouldn't feel overwhelmed with school at such a young age, and our program will keep them on track in school.
We want to help kids off the streets and those who have a hard time in school. We wanna reduce all these current issues in our society by providing an after school program where they can go and be safe. Where parents don't have to worry what their kid is doing cause they'll be in safe environment with the program we are providing. Our program is meant to help kids grades third through eighth, in an after school program. The attendance of these kids can be approved by a parent or the school, and is meant to help kids in school. These kids can be helped if they have learning disabilities that prevent them from doing good in school, or if they just need a place to be after school
This is an after school program for kids to do activities. There isn't much programs that support troubled kids. This program is meant to help trouble kids off the streets. We have to also realize parents want their kids to be safe, this program that helps with parents to ease their minds. Realize what parents are scared of, find a way to prevent these: being bullied, struggling with anxiety, being kidnapped, getting attacked, getting pregnant as a teenager, having problems with drugs or alcohol, getting shot, and getting in trouble with the law. We are going to offer 8 activities Art, Music, Sports, Robotics, Video Games, Cooking, Film, and education. Evidence show if kids have somewhere to do what they like, they will be more confident to show others. We recognized that trouble teens don't have a place where that could help them get better in a fun environment. We also will offer a night where the parents could come and see their child's skills.
For our project, we talked to Officer Pescatore, from Lemoore P.D. We asked him some questions about our idea. He said that our idea is a beneficial idea for society, and while it sounds good in practice, it would take a lot of work to get to the point that we want to be in. We want to make sure minors have a safe space where they can get help to be successful in their futures. The Officer mentioned that a good way to go about this would to keep the program in a school space, implementing our programs into the school'. This could help to replace after school programs as well, making sure that the minors would be getting extra help after school, instead of the current after school programs that don't help these kids use their time well.
According to Amy Morin in "The Truth About Troubled Teens," in the next 24 hours, 1,439 teens will attempt suicide. 2,795 teenage girls will become pregnant. 15,006 teens will use drugs for the first time. 3,506 teens will run away and 2 teens will be murdered. (Morin, n.d.) In 2013, the United States dealt with 1.1 million juvenile cases and more than a quarter of crimes that are committed by teenagers are female. In the United States, a youth is arrested for an alcohol related crime every 4 minutes and a minor is arrested for a a drug crime every 7 minutes. One of the problems facing teenagers today is teen pregnancy. In 2014, 249,078 babies were born to women 15 to 19 years old. Teen pregnancy also creased costs in health care, foster care, and lose of tax due to more teens are likely to drop out of school after being pregnant. (Morin, n.d.) suicide is the second leading cause of death for people between 10 and 24 years old. In fact, more teens are most likely to die from suicide than birth defects, AIDS, cancer, and pneumonia combined. (Morin, n.d.) Mental health is one of the things many teens in society face today. 20 percent of teens live with a mental health condition. 50 percent of all mental illness starts at 14 and reach 75 percent by 24. Almost half of all youth with mental illness dropout of school and about 90 percent of teens who commit suicide have a mental illness. (Morin, n.d.)
In the article "Benefits for Youth, Families, and Communities" is states, "Attending after school programs can improve students' academic performance. A national evaluation found that over 40 percent of students attending 21st Century Community Learning Center programs improved their reading and math grades." ("Benefits for Youths, Families, & Communities," n.d.) Studies have also shown that afterschool programs can improve class behavior, school attendance, academic improvement, and can reduce the likelihood that a student will drop out (Huang, Leon, La Torre, Mostafavi, 2008).
Research shows that afterschool programs are critical in gaining academic achievement. 4.5 million kids from low-income families attend afterschool programs and 9.7 million more would join programs if they were available. (Rinehart, 2015) As a society, we need to understand the importance of afterschool programs. Many kids are at school more than they are in there home, we need to take advantage of the opportunity to reach out and help our future generations. According to America After 3PM, 7 in 10 parents agree that afterschool programs are beneficial to helping kids with homework, and giving more opportunities to grow and be a kid.
In a study from America After 3PM, 800,000 children in elementary school are on their own after school with no adult supervision. In this study, only 18 percent of the after school population, participates in afterschool activities. In 2014, 41 percent of the United States acknowledges a need for an afterschool program. (Baron, 2014) Arnold Schwarzenegger once said, "Due to the fact that most students come from homes where both parents are working, we have a duty to provide safe havens for our children during the crucial hours from 3 to 6 p.m…. After-school programs help our kids with homework, teach them teamwork, engage them in community service, pair them with mentors, help them to be physically fit, involve them in activities like rocketry and robotics, and much more.' Our society has decided the need for a successful afterschool program. However, the real question is, how do we accomplish this?
Our end goal with our program that provides 8 different activities for kids to explore what they are interested in, is to provide a safe space for these troubled kids and direct them down a brighter path out of the streets where many incidents can happen. 8 activities Art, Music, Sports, Robotics, Video Games, Cooking, Film, and education. All of this while reassuring parents that there child is safe clear out of danger, doing something beneficial with their time, and in a healthy and enjoyable environment.
Related Topics