A story of faith and loss of innocence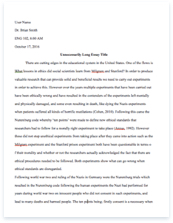 The whole doc is available only for registered users
A limited time offer! Get a custom sample essay written according to your requirements urgent 3h delivery guaranteed
Order Now
Alexander Hawthorne's "Young Goodman Brown" and Mary Wilkins Freemans "New England Nun, depicts the trials and tribulations the protagonist Characters face while residing under New England Puritan influences "Young Goodman Brown" is a story about faith, the loss of innocence, and the mortal battle between good and evil. Goodman Brown is a Puritan on a life's journey finds himself on a pathway with the devil himself struggling to keep his virtue. While "A New England Nun" is a story about honor, commitment and the fear of losing one's inner peace. Louisa Ellis, a very meticulous, noblewoman, quite contently living a life of solitude. Louisa struggles to keep her independence in the confinement of her promise of marriage and chooses to abstain from the disruption and the imprisonment she feels this union will bring.
Mary Wilkins Freemans "A Nun in New England "is told in a third person narration taking an omniscient view. Freeman displays the round character Louisa as a methodical woman living an independent, peaceful life of privacy, reminiscent to that of a nun. Louisa's only company is her late brother's dog Caesar and a little yellow cannery. Freeman's symbolism of Louisa's pets in captivity are representative of the imprisonment Louisa felt pending her imminent engagement. "A little yellow canary that had been asleep in his green cage at the south window woke up and fluttered wildly, beating his little yellow wings against the wires. He always did this when Joe Dagget [Louisa's fiancé] entered the room" (Freeman 63). As Mary McConnell pointed out in the electronic class discussion "[…] after the death of her [Louisa's] mother and brother, Louisa had changed" (McConnell). '"Louisa's feet had turned into a path…and so narrow that there was no room for anyone at her side"' (Freeman 66). Louisa finds great comfort tending to her feminine possessions, sewing beautiful garments and making lavender oils as well as tending to other such domestic chores. "Louisa Ellis could not remember that ever in her life she had mislaid one of these little feminine appurtenances, which had become, from long use and constant association, a very part of her personality" ( Freeman 62). Louisa dreads the idea that she will have to forsake her most prized possessions and conform under the control and judgment of Joe and his horrible mother but refuses to go back on her word. It was not until Louisa realized the love had gone and she and Joe were simply honoring a promise that bonded them so long ago; she was then able to release herself of this burden. Freeman uses the religious symbolism of the rosary to express that Louisa has come to worship her life simply as it is. "She gazed ahead through a long reach of future days strung together like pearls in a rosary, every one like the others, and all smooth and flawless and innocent, and her heart went up in thankfulness" (Freeman 72).
In Alexander Hawthorne's "Young Goodman Brown" also told in a third person narration, Hawthorne depicts his round character Goodman Brown as a faithful puritan residing in Salem during the time of the Salem witches trial. Goodman Brown a newlywed embarks on a journey on Allhallows eve to meet the devil in the woods, despite his sweet wife's premonition "[…] pr'ythee, put off your journey until sunrise, and sleep in your own bed tonight. A lone woman is troubled with such dreams and such thoughts, that she's afeard of herself, sometimes" (Hawthorne par 2). Goodman Brown's inner conflict presents itself before his journey into the darkness had begun "She talks of dreams, too. Methought, as she spoke, there was trouble in her face, as if a dream had warned her what work is to be done tonight."(Hawthorne par7) Goodman Brown met up with the Dark Lord as planned that night to embark on his journey. The staff the devil was holding resembled a serpent and embodied religious symbolism as Mateo Rodrigues pointed out in his electronic class discussion " Also, in a biblical aspect, a serpent is what tempted Eve to eat the forbidden fruit" (Rodriguez). Signifying the internal bout between light and darkness, the devil coaxed Goodman Brown the entire stretch to remain on the path as Goodman tried to deter.'"Sayest thou so?" replied he of the serpent, smiling apart. "Let us walk on, nevertheless, reasoning as we go, and if I convince thee not, thou shalt turn back. We are but a little way in the forest, yet"' (Hawthorne par 16). At the end of his journey, Goodman Brown came to a satanic ritual well in progress and to his disbelief and repugnance, he recognized those in attendance including religious leaders, so-called "witches" and the most shocking, his once sweet wife Faith. That night Goodman Brown was ruined, he lost his innocence, his belief as well as the love for his wife.
The Alexander Hawthorne and Mary Wilkins Freemans short stories reflect the religious life and inner struggles of their character during a time of where the Puritan way of life was prevalent in New England. Louisa presented enormous bravery as she refused to conform to marriage, which was what was expected of women during this period, while Goodman Brown lost his innocence as he traveled down a dark path of perdition. Although both stories were quite different in their circumstances, they both displayed the choices of two souls struggling to find their way.  
Related Topics