Zappos.Com – Developing a Supply Chain to Deliver Wow!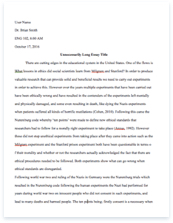 The whole doc is available only for registered users
Pages: 6
Word count: 1287
Category: Customer
A limited time offer! Get a custom sample essay written according to your requirements urgent 3h delivery guaranteed
Order Now
Zappos.com provides extensive online products, delicate call-center service, free and rapid delivery, and at the same time, it keeps optimizing its operational model. However, with the prolonged recession, the company's margins are decreasing, and it now has to seek a solution to maximize its profit. External Analysis (Please see Appendix 1, SWOT Table, pg5)
Both U.S. and international markets remained unsaturated, in spite of Zappos' rapid expansion. It is still very promising for online retailors to expand its customer base. Besides, the facts of customers' increasingly desire to access a huge selection of product offerings and customers' growing comforts with online shopping make the Internet become a critical distribution channel. Consequently, more and more high-end brands are eager to partner with online retailors such as Zappos.
But, with the collapse of the financial markets and economic slowdown, customers are more cost-conscious and have higher expectations for the services—they are much more difficult to be delighted. Meanwhile, in such a bad economic time, labor-intensive activities might eventually become unaffordable. As to the international market, business expansion faces a lot of challenges, such as high cost of operation and culture conflicts. Internal Analysis (Please see Appendix 1, SWOT Table, pg5)
Zappos' fun and customer-oriented culture, together with its passionate employees and extensive product offerings online, brings the company a happy and loyal customer base, even in Canada. Also, as the company's employees are systematically trained, their outstanding services could always make the customers amazed, therefore, the company has successfully built its brand equity through positive word of mouth and its customers keep coming back (75% repeat customers in 2008). Moreover, Zappos closely tracks customer behavior data to gain customer insights, thus, it rapidly grows to the world's largest online shoes retailer.
One of the challenges facing Zappos is lacking of capital. Limited budgets make its labor-intensive activities and high-standard delivery become more and more unaffordable. The growth rate is also gradually slowing. Besides, according to the Income Statement, Zappos has the lowest operating income percentage (3.4%), compared with other online competitors. This indicates that company's operational model remains inefficient, including both inbound and outbound freight shipments, for example, shipments from individual suppliers resulting in larger-than-necessary number of trucks, as well as the economic inefficiency of transporting partially full trucks. In addition, its customer base is only 3% of the US population. Alternatives
1. Expand Zappos' business in foreign countries such as Canada to grow sales. * Advantages:
* Already has a passionate customer base in Canada, which is possible for Zappos to replicate its service model and gain more sales. * Business expansion could help solve the excess inventory, as the number of customers is growing. * Disadvantages:
* It would require time and budget negotiating Canadian distribution agreements with many brands in order to achieve substantial volume. * Customer service would become more complicated. Fail to manage different cultural issues would dilute Zappos' brand equity. 2. Cut service cost such as stop next day air shipment to maximize profit. * Advantages:
* Savings could be enormous, if the company decided to back off from the guaranteed next-day delivery for all orders. As long as it remains free return service, the company would not lose its cost-conscious. * Zappos' labor-intensive services are more and more unaffordable, due to its capital insufficient. Cut the service workforce could save a lot. * Disadvantages:
* Inconsistent services might result in negative word of mouth and diluted brand image. * Would be far less competitive than the brick-and-mortar store, as Zappos fails to bring customers the instant gratification. 3. Improve the inefficient supply chain to save cost, and
filing for IPO as well. * Advantages:
* Streamlined supply chain could help reduce unnecessary costs. * IPO could be an effective way to generate the capital to fund the company's future development, esp. maintain high quality of service. * Disadvantages:
* Streamlined supply chain require a lot of time and efforts negotiating with channel members. * The cost of complying with regulatory requirements can be very high for small companies to file an IPO. Recommendation
I think Zappos should improve its supply chain to save unnecessary costs and then file for IPO to generate the capital needed to expand. The first alternative is appealing, but it requires even more workforce and budget to explore the foreign country's market and build its own distribution center and call center to provide great service. Given a huge untapped customer base in domestic market, it is unnecessarily for Zappos to expand its current business into international market. The second option could save significant amount of money, but it might hurt the company's brand equity. As customers are also become more and more demanding, discounted service would probably make Zappos lose its core competencies, and eventually its customers. The third choice is applicable, I think, for it could broaden the sources of income and economize on expenditures, helping Zappos remain competitive while maximize its profit. To streamline its supply chain, Zappos could cooperate with channel partners to build a rapidly updated online system, through which all of its supply web members, could share the order and inventory information.
Since Zappos is the largest online retailer and more high-end brands are eager to partner with the company, it could charge for members joining, and building the online system together. Through the system, even the manufacturers in China could ship the products to Zappos distribution center or directly to the customer who placed the order. As for going public, the financial benefit in the form of raising capital is the most distinct advantage, since Zappos has always been intensely conscious of funds. Another advantage is an increased public awareness, because IPOs often generate publicity by making their products known to a new group of potential customers. Of course, file for IPO is not without risk. The management team should be aware of profit-oriented venture capitalists, and it should not do any questionable practices to boost earnings. In spite of high cost of filing IPO, it is still an effective way for small companies' further growth. Conclusion
Zappos' success origins from its proficiency in experiential marketing: employees' enthusiasms and customers' strong emotional connections. The company should never save its cost at the expense of service. In such a cost-conscious environment, the company must seek for efficient supply chain to lower cost and insist on finding new ways to serve more demanding customers, and eventually lead to the maximized profits. Appendix 1. SWOT Table
Strengths * Strong culture and values * Engaged and passionate employees * Exceptional service and extensive product offerings * A happy and loyal customer base * High retention rate * The largest online shoes retailer * Rapid growth * Understand customer behavior * Having thousands of buyers evaluating the inventory| Weaknesses * Lack of capital * Low operating income percentage * Inefficient inbound and outbound freight * Labor-intensive * High cost of delivery * Gradually slow growth rate * Relatively small customer base | Opportunities * Unsaturation in both domestic and international markets for the online retailers * Customers eager to access a huge selection of styles, colors and sizes * Consumers become comfortable buying online * Internet could reach large sections of the population and provide detailed information vastly * High-end brands are eager to partner with online retailers in vertical sites| Threats * Collapse of the financial markets and economic slowdown * Customers are more cost-conscious * Customers' increasingly high expectations to service * Labors become more unaffordable * High cost of expanding business out of the US market * Culture conflicts occur during expansion in foreign markets * Brick-and-mortar store's instant gratification
Related Topics