Work-Life Balance Is a Universal Problem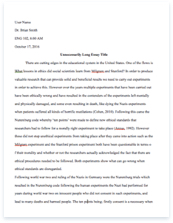 The whole doc is available only for registered users
A limited time offer! Get a custom sample essay written according to your requirements urgent 3h delivery guaranteed
Order Now
Today, work life balance has become an increasingly universal concern to both employers and employees in most organizations. Often, employers expect more from their employees, which leads to them feeling pressured to accomplish greater results. Consequently, this leads to longer working hours, and less time spent at home. Therefore, finding a balance is extremely important.
Work life balance may be referred to as "finding the right balance between one's work and one's life and about feeling comfortable with both work and non-work commitments." (Igbinomwanhia, Iyayi, & Iyayi, 2012, p. 113). It primarily deals with an employee's ability to balance and prioritize between work and lifestyle, health, social life, family and beyond. Work life balance has the potential to affect important workplace issues such as employee turnover, stress, job satisfaction, and productivity (McCarthy, Darcy, & Grady, 2010, p. 159). When there is proper balance between work and personal life, there are other more tangible benefits such as lower stress levels, higher levels of productivity and performance, and greater quality of life among employees (Sánchez-Vidal et al., 2012).
However, in today's fast-paced business world, the ability to achieve this balance is becoming more difficult than ever. This is due to a number of factors including technology and social media. As we grow increasingly more connected, it is becoming more difficult to separate our work from our personal lives. Meeting all demands of both realms becomes crucial and strenuous for employees. Balancing between their personal and professional commitments plays an important role in their life.
Communication scholars have found that the culture of a company can affect an employee's behavior in a number of ways, including how much time and energy they dedicate to their daily tasks. Businesses that encourage work life balance have become very attractive – especially when you consider how difficult it can be to not only attract but to retain millennials. With the millennial generation of workers projected to take up 75% of the workforce by 2025, many leaders think it is time to redefine what work life balance looks like (Kohll, 2018).
This paper focuses on CME Associates, Inc., an engineering firm with its headquarters in Mansfield, Connecticut and their concept of work life balance from both an employer and employee point of view.
Defining Work Life Balance
There is not one universal definition of what constitutes or develops a work life balance practice for an employee. Although definitions and explanations regarding work life balance may vary, work life balance is generally associated with equilibrium between the amount of time and effort somebody devotes to work and personal activities, in order to maintain an overall sense of harmony in life (Clarke et al., 2004, p. 121). For this reason, it is important to be aware of the different demands upon us and in our personal lives, our time and our energy that we have to address them. Grady et al. (2008, p.3) states that the term 'work life balance' is more comprehensive and includes "family, community, recreation and personal time".
It captures all aspects of an employees' personal and work life which suggests that work life balance should be focused on both individuals and families as well as workplaces, communities and society as a whole. This study, however, focuses primarily on individuals, families and workplaces.
It is evident from literature that the concept of work life balance is very much individualistic. However, there are many researchers who have developed their own definitions. For instance, Irfan and Azmi define work life balance as "a measure of proper control as to how, when and where people work" (Irfan & Azmi, 2015, p. 1). They state that "proper work life balance can be achieved when an individual is able to fulfill all his/her needs in respect of both family and work" (Irfan & Azmi, 2015, p. 1). It is important to have the ability to distribute time and energy among different aspects of work and life and having an understanding and awareness. How, when and where people work through a correct measure of control and the family and work needs are fulfilled by the person. Greenhaus and colleagues also explored the multiple roles of work-life balance further with a focus on equality of time or satisfaction across an individual's multiple life roles.
Work-family balance was therefore defined as "the extent to which an individual is engaged in – and equally satisfied with – his or her work role and family role … We propose three components of work family-balance: time balance, involvement balance, and satisfaction balance" (Greenhaus, Collins & Shaw, 2003, p. 513). Clark (2000, p. 751) believes that work life balance means "satisfaction and good functioning at work and at home, with a minimum of role conflict".
Theoretical evidence supports the relationship between work life benefits and commitment to the organization. Clark (2000) introduced a work/family border theory. According to the theory, people are daily border-crossers between the domains of work and family. The theory addresses how domain integration and segmentation, border creation and management, border-crosser participation, and relationships between border-crossers and others at work and home influence work/family balance. Grzywacz and Marks (2000, p. 112) refer to the ecological systems theory, which was used to develop a more expanded conceptualization of the work-family interface, also known as the spill-over theory. The spill-over theory refers to feelings, attitudes, behaviors and emotions generated in one domain can be transferred or 'spilled over' into the other domain. Grzywacz and Marks (2000) implemented Bronfenbrenner's ecological model which suggests that work-family experience is a joint function of process, individual, time and context characteristics, and does not restrict the experience to either negative or positive.
Furthermore, the compensation theory refers to the efforts intended at countering negative experiences in one domain through increased efforts for positive experiences in another domain. An example would be a dissatisfied worker focusing more on family than work, thus reallocating human resources (Edwards and Rothbard, 2000). Compensation can be viewed in two categories: supplemental and reactive. Supplemental compensation happens when positive experiences are insufficient at work and are therefore pursued at home. Reactive compensation occurs when negative work experiences are made up for in positive home experiences. According to the compensation theory, there is an opposite relationship between work and life, so workers attempt to satisfy voids from one domain with satisfactions from the other (Clark, 2000).
Clark (2000) reveals that focusing on the realms of work and family are essential, as family and work are the most important elements of everyone's life. Any competing demands of work and family life will ultimately cause conflict and therefore, negatively affect the wellbeing of workers (Clark, 2000). There are several benefits of maintaining a healthy balance between one's work life and personal life (McGinnis, 2001). When all aspects of our lives are given equal attention, it provides us with a feeling of fulfillment and overall satisfaction.
Work Life Balance Demographics
Work life balance emerged primarily as a woman-based issue, however by 1980 the focus shifted towards the development of effective policies for work life balance in light of both male and female employees (Irfan & Azmi, 2015). Flextime and alternative work arrangements to be used for family reasons became more accepted as they were seen as a way to help individuals 'integrate' work and family after being forced to 'separate' work from family at the corporate workplace for so many decades. However, over the past few decades, global demographic changes, such as an increased participation of women in the workplace, two-income households, single-parent families and eldercare have resulted in increased challenges faced by workers who tried to balance demands of work and family life (Tennant & Sperry, 2003).
For example, according to the United States Department of Labor, in the US today, nearly 70 percent of women with children under 18 are working at least part-time, 40 percent of managers and professionals are women, and 80 percent of two-parent families with a child under 18 years are dual earners (U.S. Census Bureau, 2018). As the participation of women in the workforce changed, work attitudes and values may have shifted by this intergenerational dynamic.
Each generation's view on business and success may affect their behavior with respect to work life balance. Due to the increasingly large number of Baby Boomers, they learned early that they need to stand out to be noticed and to succeed (Lancaster & Stillman, 2002). They expect that they will be rewarded by going above and beyond what is expected of them. Generation X have been labeled as the "slacker" generation that does not have a good work ethic. Zemke et al. (2000) proposed that Generation X has a different work ethic opposed to other generations. They explain that they are willing to work hard but tend to focus more on getting the job done rather than the amount of time that it takes them to complete their work. They value freedom and flexibility in the workplace and therefore are less willing to engage in behaviors that do not have transparent and immediate rewards (Zemke et al., 2000). Millennials have recently joined the work force and therefore, have less experience balancing work and life than older generations.
Additionally, the blurred boundaries between work and life due to technology poses no difficulty for Millennials. Changes that have been stressful for other generations such as Baby Boomers and Generation X may be taken for granted by Millennials. There are factors such as diversity and balance in the workplace that are to be expected by millennials. Women work and 50% of kids live in single parent families. In today's society, these are not seen as unusual; rather they are seen as facts of life in today's society (Zemke et al., 2000).
Job Satisfaction
Higher demands on employees' duties and longer working hours reduce the amount of time workers have to spend with their families (Hill, 2005). The Bureau of Labor Statistics tracks how many hours per week the average American works and releases that information as part of the monthly Employment Situation Summary. According to the most recent data (July 2018), Americans worked an average of 34.5 hours per week. Men worked an average of 40.8 hours per week in paid employment. Woman worked an average of 36.2 hours per week (U.S. Census Bureau, 2018). Burke (2000) argues that it is essential for both organizations and managers to understand the importance of work life balance, its impact on employees' wellbeing, and the effect it has on organizations productivity and performance.
Job satisfaction describes how content employees are with their current job. Regarding literature, a variety of similar definitions regarding job satisfaction have been discovered. Job satisfaction can be defined as a pleasurable or positive emotional reaction to a person's job experiences (Mazerolle & Goodman, 2013). Many researchers indicate a strong positive correlation between work satisfaction and wellbeing (Hill, 2005). Two sets of factors determining work satisfaction include: (a) intrinsic factors such as education, job meaningfulness, job expectations and family demands; and (b) work-related factors such as job security, sill variety, role overload and conflict, and supervisor support (Paton et al., 2003). Grzywacz and Marks (2000) suggest that the potential well-being benefits associated with blending work and family roles may also increase job-life satisfaction by providing a high degree of positive spillover in the form of family financial security and opportunities for personal growth.
This study refers to job satisfaction and measures the satisfaction using subjective emotional evaluations used by individuals in order to determine whether employees experience satisfaction from their work at CME as a whole (Paton et al., 2003).
CME Associates, Inc. Current Work Life Balance Policy
Work life balance policies are formally designed and adopted at the organizational level, usually by HR directors or managers. However, work life policies are largely implemented and managed at a unit level by line managers and supervisors (Mazerolle & Goodman, 2013). CME does not currently have a policy specific to work life balance. They do, however, include policies in their company handbook, such as their vacation policy, that help alleviate the stress of work and provide a balance for employees.
"Full-time staff members are eligible, after their introductory period. In order to provide more value and flexibility to our employees and stay ahead of emerging trends with the benefits we provide, CME has adopted a new Vacation Policy. We hope that this policy will demonstrate our desire to make CME a place where employee's professional and personal lives are valued and supported. We have developed the policy below that outlines our expectations of performance and accountability and provides guidelines for managers working with their staff to make sure both the employee and company are protected.
Our expectations under this policy each and every employee is expected to take a minimum of 3 weeks annually of vacation time. This is the minimum amount of time the company feels is necessary to:
Keep employees rested, engaged, and invigorated to continue to perform at optimum levels
Allow employees the scheduling freedom for personal commitments that make them a happier, healthier, and more well-rounded person
At CME, we are working hard to create a culture of personal responsibility and mutual trust, and we want our vacation policy to reflect that. This policy allows our employees the flexibility to take time off when they need it and demonstrates the level of trust we have in the staff we work with. The goals of the policy are to:
Create an atmosphere of flexibility and trust
Recognize and reverse a growing trend of un-used vacation hours
Remove the stigma associated with "negative vacation time"
Provide a tool to attract the best and brightest
Provide a tool to reward those who go beyond in their service
CME will not calculate accrued vacation, nor will we arbitrarily cap the amount of vacation individuals will receive in any given year. If you terminate employment with CME, there will be no "accrued" vacation payment to you. The number of vacation days that an employee takes in any given year is expected to be fluid and will depend upon the employee's workload and consultation with their immediate supervisor, department head, and human resources.
The total vacation time taken in a 12-month period will be based on factors including:
Individual Performance
Division/Department Schedules and Commitments
Performance of Division/Department
Employee's Personal Circumstances
A copy of this portion of CME's handbook is provided in Appendix
To examine the relationship between work life and overall job satisfaction and its collective relationship to CME Associates, the following research questions for this research project asked:
What impact does work life balance have on employee's job satisfaction?
Does the importance of work life balance differ between generations?
What relationship exists between work life balance and job satisfaction among employees?
Would job satisfaction improve if CME enforced a stronger work life balance policy?
In what ways can proper work life practices be enhanced to boost performance at CME?
The purpose of this research study was to discover the impact that work life balance has on employees' job satisfaction, the importance between generations and the relationship that exists between work life balance and job satisfaction among employees at CME Associates, Inc. (CME). The population for this study was 75 employees, the current number of people employed at CME when the study was conducted.
A convenience sampling method was used for this research, meaning individuals who were readily available were selected (Saunders, 2012).
This study utilized qualitative data from two focus groups. The purpose of conducting the focus group was to expand and localize information learned from the literature review.
Additionally, this study utilized the data collected by the Hartford Business Journal Best Places to Work in Connecticut survey that was administered in Fall 2016, 2017 and 2018. A copy of the Hartford Business Journal's Best Places to Work in Connecticut survey results is provided in Appendix __. Before conducting the current study, the researcher sought human subject research approval from the CEO at CME Associates, Inc. and was granted permission to proceed. A copy of this approval is provided in Appendix ___.
The Best Places to Work in Connecticut program was created by the Hartford Business Journal and Best Companies Group to identify and recognize best places to work in the state of Connecticut. The program is managed by Best Companies Group, a third-party research firm that manages similar programs all over the United States and in Canada. The Best Places to Work in Connecticut program was open to all public or privately-held organizations, either for-profit or not-for-profit. To be eligible for consideration, companies must have had a total of 15 or more employees working in the state of Connecticut. Participation in this program required organizations to go through a workplace assessment process, which included surveying their employees, as well as taking an inventory of the company benefits, policies and offerings. The information was processed and analyzed by Best Companies Group and then used to determine the Best Places to Work in Connecticut (2018).
According to Saunders (2012), the main weakness of a questionnaire is the difficulty and time needed for its creation, along with ensuring its validity and reliability. Nonetheless, all questionnaires used for this study were carefully selected by the Best Companies Group, ensuring that their validity and reliability were previous tested. All participating companies went through a two-part workplace assessment process. Part one of the assessment (worth 25 percent of the evaluation) consisted of an employer questionnaire about benefits, policies, practices, and other general information. Part two of the assessment (75 percent of the evaluation) consisted of a 72-question, confidential employee engagement and satisfaction survey. This comprehensive, two-part assessment allowed the workplace experts at Best Companies Group to perform an in-depth analysis of each company's strengths and weaknesses and ultimately determine which companies deserved to make the list (2018).
CME received the in-depth employee feedback report, which showed the percent of positive responses for each of the 72 questions, along with the percent of positive responses within seven demographic categories (gender, age, ethnicity, duration of employment, full- or part-time status, job role, and department). CME has applied to this program and won the award for the past three years.
Related Topics