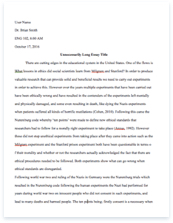 The whole doc is available only for registered users
Pages: 4
Word count: 992
Category: Women
A limited time offer! Get a custom sample essay written according to your requirements urgent 3h delivery guaranteed
Order Now
People continue to wage a battle over whether or not women should be in the clergy. A pastor's role is a lot like that of general. A general is responsible for the overall strategy and well fare of an entire army. It's a fact that men are better suited for positions like that, while women are more suited for managerial type positions. It is easy for the human nature to try and fit scripture into the mold of what we wished the Bible said, instead of just taking it the way it is. People shouldn't make it a matter of division but more of whether there is a right or wrong to it. Is whether or not women should be pastors and elders an opinion? Or is there a moral standpoint behind the controversial topic of female clergy. About 86 percent of women are affiliated with the church compared to 79 percent of men. 44 percent of women claim to attend religious services weekly and have to do with a church compared to the not even 34 percent of men. The percentages are clearly higher for women then they are for men according to the Pew Forum on Religion and Public Life.
The reason for this discrepancy is still under investigation, no one is quite sure what is up with it. Supposedly women in America have a more prominent position in the church; there are many reasons for this including the traditional role of women being homemakers and child raisers. Because of the higher position of women being involved in the church, people have gotten the idea that it is natural for women to be pastors and elders also. 1 Timothy 2:1 says" I do not permit women to teach or have authority over men, but to be silent." In other words women are not supposed to tell men to do things. Some people may take this verse and say that Paul himself was saying what he thought, but I believe that God was speaking through Paul at this time. People say that even though everything in the Bible is true it doesn't mean that it is right, that in itself is wrong.
Yes, Paul was a first century christian but that doesn't mean that some of the traditions and things he said shouldn't be carried out into our time. I am convinced that it is fine for women to speak in the church, just not to preach over men, telling men what they should do. Job talks about sons and daughters prophesying and I believe that God speaks through women just not in the position of women being over men. That is not the order that God has created for us. And yes throughout the Bible females are commended for their servant hearts helping the God's messengers and whatever but they were not over men. There is the argument that women are more caring, more concerned with helping other people. Some people are concerned with putting women at the pulpit because they are afraid it will lead to more men being disaffiliated with church. Regardless of the impact of female clergy have on the male church population, women clergy have an ability to attract those who may not usually be affiliated with religion.
Openness is something that is often sought after in the church and women are more likely to have that ability then men are. But having an open female pastor is still not as good as having a male pastor even if you use the argument that he isn't open enough. Although throughout the Bible women play important roles in leading it doesn't mean women are not be over men in all contexts. The Bible clearly states in 1 Timothy 3:11 "Let deacons be husbands of one wife." And then in Titus 1:5-7, Paul says, "For this reason I left you in Crete, that you might set in order what remains, and appoint elders in every city as I directed you, namely, if any man be above reproach, the husband of one wife, having children who believe, not accused of dissipation or rebellion. For the overseer must be above reproach as God's steward…" Clearly the role of deacons, pastors and elders were meant for the male population.
Deacons which are like elders or pastors were meant to exhort in sound doctrine and refute those who contradict. We see no command for the deacons to be women. Women are told to be "dignified, not malicious gossips, but temperate, faithful in all things,"(1 Tim.3:11). It is all a part of the created order God created at the beginning of time. Men are not as fallible as women are when it comes to these type of positions, and they handle way better than women under stress. Even though the Biblical teaching of allowing only men to be pastors and elders is not popular, I believe that it is quite accurate. People may try to change it and lean towards the more politically correct point of view but it isn't right. The ordination of female clergy is theologically and historically flawed.
It is wrong for people to try and make the Bible fit what they want to be true. Women who raise hell over not being allowed to be a pastor or elder are proving that they are not clergy material. They should be calm in all things, trusting God will do what needs to be done. And men, who make a fuss over women trying to become clergy, do have a right to be horrified. Because the Bible clearly states that women are under men and should not be put above, but they should be mature and act like the clergy they are. The correct solution is to pray and ask God about situations that come up like these instead of starting a war over something that can be easily be solved with God's guidance
Related Topics