Corporate Responsibility is an Integral Part of Business Functions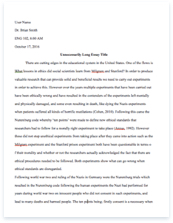 The whole doc is available only for registered users
A limited time offer! Get a custom sample essay written according to your requirements urgent 3h delivery guaranteed
Order Now
For many companies, corporate responsibility initiatives is now an integral part of their business functions. Corporations have been practicing corporate responsibility for quite some time now, but with the rise of the Internet, social media, and news outlets it's become even more prevalent. As there is now more transparency corporations have much to gain from these practices, where as before they might have just been in compliance with social ethics, now the exposure they receive, can be profitable not only for the company but for society. Some of the benefits include building public relations for the company and it's shareholders, increasing production through better work environments, cutting cost by being less wasteful and creating new efficient technologies all while helping improve society. One example of a company that not only follows these practices but also ranks at the top is Google. In this paper I'm going to discuss some of the initiatives Google takes, how these initiatives impact its operations, its shareholders and the rest of society.
Google is not only a global powerhouse but also a leader in setting the standard in its practices in corporate social responsibility initiatives. Some of which include creating and supporting a clean and safe self-sustaining work environment. Google made these achievements by creating ergonomic facilities that are energy efficient and ecofriendly. As well as setting the standard of being carbon neutral since 2007 by being a major investor in purchasing renewable energy from local sources, building facilities using solar panels, and converting over 75% of its wastes into carbon offsets, are some of the ways Google achieves its green status. These green initiatives not only benefit the company, its workforce and the shareholders but also our society. Another initiative is Google's circular economy which focuses on the future in regards to creating and using components which can be recycled and reused to create future technologies.
With an increase of industrialization, comes an increase in pollution and waste product. This in part affects the residents of nearby communities, the wildlife and eco systems, it also has affects on the weather. Many companies are forced to follow guidelines to stay below threshold. Google has taken it a step further, not only do they follow the ethical guidelines, they are proactively trying to be 100% carbon neutral. Since we live in the age of the Internet, we depend on data, and while some might thank their devices for these services, most of the data comes from large data centers that provide people with their Internet requests. With the amount of users growing on a daily basis, there is a higher demand for data centers all around the world. This can be taxing on the environment and can produce a lot of pollution and waste that has an adverse affect on the residents of the area.
For Google being a world wide leader, it encompasses a responsibility to set example to other companies. Because of globalization Google's data centers are positioned world wide. Taking that into affect it tries to build these facilities to run with almost 100% carbon neutrality. CO2 emissions are one of the top emissions that are released by factories, cars, that affect our weather, our ozone, they create a greenhouse affect that prevents the earth from cooling down at night, this results in climate changes, acid rain, melting of the icebergs an increase in water levels, and difficulty breathing in humans.
Going green
Carbon Neutrality- Going Green
One of the initiatives under sustainability is Google's going green. Going green means that Google and the facilities that it builds all around the world are taking a green approach throughout their facilities. Through carbon neutrality Google's goal is to be 100% free of carbon by using renewable energy. Carbon impacts the earth and the environment in a negative way, it not only affects the climate in the area but its harmful for the ecosystem and is responsible for acid rain. By using alternative tools to using renewable energy, Google is not only focusing on being 100% neutral, they are also investing money into these Alternative methods, such as solar panels, wind mill generators and so on. Spending money on renewable energy, helps preserve the environment, and comes at a cheaper price 
Related Topics