Widget Tech Inc. Code of Ethics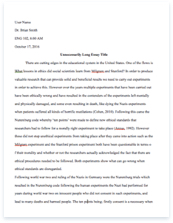 The whole doc is available only for registered users
A limited time offer! Get a custom sample essay written according to your requirements urgent 3h delivery guaranteed
Order Now
Summary
Widget Tech Inc. is in need of update the company's current code of ethics due to growth of the company and the changing workforce. Research has been conducted to revise the current policy and address topics that were previously overlooked. Widget Tech Inc. is a company that stresses both corporate and personal integrity. We not only comply with laws and applicable regulations; but we also strive to conduct our affairs according to the highest ethical standards. Employees are expected to be honest and forthright in dealings with managers, subordinates and with one another, as well as with clients, suppliers, government agencies and their employees, business partners and the general public. Widget Tech employees must maintain the highest level of personal integrity and encourage it in others; they must not lie, cheat, steal or do anything that would bring dishonor upon themselves or the company (SRA International, Inc. 2009).
Introduction
As Widget Tech Inc. expands it is important that company policies are reviewed and updated. Research was conducted into today's business ethics, values and conduct; a comparison of our current code of ethics was made with that of other growing industries. As every business is different it is important that our code of ethics is tailor made to Widget Tech Inc., our code of ethics should represent the values and ethics with which Widget Tech Inc. conducts business. It has and will continue to uphold the highest levels of business ethics and personal integrity in all types of transactions and interactions.
After Reviewing Widget Tech Inc. Code of Ethics it is apparent that the company's codes of ethics are out of date and in need of restoration, there are several changes and updates in the company's policies that need to be made in order to keep the company's code of ethics up to date and to a professional business standard. How to Create a Code of Ethics
When creating the content within the code of ethics, it is important to remember and establish immediately that The Code of ethics applies to all Widget Tech Inc. employees and directors. To create a code of ethics a company needs to look to the industry, it is important that employees, directors and stakeholders are aware that "We (Widget Tech Inc.) abide by all rules of conduct of the American Widget Manufactures Association" (Joel Saltzman, 2006) It is also important to Look outside the industry and compare current Code of Ethics with other companies in our manufacturing industry. A company must cover all aspects of business when creating their code of ethics. It is also important for a company to consider problems that might have occurred in the past, and how problems have been resolved.
Widget Tech Inc. Code of Ethics
As we know, a code of ethics must address the company's ethical standards, what is expected of from every employee of Widget Tech Inc. Topics covered within the company's code of ethics should include: * Honesty and Service – All employees will be honest with each other, customers, supervisors and subordinates. * Conflicts of Interest- Employees should avoid actual or potential conflict of interest situations. Employees should not offer their skills or services to competitors or potential competitors, or engage in outside businesses that compete with or sell goods or services that are competitive to Widget Tech Inc. (SRA International, Inc. 2009) * Fair conduct- the long-term success of the company depends upon establishing mutually beneficial relationships. While the law requires that we fulfill obligations written into contracts and agreements, we will also be fair, ethical and consistent in all business dealings. (SRA International, Inc. 2009) * Proper use of company assets and time- personal use of supplies, equipment or premises belonging to the company is prohibited, unless prior permission is received from superiors.
Compliance with rules, regulations and safety regulations- All rules and regulations apply to all Widget Tech Inc. employees regardless of position within the company. Widget Tech Inc. code of ethics should also include a section addressing obeying the law included in this section should be: * All Employees must obey all applicable laws- all employees must obey all applicable and relevant laws that affect the business. * Must obtain proper licensing- All employees must be properly trained and licensed for their position within Widget tech Inc. * Hire authorized personnel and comply with immigration regulations- supervisors must go through proper steps during the hiring process to ensure Widget Tech Inc. is following all applicable laws concerning the hiring process. Widget Tech Inc. will hire only those individuals who are authorized to work in the United States and will comply with all laws and regulations * Consequences of unlawful conduct- Failure to follow applicable laws can result in conviction of misdemeanor and felony offenses, and can result in a substantial term of imprisonment and/or fines and restitution.
The last section to be addresses in the company's code of ethics is the violation of and reporting of anything covered in the companies code of ethics, this section should include: * Reporting violations- Every employee has a duty to report suspected non-compliance with applicable rules and regulations to their line management, the director of human resources, or another member of executive management. Employees who make such reports will be protected from retaliation.
* Accountability for violations- Any employee suspected of non-compliance with applicable rules and regulations will be investigated by management and human resources. Any employee found in violation of rules and regulations are subject to disciplinary action up to, but not including termination. Conclusion
Based on Widget Tech Inc.'s code of ethics, it is clear that John violated the company's code. Everyone within the company must adhere to the code of ethics with no exceptions to any personnel. It is imperative that each employee understand his or her role in complying with, and monitoring, relevant company policies and procedures. Widget Tech Inc. holds a high standard for themselves and their employees.
Resources:
Chris Mac Donald Ph.D. Guidance for Writing a Code of Ethics. Ethics web. n.d. retrieved on November 10 2009 from: http://www.ethicsweb.ca/codes/coe3.htm How to Write a Code of Ethics. eHow article 1999-2009 eHow, Inc. Retrieved November 11 2009 From: http://www.ehow.com/how_4685931_write-code-ethics-business.html Jae Ireland How to Create a Code of Ethics. eHow article 1999-2009 eHow, Inc. Retrieved November 16 2009 From: http://www.ehow.com/how_5092811_create-code-ethics.html?optype=text Joel Saltzman Six Top Tips to Shake That ETHICS Brain! 2006 Retrieved on November 22 2009 From: http://www.shakethatbrain.com/stb-ethicsSixTipsSUPERFINAL.html Joel Saltzman 12 Top Tips for Writing a Code of Ethics for Your Business. 2006 Retrieved on November 10 2009 From: http://www.shakethatbrain.com/stbethics.Writing%20a%20Code%20of%20Ethics%20for%20Your%20Business.html SRA International, Inc. Code of Business Ethics and Conduct. 2009 SRA International, Inc. Retrieved November 11 2009 From: http://www.sra.com/investors/corporate-governance/code-business-ethics-conduct.php
Related Topics