Why Has the Number of Millionaire Cities Increased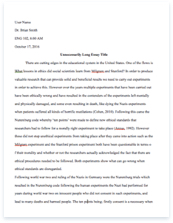 The whole doc is available only for registered users
A limited time offer! Get a custom sample essay written according to your requirements urgent 3h delivery guaranteed
Order Now
Why has the number of "millionaire cities" increased more rapidly in LEDC's than MEDC's in recent years? A millionaire city is a city with a population of over one million people. The number of millionaire cities is higher than ever before and is continuing to increase extremely fast. Recently the percentage of people living in urban areas has surpassed the number of people living in rural areas. This is due to a large proportion of people migrating to urban areas from rural areas. This is due to a large amount of LEDC countries undergoing an industrialisation. This took place in the UK during the industrial revolution and LEDC countries are now beginning to go through the same plan of development.
The rural urban migration that has occurred in LEDC countries is due to many reasons which are either push or pull factors. Pull factors are factors such as better paid jobs, the prospect of following the city dream, better access too and quality of services, higher influence in politics and higher job security. Push factors include: exposure to poverty in rural areas, lack of services such as transport, schools and healthcare. There is also the risk of guerrilla warfare in rural areas. A prime example of these push and pull factors in action is Bangladesh. Bangladesh experiences a lot of flooding which encourages people to migrate from the rural areas of flooding too the more built up urban areas.
Also areas that experience warfare are unsafe and therefore people move away from these areas and towards a safer area. These problems usually occur in LEDC's but they can also occur in MEDC countries but less frequently. Another huge factor that contributes to this rapid growth of LEDC cities is that the growth of these cities is often unmanaged by the government. Therefore population growth has spiralled out of control and has lead to a large amount of millionaire cities occurring in LEDC countries. Without any control over the land and its use the slums expand uncontrollably and the populations soar.
However this process does not occur in MEDC's because land and planning is regulated by the government. This is also enforced unlike the LEDC cities. An example of this is a legislation called the Green Belt. This occurred in London in the UK and prevents London expanding anymore. However this act is not used in LEDC's and therefore growth is exponential. In MEDC countries the birth rate is actually decreasing. This however is not happening in LEDC countries and the population continues to increase due to factors such as lack of family planning, lack of education and the migrants to the urban areas are usually of a reproductive age meaning the population in LEDC cities continues to swell.
There is also the fact that counter urbanisation has occurred in MEDC countries. Counter urbanisation is the movement from urban areas to rural areas. During the second half of the 20th century many MEDC countries experienced this and a decline in population was felt. London is a prime example of this with the population falling by 700,000 people between 1950 and 1980.
This was due to better family planning and better education. This therefore allowed more space for living in the cities. Overall, the number of millionaire cities is increasing in LEDC's and falling in MEDCS's because LEDC's are in earlier stages of development and therefore it is following the trend in which other countries have set. There is also no enforcement in inhibiting growth meaning urban areas continue to expand.
Related Topics