Website Content Writing Custom Research by Essay Writers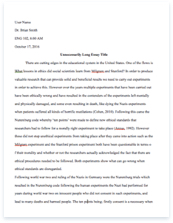 The whole doc is available only for registered users
A limited time offer! Get a custom sample essay written according to your requirements urgent 3h delivery guaranteed
Order Now
Abstract
    In this paper, intro copy written specifically for the home inspection industry, to be placed ultimately on a Website.  With this objective in mind, copy is presented below under the various headings corresponding directly to the copy itself.
 Tag Lines
          As an overall heading for the Website, a tag line should appear at the top of the homepage to capture the interest of the visitor and keep them on the site, commonly referred to as "stickiness".  Possible tag lines could include:
XYZ Home Inspection-Because it's not just our business, it's your home
At XYZ Home Inspection we see more than a house-we see your home
XYZ Home Inspection—We make a house into a home
 Written Copy
          Written copy will also be an excellent addition to the content of the Website; the copy could appear as such:
Home inspection means more than making sure a house meets a set of requirements; it's also about your needs and your future. At XYZ Home Inspection, we aren't satisfied until we exceed your expectations and meet all of the requirements our profession demands.
We don't just inspect houses- we look at your exciting future in a new home. Our expertise and professionalism ensures you of years of quality living in the home of your dreams.
XYZ Home Inspection turns dreams into reality and houses into homes.
Without a proper inspection, no one sleeps soundly.
Inspecting a home is more than a process; it's the way to keep you and your family safe and comfortable. XYZ Home Inspection makes the complex simple and turns home buying nightmares into sweet dreams.
 Closing Comment About pihomeinspect.com
    As a general critique of the pihomeinspect.com Website, please note that the word "surprised" on the homepage is misspelled……please make sure that spelling and grammar are correct.
 Final Thoughts
    The taglines and written copy presented herein can easily be used for any home inspection company and any Website; these ideas are not copyrighted, and may be used freely.
Related Topics