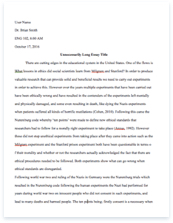 The whole doc is available only for registered users
A limited time offer! Get a custom sample essay written according to your requirements urgent 3h delivery guaranteed
Order Now
Mahatma Ghandi once said that "My Notion of Democracy is that under it, the weakest should have the same opportunity as the strongest' (The Free Dictionary, 2010, p2).
Ghandi's struggle for freedom in India resulted in self-rule being granted to the people. We sing about freedom in our national anthem and we talk about it in everyday life. We fly our flag with pride and take advantage of the rights and freedoms that our country offers us. We must now walk proudly beside our fellow non indigenous Australians to carve out a new future that is equitable for all.
Why is it important to vote? This question has been asked throughout past and present. This question affects all Australians and is an important one for Indigenous people, especially with regard to our history concerning the right to vote.
This right to vote, though taken for granted in our society now, was not quite as easy to gain. Since colonisation in Australia in 1788, the rightful elders of our land have fought hard to be granted the rights they deserve and are entitled to. After colonisation, indigenous Australians had their land rights revoked and consequently couldn't vote. Sixty two years later, in 1850 when all Australian men could vote, our indigenous inhabitants were still not encouraged or entitled to do so. Five years later when they claimed all women were eligible to vote, indigenous women were still excluded (Australian Electoral Commission, 2006, p4).
With talk of Federation came hope for new law reforms. However, as quickly as talk of federation came, so too did talk of the White Australia Policy. It stated that anyone on the electoral rolls before 1901 could vote (which theoretically included the indigenous population). However, people questioned its relevance in regard to Indigenous people and whether they should be included or not.
Consequently, in 1902 the policy was revised and once more voting rights were denied (Australian Electoral Commission, 2006, p5).
The electorates could also decide who was indigenous or not. It was quite common for Australians of Indigenous descent to vote if they became fully integrated into white Australian society, whilst others were refused the right altogether (Australian Electoral Commission, 2006, p5).
These struggles and inequalities that our Ancestors endured still persist today. The continuing efforts and struggles of people such as Mitta Bullosh and Eddie Mabo serve to raise awareness of issues such as voting and land rights which work toward changing perceptions within society.
With our new found rights comes the need to be mindful of our civic responsibilities. By electing people who understand our indigenous history and who appreciate our cultural rights, knowledge, identity and language we can address indigenous issues and move forward to make a better country. By voting we can prevent history from repeating itself. We are equal to anyone else and have the right and the responsibility to uphold and strengthen what we believe in.
This issue 'is close to my heart as it is relevant to me as an indigenous Australian and also to my community. I believe we need to have indigenous representation in parliament, and participation in voting can change our future positively. Together we pave the road to future success. Indigenous youth who are involved in decision making will forge the way forward. To follow Neville Bonner's path into politics could and should be the dream of many more of our people.
This can be achieved by encouraging' schools to promote understanding through the teaching of accurate and unbiased indigenous history we will remember the struggle and the battle our elders went through. "One of the hardest things for non-indigenous Australians to understand… The history we were taught; that we were led to believe, is not what happened" (Fraser, 2000, p1).
Early education and intervention is the key to making change and fostering new ideas, a fact recognised by former Prime Minister Kevin Rudd when he introduced the new National Curriculum for implementation in 2011 "A key feature of the draft Curriculum for history is the treatment of Australian history within a regional … context. This allows students to better understand the richness of the Australian story" (Australian Labor, 2010, p1). Another avenue is to continue sending student delegates on trips to the United Nations to talk about the changes necessary to enable us to ratify the 'Declaration on the rights of Indigenous peoples' (Stein, 2008, p1). Hopefully this will encourage a new generation of indigenous voters and raise awareness about the merits of enrolling and voting as our fundamental right.
Voting is Important and the more we participate and speak out, the more we raise awareness in others, to take action and to show the importance of voting and taking part. By becoming involved we not only vote to have a say, but to preserve our cultural knowledge, identity, language and to stand by our rights.
Our forebears worked towards bridging Indigenous inequality and we should feel obligated to continue their legacy.
Related Topics