Vision for the Future of Nursing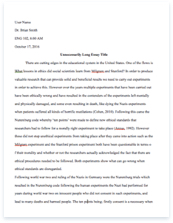 The whole doc is available only for registered users
Pages: 5
Word count: 1196
Category: Nursing
A limited time offer! Get a custom sample essay written according to your requirements urgent 3h delivery guaranteed
Order Now
This Power Point Presentation will present how evidence-based practice will influence trends in healthcare and the future of nursing, how the application of nursing theory will continue to influence professional nursing practice, the nurse's current role is in research, as well as how new roles and opportunities will benefit nursing and healthcare in general. Evidence based practice will influence trends in healthcare and the future of nursing According to Chitty and Black (2011), "Evidence-based practice (EBP) means using the best available research findings to make clinical decisions that are most effective and beneficial for patients" (p.258). Evidence-based practice consists of specific nursing interventions or guideline for the care of patients with certain illness and procedures in order to provide best patient outcomes. Before the established of evidence-based practice, nurses have practice based their past experience, intuition, and guesswork rather than science (Chitty & Black, 2011, p.258).
"The intended effect of EBP is to standardize healthcare practices to science and best evidence and to reduce illogical variation in care, which is known to produce unpredictable health outcomes" (Stevens, 2013). Implementing evidence-based practice can be challenges. It is essential that nurses gain the necessary knowledge and skills to identify and analyze the scientific evidence and critically appraise the evidence to decide if the results are valid and reliable. Besides, nurses need to integrate the evidence with clinical expertise, patient preferences, and values in making a decision to change.
According to Blais and Hayes (2011), "nurses should evaluate the effectiveness of the practice guideline in order to determine whether to continue the practice guideline as established or whether there is a need for revision" (p.184). As the older adult population is expanding rapidly, they require teaching and nursing intervention designed to meet their needs. Plus, patients have become more knowledgeable regarding their treatments. Nurses need to stay current and keep aware of new evidence of practices and implement of evidence-based practice by pursuing continuing education, attending professional conferences, and reading journals (Chitty & Black, 2011, p.259).
Describes how the application of nursing theory will continue to influence professional nursing practice "Nursing as profession is strengthened when nursing knowledge is built on as sound theory" (Chitty & Black, 2011, p.303). Nursing theory is developed to describe nursing, and theories provide a mean of expanding nursing's knowledge base to meet the needs of the patient in an ever-changing society. Theory-based practice provides rationale for nursing interventions and directs nurses what to do so as to achieve best patient care outcomes. Also, theory improves practice by giving nurses knowledge for acting and practicing appropriately in nursing care and better problem-solving skills when nurses deal with complex situations.
Nursing theory guide nurses each step of the nursing process by using critical thinking skill, so the nurses can determine what information they need to assess and collect to formulate nursing diagnoses so as to intervene appropriately and evaluate the outcomes. On the other hand, theory provides nurses to challenge the traditional nursing practices. "Nurses in practice settings have invaluable insights and observations, thereby contributing to the knowledge base for nursing" (Chitty & Black, 2011, p.321). By providing periodically feedback to nurse researchers and theorists, the theory can be related to the real world of nursing practice.
Describes the nurse's current role is in research
According to Chitty and Black (2011), "All nurses should be involved in nursing research whether or not research is a nurse's primary role" (p.340). Because of the limited time to participate in research activities and lack of educational preparation, nurses find themselves hard to contribute their inputs. Also, bedside nurses think research role is too far away from them. However, what they do routinely constitutes of nursing research. The nursing process represents the basic framework of the research process as assessing, diagnosing, planning, implementing, and evaluating.
Nursing research improves the care of people in clinical settings and provides evidence-based nursing practice. As healthcare and illness patterns change, nursing interventions must change to meet the demand of the aging population. Ongoing practice-based research requires the nursing profession's understanding and applying research theory to meet the ever-changing demands of the patient. In addition, all nurses have the responsibility to evaluate the current practice by identifying the problems that need to be investigated. Research in nursing provides the avenue for creative, scholarly endeavors driven by a desire to improve the care for patients (Chitty & Black, 2011, p.270).
Describes how new roles and opportunities will benefit nursing and healthcare in general Nowadays, nursing profession and nurses face many challenges and meanwhile it provides the opportunities for the nurses to growth and become proactive to meet the needs of the consumers and the society. For instance, instead of using inspection auscultation, palpation, and percussion, now nurses can collect all the data such as patient's heart rate, respiratory rate and blood pressure from the monitor. The advanced medical devices provide convenience for nurses to assess the patients, however, it also requires nurses know how to use the device. "Nurses need knowledge with health information technology, which can help them communicate with other providers and can allow them to make the most of their role in coordinated care" (Howell, 2012).
Changes taking place in healthcare give nurses the opportunity to help shape healthcare for the future. The healthcare system has many challenges, including the rapidly increased numbers of the older population, changing expectations of healthcare consumers, and rapidly expanding technologies. Hence, nursing care will become more important in the future when implementing nursing care for patients. Because decreased length of stay for hospitalization, nurses must have knowledge of physiology and psychological functioning, technological monitoring systems, client care and computer systems and skills in order to provide complex care to very ill patients (Blais & Hayes, 2011, p.443). Unhealthy lifestyles and habits such as tobacco use, lack of exercise and drug use still predominate. "nurses will need to take an active role in preparing healthy citizens for the future by teaching about exercise, nutrition, safety, and other habits for healthy living" (Blais &Hayes, 2011, p.445). Therefore, nurses need to be knowledgeable about this trend. In addition, nurses as caregiver should promote health, prevent illness, and facilitate the patients coping with illness.
Nursing roles change continually in response to the needs of the society. The trends discussed above affecting nursing practice and education. Professional nurse must apply nursing theory and use evidence-based practice in their daily activities to care for the patients. As nurses continue to define their own practice, the special role of nursing in caring for others will become increasingly recognized in society.
References:
Blais, K. K. & Hayes, J. S. (2011). Professional nursing practice: Concepts and perspectives (6th ed.). Upper Saddle River, NJ: Pearson/Prentice-Hall. Chitty, K. K. & Black, B. P. (2011). Professional nursing: Concepts and challenges (6th ed.). St. Louis, MO: Elsevier Saunders. Howell, W. L. J. (2012). The changing role of NURSES. Hospitals & Health Networks, 86(3), 36-8, 40, 49. Retrieved from http://search.proquest.com/docview/971178089?accountid=35812 Stevens, K., (May 31, 2013) "The Impact of Evidence-Based Practice in Nursing and the Next Big Ideas" OJIN: The Online Journal of Issues in Nursing Vol. 18, No. 2, Manuscript 4.
Related Topics