Vendor Representative Credentialing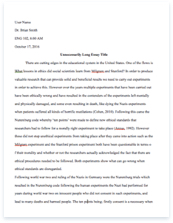 The whole doc is available only for registered users
Pages: 8
Word count: 1813
Category: Hospital
A limited time offer! Get a custom sample essay written according to your requirements urgent 3h delivery guaranteed
Order Now
1. Definition of Problem
1.1 Background
            Credentialing which involves assessing and evaluating the legitimacy of licensed professionals to establish their qualifications is very important in health care. Many institutions that provide health care services conduct credentialing themselves through a specialist or an electronic service that is reviewed by a medical staff or an established credentialing committee. The process includes evaluating, granting and reviewing clinical privileges and medical staff membership to certain/specific cases. Credentialing process is objective and aims at evaluating the current licensure of a subject, their training, competence, experience and ability to perform particular proceedings or provide the specific required services. Credentialing of vendors is usually carried out prior to the purchasing of the products and has to be repeated regularly every time products are purchased on regular basis.
            One of the requirements of Health Insurance Portability and Accountability Act (HIPAA) is for physicians to ensure that all their vendors supplying anything used in health care comply with and meet the HIPAA requirements. The HIPAA guidelines are intended to ensure that there is efficiency in the services offered by the vendors. In order for physicians to effectively comply with these requirements, they need to implement a vendor credentialing system that will confirm that the vendors supplying them with administrative services, data and any other product comply with the HIPAA requirements. Lack of such a system creates so much confusion as a result of the disorganization that characterizes it. Mistakes that arise from this situation can also be very costly to the practitioners and worse to the patient. A well established and implemented credentialing system is therefore very crucial.
1.2 Purpose of the Study
            This research paper seeks to create and implement a vendor credentialing system in Hospital X as the current state of affairs as far as vendors are concerned is very confusing and risky not complying with HIPAA amongst other health acts.
1.3 Problem Statement
            X hospital has proper system of keeping track of vendors that visit the hospital at any given time. It uses a system in which vendors are required to sign in and out which is currently not working as there are times when some vendors come in without signing in or leave without signing out. The hospital can therefore not effectively monitor who is inside the building. The number of vendor representatives that serve the hospital is also too high implying that the hospital is always being bombarded with medical representatives. They come in without even appointments and go everywhere including the OR and Cath Lab. Is spite of the fact that their reason is to sale products, they are usually seen assisting with procedures in the above places yet no one has ever checked to confirm their qualification and capability.
            The vendors are allowed to go anywhere regardless of the X hospital not checking their background for any criminal records. The hospital does not also test them for substance abuse and requires documents to confirm the vendors' health status and whether they have been vaccinated against major diseases. The products they sell are also not checked for the liability insurance.
            The main reason as to why the vendor representatives come to the hospital is to drop products and market new ones, bring instruments to assist the physician with a certain procedure or to talk with the physician about contracts.
            The scenario described above of how X hospital operates with vendor representatives displays a very ineffective and dangerous way of handling health care operations. The above system greatly lowers the competence of X hospital. The fact the representatives are not consistent in signing in or out could even result to theft particularly since no checking of criminal records has been done. It could also result to adverse effects on the patients as the vendor representatives are allowed to enter and even assist in procedures they have no qualification and experience in and out when the can result to X hospital a lot both in terms of theft. This situation is desperate and very risky calling for a vendor credentialing system to be implemented in X hospital.
1.4 Research Objectives
To put in place a system that ensures that X hospital knows who is in the building
To implement a system that will ensure proper management of the flow of vendor representatives.
To ensure that only those vendor representatives that understand and comply with the code of conduct of X hospital and other policies particularly those required by the department of health are allowed in.
To come up with a system that will ensure only those vendors from companies that have been approved by federal database are allowed in.
To implement a system that will reduce the size of vendor representatives to one that is more effective and easy to manage.
1.5 Assumptions
            The research assumes that that implementation of a vendor credentialing system will reduce traffic caused in the hall ways by the vendor representatives and that the time used to deal with vendor representative issues by the hospital staff will reduce creating time for other more important things. Research also assumes that implementation of this system will ensure complete compliance by the vendor representatives. It is also assumed that the entire staff and even the sales representatives will accept the system.
1.6 Limitations
            It is worth to note that the most affected party by this implementation is the vendor representatives. The research will not be concerned with confirming whether they comply with the regulations that would have been put forward in the system. Implementing the credentialing system can not ascertain that it is complied with, it only will improve the current situation and provide a way of dealing with those who are caught violating it. The system will also not be much concerned with the hospital staff and its role in making the system a success. It is more concerned with the vendors providing a guideline on how they will be marketing and selling their products in the hospital.
2. Literature Review
2.1 Introduction
            According to McGinnit (2005), vendor access control is important in maintaining the safety, quality and cost of health care. According to her research, representatives from institutions that have implemented these policies explained that policies for credentialing vendors are not aimed at restricting or punishing the vendors. One of their main goals is to maintain an environment that is more orderly for both the hospital staff and the vendors.  The need to implement systems that ensure that aces is formal and controlled rose after considering issues to do with patient safety, quality of health care and more importantly the potential adverse financial impact that unrestricted contact between vendors and practitioners posed. Other physicians who supported these policies argue that implementation of vendor access policies greatly saves them time giving them opportunity to spend more time with their patients and do other things. They also wanted a more structured system that directed how they dealt with vendors who could at times be a bother (McGinnit, 2005).
            When coming up with a system for vendor credentialing, it is important to address several issues. These include formulating guidelines that regulate access to patient areas. The system should also document credentials of the vendor that make them qualified to provide a particular service and whether they comply with the health and safety requirement. The policy should also provide well defined procedures to be used by the vendors in the event they want to introduce or reimburse new products and technologies (McGinnit, 2005).
3. Methodology
3.1 Data Collection
            This research can be considered qualitative study because of the objective that it seeks to achieve. The kind of data to be collected is on the best vendor credentialing system to be implemented in X hospital.  The research intends to research on all the available systems so as to determine one that best fits the situation at X hospital and also ensure that the objectives of the research are achieved. The researcher intends to use interviews particularly the semi-structured type as they are most suitable for qualitative research. This is because they are flexible and give the researcher an opportunity to address the complexity of the topic under study (King, 2004). In this research, the  researcher will interview other hospitals and institutions that have established systems for credentialing vendor representatives and determine which one is the best for X hospital both in terms of functionality and cost. The researcher will also interview providers of various systems.
            In the semi-structured interviews , the researcher will have a list of themes to be covered. The questions will be tailored such that they get more clarification and probe the interviewee's reasoning so that the collected data is of good quality (Leedy & Ormrod, 2005).
3.2 Data Analysis and Validation
            The data collected through interviews will be analyzed using the spiral tool described by Creswell (1998). The researcher prefers using this tool as it has been found to be   applicable to many qualitative studies (Leedy & Ormond, 2005). The fact that interpretation of the data may be influenced by the researcher is inevitable. The researcher however intends to acknowledge any biases that may result so that they are pout in to account by readers.
            The best method to use in validation of qualitative results is triangulation. This method is however not available to this research. The researcher will therefore use multiple perspectives to validate their findings. Two strategies will be used; one will be to go back to those interviewed to seek their opinion of the result and the second will be to ask of the opinion of more experienced researchers in the field and determine whether they agree or are opposed to the findings. These strategies have been approved  and recommended by Leedy and Ormrod (2005) as best in overcoming the issue of validity that is characteristic of qualitative research.
            After validation and complete analysis, the best system to implement will be determined and discussions held with the members of the staff and the vendor representatives with their companies to ensure that everyone is involved and understands what the system entails.
References
Creswell, J. (1998). Qualitative Inquiry and Research Design: Choosing among Five       Traditions. Thousand Oaks, CA: Sage.
King, N. (2004), "Using interviews in qualitative research", in Cassell, C. and Symon, G.           (eds), Essential Guide to Qualitative Methods in Organizational Research, New York,       NY: Sage.
Leedy, P. and Ormrod, J. (2005). Practical Research: Planning and Design. New Jersey:            Pearson Prentice Hall.
McGinnity, E. (2005). Implementing Vendor Access Policies and Procedures. Retrieved on        29th July 2009 from,
            <http://findarticles.com/p/articles/mi_m0BPC/is_11_29/ai_n15860302/>
Related Topics