Under Armour – Challenging Nike in Sports Apparel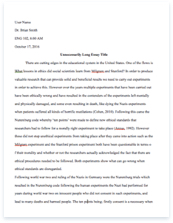 The whole doc is available only for registered users
A limited time offer! Get a custom sample essay written according to your requirements urgent 3h delivery guaranteed
Order Now
Under Armour has dominated the performance apparel market in recent years. They have used innovative technology and created a product that is high in quality and has gained a lot of customer support from its target industry. Their strategy of producing climate favorable, Athlete friendly, fitting sizes apparel made of moisture-wicking polyester-blend fabric ensuring high quality has been working to good effect as it has been dominating a performance apparel industry overcoming its rivals Nike and Addidas. So, their innovation and technology is their major strength. Similarly, products they introduced to the market are unique so they are going to enjoy the first mover advantage for quite a good time. This allows them to stay competitive in the industry. They have also been able to establish a very good brand image among customers. Their strategy of targeting athletes and active lifestyle has helped them to gain a lot of popularity among targeted customers. Apart from that its strength also lies on the athletic endorsements and players sponsorship.
There are few weaknesses that Under Armour needs to consider. Most of the raw materials used by Under Armour are developed and manufactured by third parties. However, the company's popularity is based on the innovation and uniqueness. So development of those materials through third party could be risky for Under Armour as they can be imitated. Similarly, when a product is unique, it has to be patented. Patents ensure protection over intellectual property. Absence of that is a weakness of the company. Weakness of Under Armour can also be pointed out by comparing its product line with its major competitors, Nike and Addidas. Nike and Addidas have huge product line. Where Under Armour provides just cleats and running shoes, Nike and Addidas provide many other accessories like soccer goalie gloves, shin guards, baseball hats etc. So, Nike and Addidas have larger product line whereas Under Armour's is limited. Similarly, high prices of its product are also a weakness to the company. Not everyone might think it to be reasonable despite the quality they provide. Under Armour lacks an influence in international market as well. They are not active as their customers. And endorsements and designation as an official supplier may get expensive in long run.
There are a lot of opportunities in the market for Under Armour to take advantage of. First of all, company started with apparels mainly targeting the male athletes. Now they have opportunity to expand their target market and focus on females and kids. Moreover, people are more health conscious these days and are motivated to hit gym and work out. This is a huge opportunity for them as they have chances of more customer attraction and demand. Similarly, to stay away from a risk of being imitated, Under Armour should patent and copyright their technologies and designs. In Addition, they also have an opportunity for expansion to international markets; they could increase the number of retail outlets and increase customer base.
The company also needs to be aware of the threats. The most possible threat for Under Armour could be the entrance of the competitor into the market. This would lead to the availability of substitute products and may be for even cheaper. The competition is not just limited to the new entrants. Competition from larger companies like Nike and Addidas should also be considered. Lack of protection over intellectual property could drastically affect the sales of products in future. And lack of product differentiation also could hurt them in future.
The most critical problem for Under Armour could be to stay innovative and be creative enough to surprise customers. Now the question arises: How to stay competitive by means of product innovation and technology with large competitors? To answer the question, Under Armour could think of few alternatives. Uniqueness was the key to success for the company. Company should maintain the quality and uniqueness of the product. The advantage of using the same quality is to maintain the consistency in taste supplied to the customer. This would keep the customer satisfied. However, no variation in taste could effect customer's satisfaction. Petroleum is one of the main components in manufacturing Under Armour products. So, fluctuation in price of petroleum product could alter the price of the apparel constantly.
The other alternative for Under Armour is to use innovation and technology to expand the product line. This way they would be competitive with their competitors. This provides more option for customer to choose, which could drastically increase the profit margin for the company. Company could also reduce risk associated with offering very few and can help increase its reach to new markets of consumers. But, on the other hand, scattered sales for different products may affect sales for the older ones. Similarly, every addition product would have a life cycle. Marketing strategy must be varied at each stage in that cycle. It could be hard to manage in the long run. Another alternative is to take the innovation abroad and create a new market. They should expand their market in international soil. This means, even more customers eventually, more profit again. They could also have the option of establishing a plant in foreign countries like India, Indonesia etc., where labor cost and cost of operation could be reduced. However, there is a high risk of producing special fabrics through third-party. Competitors could take advantage of it and imitation of the company's design could mean company could bear reduction of sales.
So, the best alternative at the moment for Under Armour seems to be continuing their innovation and technology to expand the product line. Compared to their competitors, Under Armour lacks enough product line. When Under Armour diversifies the product line, it increases the potentiality for profit. This means, there would not be a problem of underproduction and company could reach among new customers. Overall, performance level of Under Armour in current market is commendable and they have more potential to grow. With the current business decision and above suggested recommendations, company could leap forward towards success in long run.
Related Topics