To Kill a Mockingbird: What do you think of Atticus Finch?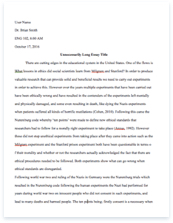 The whole doc is available only for registered users
A limited time offer! Get a custom sample essay written according to your requirements urgent 3h delivery guaranteed
Order Now
Throughout the novel 'To Kill a Mockingbird' by Harper Lee we see Atticus Finch from many different aspects such as a father, a neighbour, a lawyer and as a human being. Atticus is a widow who has brought up his two children Scout and Jem with his housemaid Calpurnia in the county of Maycomb, Alabama. Atticus is a respectful man and leads a plain, simple life as a lawyer. Atticus changes however towards the second half of the book when he is involved in a very important court case defending a black citizen. In the first part of this essay I am going to concentrate in detail as Atticus as a father.
In the first couple of pages we find out that Atticus is a sound father as Scout says 'Jem and I found our father satisfactory: he played with us, read to us and treated us with courteous detachment.' Some of the people of Maycomb disagree with the way Atticus brings up his children such as Mrs. Dubose but Atticus just advises Jem to hold his head up high and be a man. This shows that he is trying to bring up his children not to listen to what other people say about them and to act that they don't care. Atticus is shown as an old father in the eyes of his children because it says, 'Atticus was feeble: he was nearly fifty. When Jem and I asked him why he was so old he said he got started late, which we reflected upon his abilities and manliness.'
From this quote we see his humorous side not only his old side. The children feel that Atticus is not a normal father because Scout says, 'He did not do the things our schoolmates fathers did; he never went hunting, he did not play poker or fish or drink or smoke. He sat in the living-room and read.' Again this is just showing Atticus wants to or is leading a simple life. Sometimes in the book I feel that maybe Atticus acts like a lawyer to his children as well, because being a lawyer you have to listen to the two sides of the story and he does this when Jem and Scout argue. This could show that maybe his behaviour is too good to be true. However Atticus does look out for his children as we see during the mad dog incident when he tells Calpurnia to keep the children inside until he comes and then keeps them away from the dog even though it is dead, protecting his family and the community.
Next I am going to look at Atticus as a neighbour. Throughout the book we see Atticus as a thoughtful neighbour who keeps his nose out of their business, not minding if they keep out of his. We see this when his children were very curious about particular house in their street. ' Atticus never talked much about the Radleys: when Jem would question him Atticus's only answer was for him to mind his own business and let the Radleys mind theirs, they had a right to;' also 'putting his life's history on display for the edification of the neighbourhood.' Atticus does not think it fair for his children to tease Boo Radley in front of all their neighbours. Atticus Finch takes care of the whole of the community as well as just his family, as I have already mentioned earlier on in this essay during the mad dog incident. You can see this when Heck Tate tells Atticus to shoot the dog even though he hasn't used a gun in years. Atticus does this to protect the whole of his community looking out for them. A couple of the neighbours notice that 'Atticus Finch is the same in his house as he is on the public streets.' I'm not sure whether this is a good thing or a bad thing because maybe the neighbours take advantage of him.
Atticus moved to Maycomb to set up a practice as a lawyer. He is known as a good lawyer as we see during the court case between Mayella Ewell and Tom Robinson. Atticus is defending Tom Robinson who is a black citizen and has been accused of raping Mayella Ewell, a white teenage girl. All the way through the court case Atticus was crafty and knew exactly what he was doing. He knew that Tom Robinson did not rape Mayella because Tom is disabled and cannot use his left hand. Bob Ewell is left-handed and Mayella's bruises were on her right side showing that to make these bruises as bad as they were you had to be left-handed. In court Atticus asked Bob 'Will you
write your name and show us.' He did this to show the whole courtroom that Bob was left-handed and this was his best hand to do almost everything with. Many people had different views about Atticus for example 'Tricking lawyers like Atticus Finch took advantage of him all the time with their tricking ways.' Atticus proved one big point during the court case that no one called a doctor to check Mayella's conditions. He says 'Did you, during all this running, run for a doctor………' '………But you didn't call a doctor? While you were there did anyone send for one, fetch one, carry her to one?' This shows that Mayella's conditions could not have been that bad.
Next I am going to write about Atticus as a human being. 'For several years thereafter he invested his earnings in his brothers education.' This shows that Atticus is willing to sacrifice his money to his brother not only his children. Atticus treats everyone with the same respect. When the book was set there was a lot of racism in America, but he did not care what anyone thought and had a black housemaid. If white people had black people working for them, they normally treated them with disrespect but 'Calpurnia always won, mainly because Atticus always took her side.' Atticus stuck up for Calpurnia even between his children. Atticus tries to look after his neighbourhood as we see in the mad dog incident. 'Atticus's hand yanked a ball-tipped lever as he brought the gun to his shoulder.' He had not used a gun for many years and did not intend to use one in front of his children, but to protect his children and the society he did so. All in all Atticus is a good person. He has his enemies throughout the book and he has his friends.
Related Topics