Tim Gunn and a Leaky Shower: Welcome to My Life: Little Guy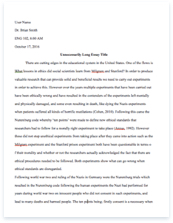 The whole doc is available only for registered users
A limited time offer! Get a custom sample essay written according to your requirements urgent 3h delivery guaranteed
Order Now
This article was written by Maggie Downs, "Tim Gunn and a Leaky Shower: Welcome to My Life," was about a woman named, Maggie who welcomed us into her life as a new mother of her son, Everest, she was only home one week and so far with a newborn I believe her experience was a lot harder to deal with than she expected. I would say it was rowdy, uncomfortable, and nerve-racking situation for her in her own home. She went through construction work going on in her home, unable to use certain parts of the home, and it was not exciting watching television with a newborn and everything else that was going on. Do you think all mothers have an easy going start of motherhood?
The week after the hospital started earlier than expected, it was hectic for Maggie. She noticed that the second-floor shower was leaking, so she had to get in contact with the landlord. She made contact, and the landlord found construction workers that had low price rates to come work for her on her renter's apartment. So, dealing with the workers, and their loud noise making plus trying to adjust with her newborn in her home, it made things a bit difficult if you ask me. They used sledgehammers to destroy tile and brought in sacks of a tile to use. A putrid was piped, and they laid down sheets of concrete. "I was unraveling, too – exhausted and sore, hormones pinging, the wound from an unplanned Caesarean section still open and raw" (Downs, 2015). This was not fun knowing they worked from sun up to sun down with her having to deal with different emotions and hormones with a newborn.
I suppose this was not the ideal she had coming home with a new child. I was sure as a new mother she felt as if she had no privacy whatsoever and was extremely uncomfortable in her home. Maggie's room was unable to be occupied due to powder they had in there, which had made her asthma flare-up very harshly. It was tough with her having an emergency Caesarean section which I am sure was very uncomfortable, exhausting, and nerve-racking for her. I can relate to Maggie with being in excruciating pain after having a Caesarean section, trust and believe it is not the best pain to experience. I myself was in pain for three weeks and every move I made was a serious pain especially walking up and down the stairs, coughing, and sneezing. In addition, the air conditioning in her home had lacked at its job and with it being in the 100s outside sure this was also exhausting.
I understand that watching television was not always exciting because she was changing diapers, feeding him, and soothing him to make sure he was good. She attended to all of Everest's needs that needed to be done, and he still would fuss. It was all bittersweet, plus being sore and tired. The only advice she received from friends was to sleep when the baby did, but that, of course, did not go as planned with everything that was going on.
"Project Runway" was something she also watched on television. To close out the loud noise and the baby crying from the construction work being done in the bathroom, she made the TV loud. Due to so much going on she could not rest and could not sleep which was something she could die for. Tim Gunn was a very inspirational person, "A steady and commanding presence who would inspire me to power through this mess…" (Downs, 2015, Paragraph 9). She had a useful motto from Tim Gunn's inscription, which was "Make it work" (Downs, 2015, Paragraph 12).
I believe Maggie did not have an easy going start of motherhood and I also believe this is not how she envisioned motherhood to be at all but she tried her best to get through it. Experiencing construction, extremely loud noise tools, unable to use certain parts of the house, and having a fussy baby was not so adjustable for her. From my own experience with having a Cesarean Section, it is not that easy getting around and moving just any way. As soon as she thought it was all coming to an end she founded out they would have to redo the floors because the angle was wrong. Back to square one for her. This is how Maggie was welcomed into motherhood with her son Everest.
Related Topics