Three Skills Needed to Be a Correctional Officer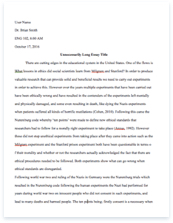 The whole doc is available only for registered users
Pages: 2
Word count: 500
Category: Skills
A limited time offer! Get a custom sample essay written according to your requirements urgent 3h delivery guaranteed
Order Now
Of all the skills needed for a particular job today, the toughest one around doesn't require you to have prior knowledge. So, what does it take to become a Correctional Officer? The numerous skills required to be a Correctional Officer are taught at the training academy. Yet, the skills that will benefit you the most are quite common. Therefore, I affirm that there are three main skills that are most important, which are verbal, observational, and clerical skills.
Firstly, the most vital skill needed, among many abilities, is to have good verbal communication. Learning to communicate well is an essential skill. Since Correction Officers work unarmed most of the time, they must have excellent interpersonal communication skills in order to establish and maintain a safe working relationship with inmates, ensuring that the rules and regulations are followed with a minimum of coercion. In addition, they must exhibit sound judgment in knowing when to impose certain penalties. This would include withholding privileges and to encourage inmate cooperation and compliance with as little confrontation as possible.
Good listening skills are part of good communication; you need to understand what the other person is saying to you as well as to say what you want. Having good verbal communication between staff and inmate population can help to deescalate a situation if it were to occur. For example; if an inmate is having a verbal altercation with another inmate, you can pull one inmate aside at a time and talk to them about the problem by trying to talk them down from the argument. Having good verbal skills can come in handy and may help if a situation arises, it is always best to try to deescalate when possible. Secondly, among the numerous abilities, observational skills are needed in order to excel as a Correctional Officer.
From the first day inmates are incarcerated, it is important to observe all activities and their behavior. While, observation is a good tool, you also need to pay attention to non-verbal clues such as tone of voice, facial expressions, gestures, and body posture. This involves listening. Listening brings together observation as it gives you a bigger picture on how the inmates will interact with everyone. Good communication involves being observant and focusing on the other person. Communication is a compromise. Everyone has the right to have their own opinion; just because you don't agree with them is no reason not to listen.
The third and last skill needed, among many, are clerical skills, which are essential to have in order to be a successful Correctional Officer. Correctional Officers have to have computer skills and know the basics of information technology. For example; sending and receiving email, using a word processor and spreadsheets. They need to have computer knowledge because Correctional Officers have to write disciplinary reports, and knowing how to clearly organize a written report is imperative. It is also important that when you write your report it is clear and accurate.
Related Topics