Three Shifts, Three Supervisors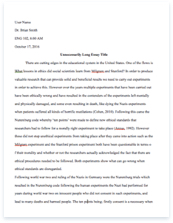 The whole doc is available only for registered users
A limited time offer! Get a custom sample essay written according to your requirements urgent 3h delivery guaranteed
Order Now
Issues:
Workers of first shift are demotivated as they think there work is pretty much repetitive and monotonous. Second shift is suffering from high rate of absenteeism and turnover. Upper management is not solving the problem of second shift that they are facing on their job. Third shifts workers who worked with Carol are not able to adjust in other shifts.
Analysis:
In this case, there are three shifts with three different supervisors. There work is different with each shifts but are related to each other. First shift supervisor Art is directive in nature and often directs his employees to follow the correct procedure even though their work is repetitive in nature and employees doesnt need to take any decision on that. They are demotivated because of their monotonous job. Second shift supervisor Tom is very much supportive in nature and is always concern about his employees. He enjoys his work and thinks same about his employees. But his shift problem is high rate of absenteeism and turn over which is because of complexity of the task that workers have to do. Third shift supervisor Carol is very different in nature with that of other supervisor. She is mixture of task and people oriented leader. She knows how to lead in a different situation and use the style that best meets subordinates motivational needs and demands of the work setting. The problem of the third shifts worker is that they cannot work in other shifts once they have worked under Carol.
Conclusion and Recommendation:
Path-Goal Theory of Leadership formulated by Robert House proposes that the leader can affect the performance, satisfaction, and motivation of a group in different ways: offering rewards for achieving performance goals, clarifying paths towards these goals and removing obstacles to performance. Arts leadership style is directive telling followers what needs to be done and giving appropriate guidance along the way. This includes giving them schedules of specific work to be done at specific times. Seeing the nature of work that his subordinates do, directive leadership wouldnt work in that situation. He needs to be more supportive. When the job is monotonous and boring in nature, supportive leadership works well. As it consider the needs of the follower, showing concern for their welfare and creating a friendly working environment. This includes increasing the follower's self-esteem and making the job more interesting. Toms leadership style is supportive where the leader is friendly and approachable. The leader shows concern for the followers psychological well being. His nature of taking people out to lunch, posting birthdays and employee of the week and social gathering shows his nature.
Tom should change his supportive leadership style to participative leadership style. His shifts work is more complex in nature and his employees in facing problem while doing their job. So he needs to be consulting with followers and taking their ideas into account when making decisions and taking particular actions. This approach is best when the followers are expert and their advice is both needed and they expect to be able to give it. Carols style is achievement oriented leadership in which setting challenging goals, both in work and in self-improvement (and often together) are done and high standards are demonstrated and expected. The leader shows faith in the capabilities of the follower to succeed. Carol doesnt need to change her style as she is using the style that best meets subordinates motivational needs and demands of the work setting.
Related Topics