Their Spirits Live within Us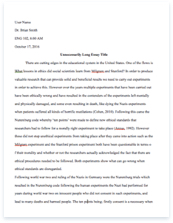 The whole doc is available only for registered users
Pages: 4
Word count: 929
Category: Women
A limited time offer! Get a custom sample essay written according to your requirements urgent 3h delivery guaranteed
Order Now
Dara Culhane designates the thesis in her article Their Spirits Live within Us, to how Aboriginal women are seen as invisible to the public on the Downtown Eastside of Vancouver. Culhane then continues on to establish the basis of the annual Valentine's Day Women's Memorial March as a way for Aboriginal women to stand up for themselves and have a chance to be noticed and heard. As anyone who has been to Vancouver's downtown east side can say Aboriginals near main and Hastings are "seen" as invisible, often ignored even though they are completely over represented within that area. Currently the estimated number of aboriginals in the downtown east side is 5000+ this number says that aboriginals represent over 1/3 of the total population of downtown east side residents.10% of the Canadian population is aboriginal & they are disproportionately located in the poorest of neighborhoods and commonly sit at the bottom of the socio-economic hierarchy Aboriginal women on Vancouver's downtown east side are seeking to be re-labeled in more positive ways. They are counteracting their inequality in numbers by participating in the annual Valentine's Day women's memorial march. Here they urge the public to re-see them as part of the community, label them positively and help them to become publically visible.
Febuary 14th has been named the day to remember those who have disappeared or been murdered from the downtown east side. Main and Hastings, a familiar area to most of the downtown east side is commonly known as pain & wastings. In this area alone since 1997 the HIV/AIDS rate has become an epidemic. Infection rates are higher in women than above men for aids/hiv and the over all rates of HIV/AIDS in this area exceed anywhere else in the devoloped world. Vancouver's Downtown Eastside has become a spectacle of entertainment in the media, rather than concern. Media portrays downtown as an issue to Vancouver's culture /tourism rather than an issue of individuals and poverty. Another problem is that Canadian doctors tend to over medicalize which can help lead to addiction. Society continues to enable these people's inequality by practicing forms of race blindness.Most of society chooses to ignore the social suffering carried by the aboriginal people of that neighborhood. Average annual incomes are generally FAR below the poverty line in Canada to downtown eastside residents.
The current Canadian poverty line sits at around an average of $12000 annually.Some of the downtown east side's residents are mentally ill and some are drug users but most are just those who are too poor to afford to live in Vancouver's other areas. Vancouver has been deemed the city with the highest rent in Canada. The downtown east side is not the only area of the lower mainland that the sex trade or drug use occurs. It is happening every day in wealthier areas of Vancouver as well. However; in these areas, it is hidden in brothels, homes and escort agencies. Here, wealth conceals what the downtown east side has to lay open to the public eye.The johns of downtowns inner area are seen as those who are seeking to disrespect, demean, and degrade and often even commit violent offences upon the women of the trade. Commonly these women are seen as disposable by both johns and society. In the Pickton case at least 61 women were reported missing since the mid-80s when their families and friends reported them missing they were turned away at the door. The Vancouver mayor of the time claimed that public funding would not go out to create a prostitute location service.
Over half of the missing women that were said to be murdered by Pickton were aboriginal women. It is ironic that when America's most wanted aired a segment on the missing women the reenactment starred a blonde white woman as the sex trade worker who was being kidnapped by Pickton. in the early 1990s the aboriginal movement and aboriginal women's movement began to increase the voice behind the spirit and regain some equality in leadership. It is the former sex trade workers/ addictions candidates who had become sober began to speak out as spiritual icons and organizers within the community for the invisible.
Back to the point of the march on V-day; people who attend are all types of people not just aboriginal. Topics on the day of: healthcare, abuse factors on reserve site, patriarchy assisting to decline women's respect. Equality rights were ignored by police and the public because the women were aboriginal, sex trade workers with common addiction issues. These women deserve equality even if it comes in the minimalist forms and they did not get that at the time women started to disappear from the downtown east side. The march lives to exclaim that the victory these missing women have achieved in death by making themselves visible should have been granted to them in life. a group titled breaking the silence is an advocate group on the downtown east side that advocates for safe housing, health benefits and social services
CLASS QUESTIONS:
1.) Have you ever felt invisible or un noticed? If so was it because of the way you look or the lifestyle you live? 2.) As a university student, many of us understand debt and poverty. Do you feel as though you can relate to the women of the downtown east side in the way that your needs become over looked by our government? If you do, what types of programs should a community activate most urgently to help this type of situation?
Related Topics