The Young Athlete's Dream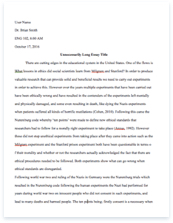 The whole doc is available only for registered users
Pages: 3
Word count: 580
Category: Dream
A limited time offer! Get a custom sample essay written according to your requirements urgent 3h delivery guaranteed
Order Now
It is a phenomenon that many teenagers have played competitive sports from the time they were young children. Some of them start so young as five years old. Whether or not they should do this, there are different opinions, some people think they should not start at so early age that they will have to move away from home and leave school. However, I strongly believe that exceptionally talented young athletes should be allowed to play professional sports. It is a good choice for them, even though they will have to move away from home and leave school.
First, the exceptionally talented young athletes should play professional sports early because not everyone has an exceptional talent in sports and professional sports need a long time of strict training. If a person has the talent, he should treasure the chance and make an early effort to do it. Liu Xiang, a well known world sprinter, had an exceptional talent in short-running and came to his instructor's attention in 1990. After that, he made a lot of effort for 14 years special training. Finally, he won the world champion and broke the world record. In this duration, he had had to temporarily stop running several times and start to cure for his ankle. As with almost all of the people who need to face the difficulties before success, this was an ordeal for him and he succeeded to overcome it. After he retired, he decided to study in China, even though he gave up his education to become a champion, he still was able to get his education afterward. Anyway, it is only a matter of time. Everyone knows that knowledge is important for us. We should study all the time. He did not miss the opportunity to study. Exceptional talent is a treasure for a person, not only in sports. The earlier you find it, the more effort you can make for it. You will win yourself at the end.
Second, every young athlete has their own ways and aims to get their career because everyone has their own ways to live and it is fortune for them to find their dreams and make it come true. When I was young, I had a friend who was an average person. he was not a good student because his study was so bad, but we found he had the talent in sports. He could run much faster than others. We also talked about his bad study at that time, but the talk seemed nothing for him. He still did not pay attention on his study. Contrarily, he paid more attention to his sports. Afterward, he was selected as top athlete in our city, and he got many honours through his many years of efforts. Like the chance, exceptional talent is a treasure and fortune for young athletes. They all have their own ways to get their dreams even though they are young.
Through all of the above, exceptionally talented young athletes should be allowed to play professional sports. It is meaningful for them to make their dreams come true. They should follow their personal opportunities to do what they want do by themselves. If a person faces the same situation that whether or not to play professional sports, I think they have their own ways to make a good choice for it, because it is such a fortunate treasure for them and we should respect their choices.
Related Topics