The Royal College of Nursing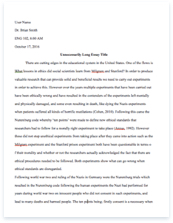 The whole doc is available only for registered users
Pages: 3
Word count: 650
Category: Nursing
A limited time offer! Get a custom sample essay written according to your requirements urgent 3h delivery guaranteed
Order Now
The Royal College of Nursing (2003, p.3)defines nursing as"the use of clinical judgment in the provision of care to enable people to improve, maintain, or recover health". Nursing is a profession which is quite rewarding as it includes providing a range of care to patients and their families. There are four different pre-registration branches of nursing which allows them to work in different areaswith many different people. In this essay, it will primarily focus on child nursing and their role. Firstly, it will explore the role of children's nurse and the types of places they work in andfinally, it willexplain the typical work activities undertaken by children's nurses and also the views of children on how the children's nurses could be made better. Children's nurses are also known as paediatric nurses,they provide care for children from 0 to 18 years of age with different conditions which can be short or long-termhealth problems (UNISON, 2006).The role of a children's nurse include working with the families in order to meet the needs of the sick children.
They work in partnership with multi-disciplinary team such as doctors, play specialists, social workers, and many more. Children's nurse can work in a variety of healthcare and community settings i.e.hospital, hospice, day care centre, child health clinic and child's own home.It does not matter where they practice because their main focus and concern is the welfare of children and their families. They provide family-centred care by supporting, encouraging and enhancing the strength and competence of the family. The roles of children's nurses includemaintaining a therapeutic relationshipwith the family and the children in order to remain professional (Hockenberry and Wilson, 2007).They play an important part in taking into account their medical, cultural and family circumstances (Waddell, 2010). Children's nurses undertake a range of typical work activities that vary according to their role but the main activities may include assessing the requirements of the child and family with other medical staff, to draw up a care plan,listing the child's needs and treatment schedule. They reassure children who may be confused or frightened by communicating with them.
Children's nurses use their observational skills and their ability to anticipate children's needs as the children are not always able to express what they want and where they feel pain. They provide support, advice and care techniques to parents/carers of children with no medical knowledge and explain to them the treatments that could be given at home. They assess and observe the progress of children and report on any conditions. They have an understanding of how a child develops and how to ensure a minimal impact of an illness as they go through to their adulthood.
They have a duty of safeguarding and protecting children from any harm and abuse. A consultation was carried out in hospital to find out children's opinions on how children's nurses could be made better to encourage a new syllabus.The children were able to classify three areas that could link to the education of children's nurses i.e. attitudinal and professional character, cognitive and psychomotor learning; practical learning (Randall, Brook and Stammers, 2008). In practice, this essay would be quite useful and informative as it has explained the role of a children's nurse and the typical work activities they undertake. Children's nurses provide medical care for childrenand support them by working in partnership with families and carers in conjunction with other health professionals.
References
Hockenberry, M., and Wilson, D. (2007) Wong's nursing care of infants and children. 8th edn. Missouri: Mosby Elsevier. Randall, D., Brook, G., and Stammers, P. (2008) 'How to make good children's nurses: children's views', Nursing Children and Young People, 20(5), pp. 22-25. Royal College of Nursing (2003) Defining nursing. Available at: http://www.rcn.org.uk/__data/assets/pdf_file/0008/78569/001998.pdf (Accessed: 08.10.2011). UNISON (2006) Nursing and midwifery students. Available at: http://www.unison.org.uk/healthcare/students/pages_view.asp?did=1276 (Accessed 09.10.2011). Waddell, J. (2010) Paediatric nurse: Job description. Available at: http://www.prospects.ac.uk/paediatric_nurse_job_description.htm (Accessed: 09.10.2011).
Related Topics