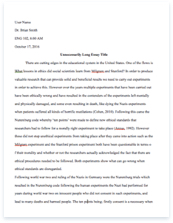 The whole doc is available only for registered users
Pages: 2
Word count: 356
Category: Death
A limited time offer! Get a custom sample essay written according to your requirements urgent 3h delivery guaranteed
Order Now
            A person's right to die has been controversial due to the moral and ethical issues surrounding it. Killing or the act of suicide has never been morally accepted, which makes deciding whether a person has the right to die very difficult. However, it is still important to draw a distinction between treatment withdrawal and assisted suicided. Although it seems that the two choices do not have much differences, the distinction can be used to identify moral or immoral cases.
            "In society's view, some deaths are morally justified, while other deaths are not morally justified" (Orentlicher, 2001, p.24). I believe that assisting a dying patient with suicide should be accepted especially when there is suffering involved. A dying patient is known to have little time to live and it is only proper that he or she be let go to ease him or her from the pain of his or her illness. It is not proper that a person who still has a very long life to live and do not have a fatal condition be allowed to have this option. This might be the case but the decision that a patient's life is already insignificant still lies on that certain patient.
            There had been many cases, which involved making these decisions, through the years. A lot of these cases brought upon the attention of those who are not aware of the issue, and, in some instances, made way for new laws to be implemented. However one looks at this controversial issue, there will always be counterarguments on both sides. One will never be superior to the other nor will the two ever be "right."  I believe that the more essential thing here is what the patient feels or would feel, if not capable of deciding on his or her own, about the two options. After all, it is their lives that are at stake here and not those surrounding them.
Reference
Orentlicher, D. (2001). Matters of Life and Death: Making Moral Theory Work in Medical           Ethics and the Law. New Jersey: Princeton University Press.
Related Topics