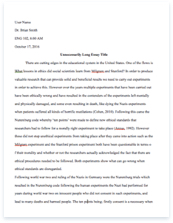 The whole doc is available only for registered users
A limited time offer! Get a custom sample essay written according to your requirements urgent 3h delivery guaranteed
Order Now
Art defines me; it is my most powerful form of expression and liberation. As a child, I developed a special aptitude for the arts, particularly in the mediums of drawing and painting. My grandmother decided to enroll me in drawing classes after watching me reproduce everything that amused me. In fact, I fell in love from the first sight with my professors' taller. Filled with all sort of artistic craziness, it was a place that welcomed my rareness and showed me true ways of self-expressive liberation. My drawing professor was a lover of classics, music, and history. It was when I first encountered the quintessential Renaissance man–Leonardo da Vinci. Though time, curiosity dragged me into his works, history, and intellect, and after immigrating from Cuba, I actually started seeking for strong informative material; thus, my high school was a fresh first start. I remember entering Miss Pujol art class and going straight to the bookshelf as if a part of me was hidden inside. Suddenly, I found a book that will change my life and perspective about everything including myself. It was there! "Leonardo's Notebooks" (Leonardo da Vinci, edited by H. Anna Suh), the original Leonardo's notes, its voice, ideas, and presence. I begged Ms. Pujol to lend me the book, she could not deny to my joy and childish almost tearful face. A loan that later transformed into a gift.
Asides from editorial openings, the book contains entirely Leonardo's own images and writings. His studios on perspective and the human body are significant advances in draftsmanship and anatomy. In a childhood memory, Leonardo fantasizes about finding a dark cavern filled with wonders; he then recorded two contraries feelings arising in him, fear and desire. 'Fear of threatening dark cave, desire to see whether there were any marvelous things within', he wrote. Desire won, and he entered the cave, encountering emancipation and freedom. He found a new life inside the hollow cave. I strongly relate to many of Leonardo's double-meant anecdotes. He always mentions the war between fear and desire, clashes that have hunted most of my life as a consequence of my personal choices and sexuality. Besides, knowing that Leonardo was romantically and sexually attracted to men and that he agreed with it, it impelled me to not suppress myself due to the same circumstances. The previous information helped me comprehend many of his fables and philosophies. Indeed, Leonardo showed me that determination is the key to surpass all obstacles and fight against the odds of society.
Until reading Leonardo's notebook I never knew about somebody so committed to fighting for his desires. Leonardo's renowned studies have been essential in my artistic education, but his notes gave me purpose and have encouraged to fight for my dreams. He said, "remember to acquire diligence rather than rapidity", inferring that individuals must strive always for excellence and opportunity, despite the breathtaking efforts and challenges life comprises. 
Related Topics