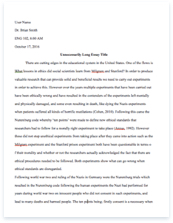 The whole doc is available only for registered users
A limited time offer! Get a custom sample essay written according to your requirements urgent 3h delivery guaranteed
Order Now
How did Cliff take advantage of principles of operant conditioning to modify his staff's behavior?
Why did Cliff's predecessor's strategy of punishing undesirable behavior not work very well? Even if punishment and reinforcement strategies were equally effective at controlling behavior, why would reinforcement remain preferable?
How did Cliff make use of partial reinforcement schedules? What kinds of schedules did he use?
How could Cliff use his technique to train his staff to complete a complex new task that they had never done before?
How might Cliff make use of principles of cognitive learning theory to improve his staff's productivity even further?
Cliff resolved not to criticize or punish staff members unless it was absolutely necessary. Instead, he frequently complimented them whenever they did a good job.He set daily production goals for them, and every Friday afternoon he bought lunch for all staff members who met their goals every day that week.Moreover, Cliff randomly conducted spot checks on what staff members were doing, and if he found them hard at work, he gave them small rewards such as extra break time. Within just three months, productivity in Cliff's department nearly doubled. It became the most efficient department in the company.
Cliff's predecessor's strategy of punishing undesirable behavior did not work very well because putting someone down over and over again does not boost confidence. Even though they probably want to do better, it is harder to want to get the job done because they are so used to the demeaning behavior and probably don't know how the boss will react to a job well done. They probably think he will find something wrong anyways. That's why positive reinforcement works better in most situations. Reinforcement would remain preferable at controlling behavior because it is a presentation of something that is pleasant and rewarding which will produce a more effective outcome.
Cliff utilized a partial reinforcement schedule by setting a daily production goal and for those who met their goals every day that week he rewarded them with lunch on Fridays. He also, conducted random spot checks on employees and when found hard at work are rewarded them. It appears that Cliff used a fixed-interval, variable-interval and fixed-ratio schedule..Cliff could integrate the process of shaping to train his staff a complex new task. Shaping allows you to build the desired behavior in steps and reward those behaviors that come closer and closer to the final goal. As the employee masters each step he would require they move to the next one in order to receive a reward or reinforcement.
Question 5. In cognitive learning the individual learns by listening, watching, reading, touching or experiencing and then processing and remembering the information. He could increase the productivity more by making work and environment more interesting, challenge the employees more and increase responsibility. This would fulfill the employees need for growth and achievement which is good for both employee and department.
Related Topics