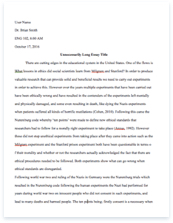 The whole doc is available only for registered users
A limited time offer! Get a custom sample essay written according to your requirements urgent 3h delivery guaranteed
Order Now
The Case study of the Leo Burnett Company was written as impartially as possible. It even states in the header that it was developed to showcase neither good managerial tactics nor poor leadership strategies. It does read something akin to a tragedy when events unfold in certain regional offices. Other regional offices, however, were very successful in their product launch. In order to fully assess the specifics of the company and of the employees therein, each regional office will need independent discussion through some of the writing prompts. Assuming the role of an LB employee with respect to day-to-day affairs would most probably look fairly similar between regional offices. Therefore, response to prompt a. will cover all offices. The divergence between this and the beginning of the Forever Young project would undoubtedly feel very different between these same offices. The response to prompt b. will consequently have regional office specific sections. As an employee of the Leo Burnett Company, I thoroughly enjoy what I do.
Being a part of such a large and well known Advertising Agency really drives me to help uphold the company's image and really try to deliver when we need to! Although technically my manager is the Creative Director, I really interface more with the Project Team Leader who oversees the progress and quality of the project. My days are comprised mostly of face-to-face collaboration meetings where we share progress on the current action items derived from past meetings and discuss tasks that still need to be addressed. These meetings generally are comprised of members from our own office as well as representatives from our customers. From the tasks that these meetings uncover, more action items are created and distributed to other members of our specific product team.
When I'm not in meetings I am able to develop ideas alone, or with the help of other members in the Creative department. I spend a large portion of my day up and about discussing projects with my work associates; going through the various projects that we might be involved in and generating solutions to client requests. Although my colleagues and I typically work an average of 50 – 60 hour weeks, it doesn't seem that bad. When you work with such great people, the time spent at work seems secondary to the importance of creating our signature product. This comradery between team members or work associates tends to continue after work hours. It is not unusual for our team to work together all day long, then spend the evening socializing at the local watering hole. LB United Kingdom:
As a member of the UK branch of LB, my colleagues and I are excited to be a part of the lead team on the OBC account for Forever Young. The proper advertising of this flagship product could turn out to be a real win not only for our office, but for the brand worldwide. We all feel a lot of pressure to get this thing right as it is a special product with a niche market. A lot of effort went into the overall aesthetic in the marketing materials and in packaging to help garner the impression that this is an exclusive product. Although it has been difficult to develop all of the television spots and various adverts that will appear in several different media, it will make the work easier for our sister offices around the world to adopt the whole package and be ready to roll out! Although we won't be able market the product here in London, we have had great success and many accolades throughout the company. LB Toronto:
Although we feel honored to have been chosen as the official product launch site for Forever Young, our office has had many frustrating challenges involved with the development and release of this product. We have been given some measure of autonomy in the form of direct marketing materials as well as website design, but in other areas we have been forced to use pre-packaged photo and color combinations that come directly from the UK office. Furthermore, we have been directed to submit all of the work that we produce to the London Team for formal approvals. Initially that didn't sound like a bad idea. It is good to keep all pieces of public contact congruent to really help identify brand recognition. It is frustrating, however, when there are two art departments trying to develop creatively in such separate spaces and with the general feeling of competition. So much of our time has been spent on developing marketing materials that turn out to be utterly useless.
There really needs to be a more consistent flow of information to and from the UK office. It would also be nice if our opinion was even rarely considered let alone prompted prior to the London team's advertising development. On several occasions our team leader has expressed many of these concerns, but there has not been a change in direction or in management style. Despite these challenges, all of our marketing materials were produced on time for our scheduled trial release. The pre-launch went surprisingly well, however, when the same marketing package was given small sample testing in the U.S. it did not turn out favorable. Ultimately, the Canadian national launch was a flop. LB Taiwan:
While working on the Forever Young project, our local team was as efficient and confident as ever. We all knew that the project was important for one of the company's biggest and oldest customers. This did carry with it some stress and apprehension, but it was also exciting to be on the team that was responsible for tackling a project of this scope. It was very helpful to receive so many pieces of advertising material that was almost complete from the UK office. We all worked very hard to re-film our television spot, adapt the written advertising to be more cohesive to the Taiwanese culture, and to re-take the photography that will accompany many advert mediums. Although we realized that all marketing decisions needed to be approved by the UK office, whenever members of the core team flew over to evaluate our progress, they generally had positive feedback. When it was time to launch the product, everyone was thrilled and relieved that it was a huge victory. It exceeded all expectations that were set by the core team. The success that the initial launch garnered made it possible to move into the post-launch phase of the campaign soon after the initial launch.
Some of the Challenges that Forever Young advertising and communications Team faced throughout the launch project were mostly due to communication errors or the change of information during the launch process. Initially, the core team was started in the UK due in part to the London office's experience with leading multi-national business teams. This decision was also made because the initial launch site was originally proposed to happen in London. Everything really made sense that the UK office and Janet Charmichael should lead the development for Forever Young. When plans changed and the emphasis to release the brand in Canada and the U.S. instead of the UK was made, there were no allowances for change to the core leadership team. This may or may not have been the first big mistake. This decision was not necessarily a mistake, but the way that the UK office handled the launch in Toronto verified that the team was not prepared to manage the global campaign. The biggest challenge and possibly the biggest mistake was the way that the management of the Toronto office was conducted.
Historic business models dictated that the core team would develop a creative template for the brand; then each satellite team would adapt the product to the needs and wants of each local market. This model was obviously created out of a trial and failure way of conducting business. This was exactly the model that was implemented in the Taipei office with wonderful results. Somehow, Toronto office's model changed and the Toronto team was not given much power to make hard decisions or generate advertising that would appeal to their market. Another challenge that stymied the launch process was the lack of support even when the team leader of the Toronto branch expressed concerns about the creative direction. The London team were no doubt very talented and knew their own market very well, however, marketing in Toronto is bound to be different and the professionals in Toronto were more ready to tackle the special needs of their own market. Because of this fact, they should have had a bigger voice in the overall marketing strategy. As Janet Charmichael, I would absolutely decentralize the team.
I would not completely abandon the longstanding company policy to have a centralized team create the generic template for which all advertising should mimic, however, each market and corresponding regional office knows how their target audience will react to different types of advert materials. I believe that this was one of the key reasons that the Taipei launch was so successful. It is also why the company policy advises that this route should be followed. It may be a hard pill to swallow for people in leadership roles to relinquish control over projects. In this case it is especially true. In would have been very difficult to give up control over the project when it is such a big customer launching such an important project. Having said that, teaming happens best when there are a variety of experts in their respective fields working together to accomplish a common cause; each of them feeling a deep connection to the end result and to each other throughout the process.
It could have been more obvious to Janet if she were more aware of learning from small failures and fixing them before they become large failures when correspondence from Shirley Watson outlined concerns about the project. There could have been an emergency team meeting then to investigate the sources of contention and solve the issues prior to the project's overall failure in the north Americas. Hopefully this was a good learning experience for the whole company. I would be remiss to say that under the circumstances that I would have been a better leader as hindsight can be seen much more clearly, however, because management at LB has now experienced this failure they are hopefully a better company for it.
Related Topics