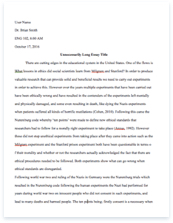 The whole doc is available only for registered users
Pages: 2
Word count: 269
Category: Morality
A limited time offer! Get a custom sample essay written according to your requirements urgent 3h delivery guaranteed
Order Now
Americans spend 19 billion dollars a year on veterinary care, 47 billion dollars including food and other supplies. With the money from reducing spending on American pets we can help malnourished American children accost the country. The author of the article "The last meow", Burkhard Bilger, agrees that spending excessive amounts of money on our pets is wrong.
Spending excessive amounts of money on our pets morally wrong. "Were looking at spending a thousand dollars for the next 24 hours and between 3 and 4 thousand in the next week…The total cost would be $15,000 dollars"( Burkhard, Part 1, Paragraph 5). The total cost of the procedure is more than 50 percent of the average American salary. That 15 thousand dollars could be used to buy the necessities for a small family, spending this much on a pet is just irresponsible considering the average life span of a dog is about 10-13 years and the time it would take to pay back this debt would more than likely outlive the pet.
We only pay for the operations on our pets and animals for selfish reasons. "According to a recent survey by the American Animal Hospital Association, sixty-three percent of pet owners say 'I love you' to their pets every day." (Burkhard ) If so many owners say I love you to their pets, why put them through the pain of surgeries and full scale operations, the answer is these extensive operations have taken place because the person doesn't want to experience the grief of losing an animal even if it is due to natural causes.
Related Topics