The Judgement of the District Court: Related to Preventing And Correct Sexual Harassment Behavior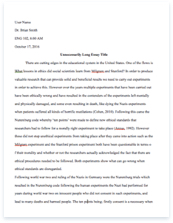 The whole doc is available only for registered users
Pages: 5
Word count: 1246
A limited time offer! Get a custom sample essay written according to your requirements urgent 3h delivery guaranteed
Order Now
The plaintiff in this case is Luanne Walton (Pharmaceutical Sales Representative) and the defendant is Johnson & Johnson Services, Inc, specifically, Ortho-McNeil Pharmaceutical, Inc. Ortho-McNeil Pharmaceutical is subsidiary group within Johnson & Johnson (Informa, 2019). Facts: The plaintiff, Luanne Walton worked as a Pharmaceutical Sales Representative (PSR) for Ortho-McNeil Pharmaceutical for many years leading up to the case at hand. She primarily worked from home, in which she would respond to hospital calls and travel at an adhoc basis. Within the hierarchy of Ortho, each PSR reports directly into a District Manager, who will periodically accompany the PSR on their hospital calls.
There was an opening for a District Manager in the territory that Walton worked, and Ortho decided to hire an external candidate named George Mykytiuk, which resulted in Mykytiuk becoming Walton's direct supervisor. Mykytiuk was scheduled to drive with Walton as she made her runs, but instead of completing the runs, Mykytiuk insisted that they go shopping, go to the movies and that she accompanies him to dinner that night. Walton claims that during that night, Mykytiuk tried to hold her hand and kiss her. She told him that this behavior was inappropriate and he promised not to do it again. The next day, the two employees traveled with one another so that Mykytiuk could observe her performance in the field. Mykytiuk told Walton that he had work to complete at this office, which was his apartment he was staying at. While in Mykytiuk's apartment, Walton claims that her supervisor was grabbing her inappropriately, and once again, attempted to kiss her.
The next major instance that occurred was after a company dinner party, in which, Mykytiuk brought an intoxicated Walton back to his apartment and attempted to rape her. This happened in another occasion a few days later, after Walton drove Mykytiuk home after work. The two employees met with a psychologist to discuss their "issues" with one another. They agreed that they were not allowed to be alone with one another and that they could not hold meetings in Mykytiuk's apartment. This agreement had been broken on numerous occasions due to Mykytiuk continuing to make harassing telephone calls and the two met in his apartment a few times after that. Walton finally reached out to Johnson & Johnson HR representative Angela Taylor, and informed her of the inappropriate behavior Mykytiuk had been showing.
Once word had gotten out to Mykytiuk's wife on the relationship, she filed for divorce stating that Mykytiuk and Walton had been having an affair with one another. Walton took it to the next level and informed the HR department that she had been raped by Mykytiuk and then filed a police report to the Tampa Police Department. Mykytiuk was then let go from the company. Walton, with her husband, were invited to New Jersey for a briefing to the closing of the investigation. In that closing, Johnson & Johnson could not conclude that Walton had been raped and that they were unable to exclude the possibility of a consensual affair (Reuters, 2019). Walton claimed that Johnson & Johnson failed to do a proper investigation of the matter. She were on leave shortly after the conclusion of the investigation and began collecting short-term disability. Walton never returned to work and decided to take long-term disability until she was ultimately terminated from the company. Procedure: The district court concluded that Ortho acted in a reasonable fashion to prevent and correct any sexual harassment behavior.
They also concluded that Walton failed to take advantage of the company's sexual harassment policy, and her failure to do so could not be considered reasonable under the circumstances (Reuters, 2019). Issue: Is Ortho-McNeil Pharmaceuticals liable for the sexual harassment that had occurred, even though Walton openly admits that she acted unreasonable by failing to report the majority of these incidents after they occurred? Explain the applicable law: Throughout the case, the primary argument is whether Johnson & Johnson acted reasonably to prevent and correct sexual harassment behavior. The key act that is at play in this case is Title VII of the Civil Rights Act.
The purpose of this act is to ensure that employers are establishing measures and procedures to allow employees the opportunity to come forth with harassment issues that created a hostile work environment for them. In conjunction to this act, Johnson & Johnson were supported by the Faragher-Ellerth Defense, which is a defense that an employer may use against claims of hostile work environment harassment. Employers may use the defense if: No tangible adverse employment action is taken against the plaintiff, the employer exercised reasonable care to prevent and promptly correct the harassing behavior, and the plaintiff employee unreasonably failed to take advantage of any preventative or corrective opportunities provided by the employer (Reuters, 2019). In this case, Johnson & Johnson were supported by all three qualifications to be able to utilize the Faragher-Ellerth Defense. Employers are required to establish a process where a victim can come forward without requiring them to first complain to their direct supervisor, who could be the offender. Holding: The judgement of the district court was affirmed, stating that Ortho is covered by the Faragher-Ellerth Defense, which protects an employer against claims of hostile work environment harassment. Reasoning: In the ruling of this case, the appeals court found that Walton failed to take advantage of the policies that Johnson & Johnson had put in place to avoid these types of situations.
Walton brought forth additional arguments in the appeals court in regard to the night of the dinner party where she was intoxicated and was groped inappropriately. Unfortunately for Walton, she did not mention this argument in the district court hearing, therefore, the appeals court did not entertain the argument. The court also concluded that Johnson & Johnson took the appropriate actions to resolve the situations once they were informed that sexual harassment actions were occurring. Walton claimed that she was unfamiliar with the updated sexual harassment policy because she never received the letter in the mail.
The court found her response to the matter too vague to support any conclusive evidence that she never received the letter. Conclusion: This case is one that brings up a lot of controversy, especially in today's society. Companies are becoming more and more cognizant of the inappropriate behaviors that create a hostile work environment by their employees. It is essential that they are doing their due diligence and are establishing policies to ensure correct measures will be taken and that this type of behavior is unacceptable. In this specific case, the final ruling of the case can be argued as to whether it was correct or incorrect. From the perspective of the defendant, Johnson & Johnson had a policy put in place to handle these exact matters. They also took the appropriate actions in the termination of Mykytiuk once the sexual harassment investigation was filed.
Their argument that Walton failed to take advantage of the policy is credible and valid. On the opposition, Walton was fearful of the ramifications associated with filing a sexual harassment claim. She also mentions that she did not believe the actions would continue because Mykytiuk told her that he promised to not do this again. Sexual harassment and rape are very serious and traumatizing events that can leave an individual scared and anxious. That is why it is imperative that employees take full advantage of the policies established by their employer so that they can try and avoid further psychological and physical harm.
Related Topics