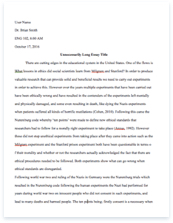 The whole doc is available only for registered users
Pages: 2
Word count: 420
Category: Customer
A limited time offer! Get a custom sample essay written according to your requirements urgent 3h delivery guaranteed
Order Now
The iPremier Company is an e-commerce company that sells luxury and rare items on the internet to high-end (rich) customers. It has become one of the top two organizations in its line of business. In the dotcom crash of 2000, iPremier was one of the few companies that survived because of the cash flush due to the recent public offering in 1999. The reason of maintain the company stable
In the year 2009 iPremier faced its second biggest crisis since the dotcom crash of 2000 as it suffered from an online denial of service attack. The iPremier website was not available for access to the customers and suffered from a risk of potential theft of credit card information. It was not known it if it was a hacking attempt or not and if it was, then what was the motive. The company was not ready for such an attack and had no contingency planning. The company outsourced its IT facilities from Qdata, a company with substandard services. Joanne, the head of IT department tried to contact them for support but there were no relevant personnel available to address the issue. As a result the website was down and no one knew what to do solve the problem. This risked destroying the goodwill, credibility and image of the company: the biggest assets of any online business company. All of this happened because of poor security measures and absence of contingency planning that became evident in the time of crisis.
KEY STAKEHOLDERS
One of the biggest stakeholders in iPremier is the customers. In the field of e-commerce companies are highly dependent upon their customer base for their success. Customer satisfaction plays a very important role in the continuity and success of online businesses in the highly competitive e-commerce market.
Operations managers are also important stakeholder as they are responsible for the smooth operation of the business and security. They are also responsible for back up plans in case of any hacker attacks or unexpected downtime
The next important stakeholders are the Executive Managers or Chief Officers of the company who are responsible for the company's strategies and decisions. They are also involved in administration and communicating with stakeholders and public as well as ethical issues.
Qdata is a major stakeholder as it is responsible for all the IT infrastructure of iPremier. Qdata also provides the company with its internet connection and floor space for equipment. Qdata's poor services and customer service standards were resp…
Related Topics