The Importance of Monitoring Kids in The Undercover Parent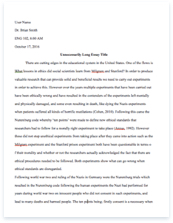 The whole doc is available only for registered users
Pages: 3
Word count: 651
Category: Kids
A limited time offer! Get a custom sample essay written according to your requirements urgent 3h delivery guaranteed
Order Now
Parenting can have different meanings to various people. It might be a good thing, or it might not depending on one's opinion. To my parents, parenting would have to do with trust, making sure my brother and I are safe, and just being there for us if we need assistance. I agree with Coben and believe parents shouldn't get too occupied with their child's personal business (like what Coben said in "The Undercover Parent"), and that monitoring their child can be either good or bad at certain times. I would say that my parents are on the protective side, as they would give me advice if I need it and always do what's best for me. They would also keep me safe and care for me, but allow me some independence as well.
Therefore, three reasons why I would agree with Coben are because I believe parents should start conversations before monitoring their child, know when monitoring is necessary, and be protective at a certain level. To start off, there are a few reasons why I believe parents should be the ones to start conversations before monitoring their child. First, parents need to know the facts before using technology in such a way. Parents might doubt the honesty of their child, and if they do, then I personally believe that they should talk it out with their child before furthering their actions. My parents do put a lot of trust in me and, after talking to them about "The Undercover Parent", told me that they do not use spyware or any monitoring device in my house. Next, talking things through might prove to be worthy. Parents might help to solve problems by doing so and prevent other problems from occurring as well. I talk to my parents frequently in a day, and they would always say what's on their mind and get straight to the point. Finally, monitoring could possibly be unnecessary if discussions are made. Parents should know when monitoring their children is necessary for a couple of reasons. First, parents should monitor their child if anything out of the ordinary occurs. Changes in habits, personality, friends, or schedule could be some signs that would make parents inquire about their child and wonder what they are up to.
Talking matters over first is the best choice in such situations, and monitoring is only needed if truly necessary. Next, parents should not monitor their children if there is clearly no reason to. Parents should know their children well and be aware of their doings. Monitoring can be based on trust level, and from my experience, trust is very important since it can influence one's privileges greatly. Finally, parents should take action reasonably when debating on monitoring their children. There should be a certain protective level for parents for many reasons. First, overprotective parents could negatively impact their child's life. Being overprotective limits and restricts what their child could do and the opportunities they can take. Overprotective parents make mistakes that could hurt rather than help their children. Next, protection can be beneficial if it is proper. Being a protective parent means helping children make wise decisions and choices, keeping them away from harm, "listening for dangerous chatter", and paying attention to and caring for them. Parents are indeed there "to be a safety net" for their children, and my parents are there for me as well.
Finally, parents should offer the right amount of protection and safety for their children. In conclusion, Coben's argument is reasonable because parents should talk to their child before monitoring them, know when to and when not to monitor their children, and protect their children at a certain degree. Discussions and talking through matters can help to clear up misunderstandings or problems. Monitoring might be needed in certain situations and might not in others. Children should be protected reasonably as well. Parenting overall sure does prove to be complicated.
Related Topics