The Impact of Internships on Graduate Employability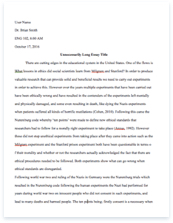 The whole doc is available only for registered users
A limited time offer! Get a custom sample essay written according to your requirements urgent 3h delivery guaranteed
Order Now
Are internship programs an opportunity for students and fresh graduates in the search of employment or are they a corporate excuse to optimise a cost-effective, pro-active, and eager human resources' capital without fees and benefits? Are internship programs beneficial and relevant for students and fresh graduates to leverage themselves to limited opportunities in a highly competitive market? This paper is a critical review of the state of internship programs which actually take their root as practiced as an apprenticeship system since time immemorial (Haire & Oloffson, 2009, p. 1). This apprenticeship system practice is institutionalised in modern times as part of the academic requirements to immerse students in the community, companies and in multinational organisations to provide a practical dimension to the theories learned during their undergraduate.
Every year, thousands of youths and fresh graduates flock to the job market in the search of opportunities to hone their knowledge and to gain competitive leverage in the job market despite there being limited opportunities for millions of job seekers. This year, there are about '370,000 graduates who will be competing for limited jobs in the market' (Grunwald, 2012, p. 1). However, the economic recession became an impetus for companies to accommodate interns to maintain their operations in a cost-effective measure. For the companies, the jobless attempting to secure a place on an internship program is a remedial opportunity in response to economic depression. Recently, youths began complaining that their rights and welfares are being abused as they are unpaid workers of the company.
Introduction
Internships are an opportunity to gain experience in a specific field. For certain degrees such as medicine, nursing and hotel, internships are an academic requirement (Loretto, 2012, p. 1). Others undertake internship programs to gain personal leverage for employment. Most of those who embarked on this system are fresh graduates of colleges and universities who seek to improve their organizational management communication, and interpersonal skills in addition to their academic achievements (Loretto, 2012, p. 1).
These interns are generally supervised by an individual who assign them to certain tasks and monitor their progress. Those undertaking internships with credited hours for academic grades, the faculty closely relates with the company's management to ascertain that the desired outcome of the training is achieved. Those interns with genuine interest to learn may find this experience a relevant part of understanding the career path they have chosen and hopefully develop a service-oriented culture based on excellence and professional relation with the management and clienteles (Beard, 2007, pp. 207-220).
This review will critically discuss the correlation between internships and the employability of graduates.
Internships and Opportunities
In this post-modern period, students and graduates are encouraged to undertake work placements at workplaces to value knowledge earned from these on-job trainings that are either paid or unpaid. Experts believe that this is a valuable mechanism for those who are willing to undergo practical training and those who want to increase their chances to secure a job post-graduation. Human resources experts have already advised students to make their job portfolio and experiences early on. They believe that learners should not be dissuaded from undertaking part-time jobs as an added value of work experience in their curriculum vitae. This adds to their credentials as potential employees. Nowadays, there are many universities and colleges that offer internship programs and placements to hone their skills and abilities. This promotes their employability after graduation as companies these days would prefer human resources that have attained positive records and recommendations from internship programs (Kadlec, 2009, p. 1).
Economically, internships have been adopted as socially acceptable activities because these programs provide people certain economic reward within a limited period but which could help defray one's personal expenses while on internships and also allow them to enjoy leisure while providing services in other areas far from their original domicile. This is true for those who are undertaking internships overseas, aiming to make them globally competitive. They also learn from peoples' cultures and systems of managerial operations. The entailing excitement to partake in this kind of internship can help nurture openness to various experiences, as they inspire motivation, and also a certain degree of agreeableness to meet the required performance standards for both oneself, for the served company and for customer satisfaction.
Free and Unfair?
Other internship programs welcome free and voluntary services for all intern candidates in exchange of certification and recommendations for future job placements in a vast competitive market. Unfair Internships (2012, p. 1) posted the report of the National Association and Employers stating that only 60% 2012 graduates who have undergone internship got at least one job offer in comparison with 36% of graduates who have not undergone internship. Being providers of unpaid services, some economist viewed this as company's excuse of large and small companies who lacked the financial capacities to create full time paid positions. Of course, internships have not escaped the criticism of some sociologists who viewed the work as an academic exercise which freed the company of the liability to pay the services rendered by student volunteers albeit their agility and energetic involvement in institutional operations ranging from menial tasks such as photocopying, production of documents, customer relations to certain tasks relating to cleaning and the like.
They frown at interns as a herd of unpaid workers. Intern Aware (2012) argued that graduating and fresh graduates are also abused by employees who offer unpaid internships instead of providing paid quality on-the-job training programs (p. 1). They recorded that most of those who are forced to take internship programs, within a specific period, are from urban communities of London, where the living expenses are relatively high. Intern Aware (2012) reported that the average lease for accommodation in London per month is £1000 and hence, interns suffer from financial difficulties while providing free services to a company (p. 1). Without salaries, the interns remained dependent on their families and are hindered to enjoy supposed opportunities. Those who come from affluent families are perhaps able to gain leverage to the ladder of employment but the rest will lag behind. Youth rights advocates argue that they are subject to hard rules, hard work, and debts toobtain a degree but need to spend more to compete with the rest in an experience-driven market instead of making themselves academic qualifications (Briggs & Daly, 2012, p. 1). Every year, thousands of youths and fresh graduates from universities need to face this dilemma and economic quagmire.
Despite this serious critique of internships, there remained significant values that can be enjoyed during on-the-job training programs because performance measures are also accorded with the interaction and evaluations amongst students, practitioners, and faculties, at a time when intern services are completed or concluded, to record the level of competencies earmarked from this professional training. Learners will be practically testing their knowledge and theories learned from formal schools and could become creative also in customer management, data management, and in undertaking some operational activities and progress. Feedback generated from intern evaluations will also polish their practices and scale up the level of their core competencies, and thus shape them to become befitting human resources in companies and institutions needing their services and professional expertise. In the process, interns are immersed in the nature of the institution, its goals, and the organizational dynamics will also improve the interns' maturity in dealing with organization and decision-making.
Conclusion
Internships, though positively considered as an empirical educative system, are also viewed as an abuse of labour forces who are trading their knowledge, skills, times, and efforts without pay. Therefore, there is an urgent need for the national government to evaluate its national policy pertaining to internships and must legislate on aspects that will protect the rights and welfare of learners or fresh graduates undertaking internship programs. While it is significant that the government's human resources should be inculcated the corporate values, principles and culture-based rules through in-depth job-training, it is also equally paramount to the government and for companies to consider providing perks, allowances, fringe benefits and support services to interns to unburden them from financial problems for their sustainability (Shah, 2012, p. 1).
Corporations must understand that improving and acculturating positive behaviours for human capital must be consistent to the companies' philosophy and ethical imperatives or ethical standards. A reputable company sees the need of its human resources, either full time, part time or under internship programs. Although interns are not entitled to wages, companies must deal with motivational measures and a quality learning environment to strengthen them while they are providing services thereof or while contributing to its operational production. On the other hand, if opportunites are too slim for jobseekers because of economic recession, graduates can pursue micro-entrepreneurial alternatives to generate income and attain economic sustainability (Coughlan, 2012, p. 1).
Bibliography
Beard, D. F . (2007). Assessment of Internship Experiences and Accounting Core Competencies. Accounting Education, Taylor and Francis Journals, vol. 16(2), pages 207-220.
Briggs, L. & Daly, R. (2012). Why internships and placements are popular route to employment. The Independent, London, UK., p. 1.
Coughlan, S. (2012). Graduate jobs market 'better than feared'. Education and Family News. BBC, London, UK., p 1. < http://www.bbc.co.uk/news/education-19899305> Accessed: 1 Nov. 2012.
Grunwald, de T. ( 2012). Ten things every graduate should know before they start job hunting. The Guardian, UK., p 1. < <http://www.guardian.co.uk/money/2012/jun/01/graduate-job-hunting> Accessed: 1 Nov., 2012.
Haire, M, & Oloffson, K. (2009). Interns. Brief History.Time. Time Inc. , California, US. < http://www.time.com/time/nation/article/0,8599,1913474,00.html> Accesed 1
Nov. 2012, p. 1.
Kadlec, D. (2009). Finding a New Boom Amid the Bust. Time. Time Inc. , California, US. <http://www.time.com/time/specials/packages/article/0,28804,1901876_1901874,00.html>Accessed 1 Nov. 2012, p.1.
Loretto, R. ( 2012). What is an Internship. Internship. About.com Guide. <http://internships.about.com/od/internshipsquestions/g/internshipdefin.htm> Accessed: 1 Nov. 2012.
Shah, D. ( 2012). Young Workers: Never Forget Your Dreams. Business, BBC, London, UK., p. 1 < http://www.bbc.co.uk/news/business-19464117> Accessed: 1 Nov. 2012.
Unfair Internship (2012). Unpaid Internships are just not worth it. Unfair Internship: A critical look at the un (der)paid jobs called 'internship. <http://unfairinternships.wordpress.com/> Accessed: 1 Nov. 2012.
Related Topics