The Flawed System of Credit Reports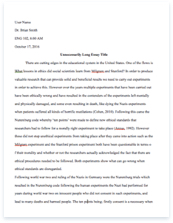 The whole doc is available only for registered users
Pages: 7
Word count: 1664
Category: Credit
A limited time offer! Get a custom sample essay written according to your requirements urgent 3h delivery guaranteed
Order Now
Introduction
            There is a saying that crediting is bequeathed by trust. Today, various forms of monetized crediting are done by banking and financial lending institutions through selective modalities of loans. One of which is the granting of loans through credit cards. The credit card is one of the convenient forms of monetized crediting and debiting using the Internet.
            Since crediting is bequeathed by trust, the crediting bank or financial lending institution approves the load through a credit report or paying background of a debtor based on his or her capability to pay. The positive assessment would be then the basis of granting the loan or the approval of a credit card.
            While the credit card is considered one of the most useful forms of payment today, there are several instances wherein people are shocked to see their billing statement containing transactions that they cannot account for. They suddenly wonder if the credit card was misused or used by someone else. Despite the apparent "flaw" in their billing statement, they are still compelled to pay the latest billing statement or risk becoming a delinquent debtor. In addition even though a debtor has a good credit standing, he or she might still end up as a delinquent payer as reflected on a credit report.
            This is just one of the many cases that show that flaws in credit reporting are happening all over the world. Some banking and financial lending institutions often declare it as "system glitch" which is attributed to the malfunction of the Internet that processes the online transactions. However, in the US, many debtors are becoming vulnerable to Internet fraud by participating in online credit transactions.
In regard, this paper will discuss the several issues on the flaws of credit reporting and the enactment of Federal laws in view of protecting the debtors and similar consumers.
The Issues on the flawed system of credit reports
            In the year 2006, there was a rampant increase of cyber crimes such as Internet frauds in the US alone. One example of these Internet frauds is through credit card transactions. Based on a report by M.P. Dunleavey of the New York Times, over one hundred sites use misspellings of the correct name of an established website to commit fraud like in the case of the Federal Trade Commission (FTC). According to Dunleavey's report, The FTC sued Experian for using the freecreditreport.com web site to falsely lure consumers to spend $79.95 on free-to-pay credit monitoring.
            Moreover, based on the report, the copycat website of Experian has offered "free trial" used of services in which participants were obliged to provide selective information of their credit cards as part of online registration. It turned out that the "free-to-pay" credit monitoring service was not free as it charged in the credit card of the registrants.
            In addition, the New York times reported also showed that a study conducted in 2004 revealed about 25% of credit reports contain errors that are serious enough to damage credit score, and an early study conducted in 2002 found that these serious errors were extensive discrepancies in debiting. The magnitude of these errors in credit reporting was further highlighted in 2004, when the United States Public Interest Research Groups' (US-PIRG) report showed that "one in four credit reports contains errors serious enough to cause consumers to be denied credit, a loan, an apartment or home loan or even a job."
            In short, these credit errors pose serious threats to debtors as the merits of credit is denied due to errors, and the information provided in the credit card is apparently being used for widespread fraudulent debiting.
Protecting and Preventing the flow of errors
            The section of this paper discusses the enactment of policies that protect the rights of consumers [and debtors as well] and prevent the flow of errors in credit reporting.
            In 2003, the US Congress has passed the Fair and Accurate Credit Transaction Act (FACT Act) that provides the right of consumers [and debtors] with a pro-bono credit assessment. This means that the FACT Act of 2003 offers a free and accurate credit reporting that consumers would easily understand. Subsequently, the US Congress enacted the Fair Credit Reporting Act (FCRA) of 2004.
            The FCRA empowers the provisions of FACT Act on the rights of consumers [and debtors] and the merits of credit reporting. Based on the provision of FCRA on reasonable procedures: "the purpose is to require that consumer reporting agencies adopt reasonable procedures for meeting the needs of commerce for consumer credit, personnel, insurance, and other information in a manner which is fair and equitable to the consumer, with regard to the confidentiality, accuracy, relevancy, and proper utilization of such information in accordance with the requirements of this title."
            Basically, the FCRA was enacted in response to the overall needs of commerce and consumerism. Essentially, the consumers are the bulwark of commerce and need to be protected with a policy wherein the flow of goods and benefits may not be hampered by "commercial opportunism" [as translated by the fraudulent and flawed credit reporting] which can stagnate economic activities. It may be then perceived that the stagnation of economy may be viewed as unutilized, and therefore represent inequality from the point of view of unequal economic distribution. In this case, the policy environment of FCRA supports the equal meriting credit facilitation to convey on the worthiness of debtors who are a major part of commerce and consumerism.
            But how is credit reporting done?  According to the article, "An Overview of Consumer Data and Credit Reporting", which was written by Robert Avery, Paul Calem, and Glenn Canner and was posted in the website of the United States Board of Governor of the Federal Reserve System, credit reporting is where companies gather information and compile it as a record of an individual's experiences (debtor's background) with credit, leases, noncredit-related bills, money-related public records, and make inquiries regarding the individual. Moreover, based on the article of Avery et al., a credit record generally include five types of information: (1) identifying information on applicant's name, current and previous residential addresses, and social security number, (2) detailed information on previous and current loans, (3) information on money-related records; like bankruptcy, foreclosure, tax liens and other civil judgments as public records, (4) information from collection agencies relating current credit accounts and non-credit-related bills, and (5) identities of individuals or companies that request similar information for a credit record.
            Based on the findings in the journal, consumer crediting has a very comprehensive and extensive gathering of information and recording. According to the article of Avery et al., the national credit reporting companies collect comprehensive information on all lending to individuals in the United States, which has credit reporting records of about 1.5 billion credit accounts held by approximately 190 million individuals. Moreover, it can be deduced from the findings in Avery et al's article, credit consumers are becoming more vulnerable to the flawed system of credit reporting. Based on the article, despite the benefits that the credit reporting system offers, the credit reporting data and information are not complete as they contain duplications and ambiguities about the credit histories and as such:  (1) credit limits are not reported, (2) current status of accounts are not currently reported, (3) creditors fail to report non-derogatory accounts or minor delinquencies, and (4) reporting of data on collection agency and public record accounts are inconsistent and incomplete.
            It appears that the findings of article largely concern the FCRA provision under Section 603:Par. (d) 1 which states that the term "consumer report" means any written, oral, or other communication of any information by a consumer reporting agency bearing on a consumer's credit worthiness, credit standing, credit capacity, character, general reputation, personal characteristics, or mode of living which is used or expected to be used or collected in whole or in part for the purpose of serving as a factor in establishing the consumer's eligibility.
            In this regard, based on the article of Avery et al., it is clear that FCRA must enact a strong policy environment that totally protects credit consumers. Moreover, it should completely eradicate the flaws in credit reporting, which not only affects the credit consumers but the flow of commerce as well.
Conclusion
            The enactment of the FCRA encompasses a righteous policy environment that must work with a combined vigilant consumerism against fraud and corruption, which is manifested in the flawed system of credit reporting. In addition, the effects of fraudulent and flawed system of credit reporting are not prevalent in the US alone but in underdeveloped countries as well, which are categorized as "delinquent debtors". From this point of view, the FCRA may be perceived as a policy with political will that strongly promulgates the renewed virtue of crediting as bequeathed by trust to the credit consumers.
            On the other hand, the banking and financing institutions must recognize these flaws and realign their policies with flexibilities in order for all segments of economy to participate and partake in the equal distribution of wealth and goods towards a vibrant commerce and progressive consumerism.
Works Cited
Avery, Robert B., Calem, Paul S., and Canner, Glenn, B. February 2003. "An Overview of Consumer Data and Credit Reporting".
Federal Reserve Bulletin. 02 April 2008 <http://www.federalreserve.gov/pubs/bulletin/2003/0203lead.pdf>
Dunleavey, M.P. September 23, 2006. "Credit Reports: They're Free But Flawed". New York Times. 02 April 2008
<http://www.nytimes.com/2006/09/23/business/23instincts.html?_r=1&oref=slogin&pagewanted=print>
"Fair and Accurate Credit Transaction Act of 2003". 2003. The Federal Trade Commission. 02 April 2008
< http://www.ftc.gov/bcp/conline/pubs/credit/fcb.shtm>
 "Fair Credit Reporting Act of 2004". The Federal Trade Commission. 02 April 2008
<http://www.ftc.gov/os/statutes/fcra.htm>
"Mistakes Do Happen". 2004. United States Public Interest Research Groups.
02 April 2008 <http://static.uspirg.org/usp.asp?id2=13649&id3=USPIRG&>
Related Topics