The First Decision of an Adult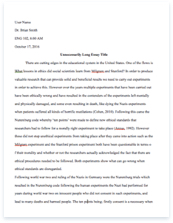 The whole doc is available only for registered users
A limited time offer! Get a custom sample essay written according to your requirements urgent 3h delivery guaranteed
Order Now
Graduating from high school and deciding on whether to enter the workforce or go to college is one of the first decisions that you make as an adult. Ensuring you have the stepping stones to succeed as a productive citizen and can have the opportunities to make sufficient earnings to take care of your family is the goal of all young people. In our ever-changing economy, it is pertinent that students are being taught the skills to succeed in life. Education plays a huge part in teaching students what they need to know. All areas of education have a common goal, to educate the next generation so that they can take over employment with ease in transition from one generation to the next. Statistically, it shows that the youngest generation is much smaller than those in retirement age; therefore, training the younger generation in certain areas is a must.
Career and Technical Education is a step to training up the next generation. In this research, you will find an approach to see the pros and cons of Career and Technical Education and how it has changed the future of our educational realm. The first area that is covered will include the philosophical aspect with perspectives from philosophers of education and the conflicting views. Secondly, the social aspect will be covered showing how career and technical education affect how our society views the CTE programs and the affects they have on students. Third, discussion on how the CTE programs are having an effect on the economy and how that effects the labor force and unemployment rates. Fourth, discussion on how politics effect how the CTE programs are integrated into educational institutions and what the newest proposals from the Trump administration are being reviewed to better accommodate each state and their labor force needs. Fifth, the demographic standards of Career and Technical Education and how they have been used to increase the enrollment in CTE programs. Lastly, discussion on the diversity of CTE programs that focus on educating all students without focusing on college-ready students specifically and how standardized testing do not represent CTE program student abilities.
Findings
Philosophical
Our world changes rapidly all the time. Changes are due to numerous factors such as supply and demand, technology, education, socioeconomic demand, politics and economic changes. Career and Technical education is a complex solution to those changes and how the economy can cope with the evolving workforce. At the turn of the last century, philosophies of education were changing, and the rise of Progressive Education became popular. Educational Progressives viewed the classical traditional academic education based on the Idealist Philosophy that stressed the mastery of facts and training of the mind as inefficient, not motivating, and irrelevant for a growing industrial society (Findlay, 1993). Progressive Education allows students to have more say in their educational direction. It allows hands-on learning and permits the student curriculum to follow what the student wants to achieve, not necessarily a standard subject matter. There has been a compromise in the educational realm to include standardization with subjects along with personalization of curriculum.
Roger Scruton, a British philosopher, believed that education is to be taught by what the educators deemed important. Scruton found it important that the views and knowledge being relayed to the student were from the educator's point of importance. The student has no say in the curriculum choice. Scruton says that "Children have their lives ahead of them; they can carry knowledge into the future and keep it from decay – they might even add to it. It is therefore right to allow them into the classroom, so long as nothing "relevant" occurs there, the mark of true knowledge being its total irrelevance to the world of a child." (Koonce, 2014, pg. 22).
John Dewey, an American philosopher, believed that curriculum should be determined in part by the interests of the child, that education should serve the needs of the whole child, and that schools should help prepare students for participation in a democracy (Kretchmar, 2013). John Dewey is often named the most significant educational philosopher in the United States in the twentieth century and has been criticized for his educational philosophy. His social experience approach is not the traditional educational approach as it sets students up to succeed by giving concentration to the social development of the learner instead of the socialistic approach to education. Dewey's philosophy is that students are in control of their education and can learn better when they have an interest in what they are learning.
Social
Dewey's philosophy gears towards students choosing their own destiny and allowing the students to choose what curriculum helps them to succeed in their perspective of being a productive society member. "Education shapes how we experience social, cultural, and economic forces", therefore, education must move in that direction (Jacob, 2017). For students that do not plan on attending college, Career and Technical Education courses provide hands-on training for job requirements after graduation. Career and Technical Education is a roadmap for students to choose what their interest are. Education has created Career and Technical Education to provide students with the academic and technical skills to succeed in future careers.
Promoting excellence in education for all students calls for a major investment in demolishing oppressive practices. Ilene Kantrov, Ph.D. directs the Pathways to College and Careers program in LTD. She completed a survey of several CTE educators that confirmed the interviewees' concerns that few educators outside of the CTE field truly understand the role that CTE courses can play in developing the knowledge and skills students need to succeed in careers and college (Kantrov, 2014, pg. 8). Knowledge of how the CTE courses can progress education and help with common core education is pertinent to solving the lack of importance that educators portray for CTE. With technology ruling the corporate world and integrating into all aspects of business, the integration of CTE programs has become even more so important today.
Economic
Education is an investment that the government and society acknowledge is always needed. For economies to grow, an educated society is essential. The Unemployment rate continuously decreases "reaching 3.4 percent at the end of the 2017 year", however, the working population is still less than it was in better economic eras (Dunn & Blank (2018). The larger share of the population in the U.S. economy is becoming more dependent on a smaller labor force. Educating the smaller labor force to meet the needs and wants of society has become highlighted in all aspects of the economy. President Trump has proposed to merge the U.S. Department of Education with the Department of Labor to promote workforce readiness and career development. With this proposal, it will allow education to be aligned with what the labor force needs are.
Technology has brought forth the accessibility to communicate and do business with corporations all over the world. It is vital that society is being educated to fulfill the needs of a global economy. "The skill requirements in jobs have increased remarkably in their depth and breadth," said Anthony P. Carnevale, research professor and director of the Georgetown University Center on Education and the Workforce. "The pace of change is outrunning the ability of educators to provide those skills and to qualify people for entry-level jobs." (Gonser, 2018). The Career and Technical Education pathways are a way to train the next generation to be a productive citizen with the needed skills to be successful in the new job market.
All young students are aware that an education is vital to obtaining a career that will support their family, however, the graduation rates have been steadily declining. Students that participate in the CTE pathways have proven to be more successful. According to the Association for Career and Technical Education, students concentrating in CTE programs graduate at a higher rate than their traditional high school peers. Educating and graduating the next generation is a must to retain or surpass a constantly evolving economy. In Table 8: Frequency Table – Employment vs. Training Relationship, it clearly shows that the frequency that a CTE student is employed in the same field of study they took in high school is most of the study completed by Tillman (2008).
Political
Carl Perkins Vocational and Technical Education Act of 1984 with improvements to the act in 2006 changing the name to Career and Technical Education has been the standards and funding source for institutions to have career pathways in their curriculums. Time has changed along with improvements to this act. Recently, President Trump and his administration have made overhauling this act a top priority. The revamp would allow states to set their own goals without having to get approval from the education secretary. This will allow each state to determine what is best for their CTE pathways, students, and the local workforce. They will be able to direct funding toward the programs that are needed in their local economy to help the upcoming workforce succeed in that area, which in turn hopes to retain citizens in their area since they will have the skill sets to do the work needed in that area.
The Common Core initiative and its standards have been a major topic of discussion in the educational realm. The Common Core initiative was designed to promote standards from state to state and reform education through government agencies so that all states are uniformed in how they educate their students. Most states were ready to take on the initiative since there seemed to be multiple advantages to Common Core such as receiving additional funding if certain Common Core aspects were implemented. Common Core is a perfect example of President Trumps proposal to give the states back more control of education to avoid having students learning subjects that do not pertain to their surrounding labor force. Uniformity is not how CTE programs should be integrated into educational institutions. CTE programs are best utilized when placed in line with the labor force needs of that area.
Demographic
Demographics tell us what direction we need to take for a changing demographic world. The United States of America is a melting pot of ethnicities, cultures, and religions. When majorities change, the U.S. must adjust their focus to allow resources for those changes. For example, when the job market changes then change to what and how we educate must change as well. It is as simple as the supply and demand concept. When there is an influx of demand in one area, then there should be a shift in the number of supplies. Each demographic has a different path that one may take. As you can see in Figure 3., an Asian population is more likely to attend college than a Hispanic population. This chart shows the education characteristics of recent immigrants; however, it shows so much more when you think logically. With the influx of the Hispanic population, changes in education need to be revised to support those changes. When the job market focuses on jobs that do not need a college degree, you can clearly see what demographics benefit from being trained through CTE programs.
According to the Association for Career and Technical Education, CTE serves 94% of all high school students, including male and female students, students from many races and ethnicities, and students from higher- and lower-income backgrounds. There are many critics that state that CTE programs are in place only to put ethnic groups with the career choice of the societies choosing; that educational institutions are putting students in different programs based on ethnicity and keeping the racism that is known in the United States alive. In the May 2017 edition of Education Week, a story of biology students within the CTE programs are sent on a field trip for marine biology students from the Marine Academy of Science and Technology in Highlands, N.J. It was pointed out that the majority of the students able to go on this field trip were of the Caucasian descent with only eight percent being Hispanic or Asian, none being black, and only six percent are from low-income families, even though more than a third of the students in New Jersey living in poverty (Gewertz, 2017, pg. 12).
Career and Technical Education has become popular among all students regardless of socioeconomic status, gender, or ethnicity. They are not like the older vocational tracks that once were in place. CTE focuses on giving students experience and allowing them to have opportunities to go to college and be labor force ready if they choose not to go to college. Finding an enrollment classification that will allow a multitude of students to participate in programs such as the marine biology program can be difficult.
Teacher educators are the crucial link, as they prepare Career and Technical Education instructors to be more effective in their role in workforce preparation (Bruening, 2001, pg. 11). Demographically, CTE educators are similar to other teacher educators; predominately white. In a melting pot of ethnicity, it has been proven to be still a white man's world. Finding enrollment classifications that fit all ethnicities, genders, and socioeconomic statuses are vital to allowing the next generation of students in a path of success in the upcoming labor force. Some suggestions have been to have the enrollment classification be such as a lottery winning or even based on referrals instead of academic standing.  
Related Topics