The Equal Pay Act of 1963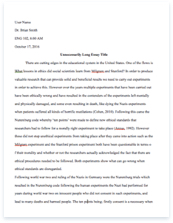 The whole doc is available only for registered users
A limited time offer! Get a custom sample essay written according to your requirements urgent 3h delivery guaranteed
Order Now
The Equal Pay Act of 1963Throughout history, women have been paid less than men have, even when employed in identical jobs. It was generally accepted in the United States that men deserved to earn more money than women do, even if their work was identical. The contemporary mindset was that men were the heads of the households and therefore were the primary income producer in their families. This, of course, was not always so. In many homes, the head of household and sole breadwinner was a woman, for various reasons, ranging from death or disability of a spouse to divorce or single parenthood (DfEE).
Regardless, the tradition of the men being the head of household was difficult to change. Even during World War II, when women were then being encouraged to go to work doing the same exact jobs the men did, women received about half the pay the men made. Then, when the men returned from the war, women had to give up their jobs and let the men have them back.
Just before World War I, there were attempts made in some states to protect women by instituting minimum wage laws for women workers. However, the Supreme Court declared them unconstitutional in 1963. Then President John F. Kennedy's Commission on the Status of Women recommended that Congress pass a law guaranteeing that women would receive equal pay with men for equal duties performed (The U.S. Equal Employment Opportunity Commission [TUSEEOC], 1997). On June 10, 1963, the Equal Pay Act was passed by Congress declaring that women and men must receive equal pay for equal work. The Act was intended to prohibit discrimination due to sex in the payment of wages by employers engaged in commerce or in the production of goods for commerce (PageWise, Inc., 2002).
The Equal Pay Act states that:"The Congress hereby finds that the existence …. of wage differentials based on sex–(1) depresses wages and living standards for employees necessary for their health and efficiency;(2) prevents the maximum utilization of the available labor resources;(3) tends to cause labor disputes, thereby burdening, affecting, and obstructing commerce;(4) burdens commerce and the free flow of goods in commerce; and(5) constitutes an unfair method of competition"(Equal Opportunities Commission, 2004).
Employers found to be in violation of the Act would be required to make up the wage difference to the employee and could pay legal costs and be subject to civil fines of up to $2,500 per violation (Department of Labor State of Illinois [DLSI], 2003).
When the Equal Pay Act was passed in 1963, it met with many problems. The Equal Pay Act stipulates that wages cannot be lowered for one sex in order to prevent raising pay for the other. However, some employers continue to argue over what equal work actually is. Some companies even go as far as to change job titles and alter certain peripheral requirements so that they can say it is a different job and thereby continue to pay men more than they would pay women. Even until the 1970s, "help wanted" ads in newspapers were sexually divided, so it was difficult to determine if the requirements were the same or not (Nolo, 2004).
In recent decades, the Act has been more often used in favor of women by considering 'comparable worth' of jobs performed rather than precise tasks. Comparable worth is determined by judging if one job is more expendable or more profitable for the company than the other.
Even with all the problems it has, the Equal Pay Act has had a positive effect on women's wages. Although wage disparity remains, with a woman in the year 2000 receiving, on average, only about three quarters to a man's dollar, the gap has narrowed since the 1950s when women earned about half what men earned, no matter what the job function (Equal Opportunities Commission, 2004).
Between June 1964 and January 1971, back wages totaling more than $26 million were paid to 71,000 women (Herrington, 2004). Two landmark court cases served to strengthen and further define the Equal Pay Act:• Schultz v. Wheaton Glass Co. (1970), U.S. Court of Appeals for the Third CircuitRuled that jobs need to be "substantially equal" but not "identical" to fall under the protection of the Equal Pay Act. An employer cannot, for example, change the job titles of women workers in order to pay them less than men.
• Corning Glass Works v. Brennan (1974), U.S. Supreme CourtRuled that employers cannot justify paying women lower wages because that is what they traditionally received under the "going market rate." A wage differential occurring "simply because men would not work at the low rates paid women" was unacceptable.
The workplace has changed dramatically in the decades since the passage of the Equal Pay Act. However, what has not changed dramatically is women's pay. Over the last two decades, many women have entered traditionally male occupations, narrowing the wage gap, but it is still significant (Craver, 2004). Women earned 59% of the wages men earned in 1963; in 2002 they earned 76% of men's wages-an improvement of less than half a penny a year (Brunner, 2004).
In today's working world, organizations need to be aware that individuals can and will enforce their rights under the Act. Claims are brought in the employment tribunal. Claims can be brought at any time during employment and within six months of leaving employment. Special rules mean that in some cases a claim can be made later than six months after leaving the employment, for example where an employer has concealed the existence of equal pay. If a claim is successful, the complainant will be entitled to:the same level of pay or benefits as his or her comparable employee for the future (if the complainant is still in the same job); andbackpay representing the difference in pay (subject to a limit) with interest.
In July 2003, the Act was amended, replacing the previous 2-year limit on backpay with a 6-year limit. In some cases, special rules apply which mean that backpay can be claimed back to the date when the difference in pay first started, e.g. where the employer has concealed the existence of unequal pay (Nolo, 2004).
To successfully raise a claim under the Equal Pay Act, one must show that two employees, one male and one female:are working in the same place;are doing equal work; andare receiving unequal pay.
However, if the employer can show that the wage disparity has a legitimate basis, for example, that the higher earner has more seniority or more experience, the employer will be able to defeat the claim (Equal Opportunities Commission, 2004).
Organizations today must also realize that they have the burden of determining equal work in order to comply with the Act. Jobs do not have to be identical for the courts to consider them equal. If two employees are actually doing the same work, it does not matter if their titles or job descriptions differ. The duties they actually perform is what counts. In general, the courts have ruled that two jobs are equal for the purposes of the Equal Pay Act when both require equal levels of skill, effort, and responsibility and are performed under similar conditions (Nolo, 2004).
Of course, there is much room for interpretation here. The general rule is that if there are only small differences in the skill, effort or responsibility required, two jobs should still be regarded as equal. The biggest problems arise where two jobs are basically the same, but one includes a few extra duties. It is perfectly legal to award higher pay for the extra duties, but some courts have looked down on organizations in which the higher-paying jobs with extra duties are consistently reserved for workers of one gender (DfEE).
In conclusion, although the Equal Pay Act was a huge step in evening out the wage gap between men and women, even now in 2005 there is still a considerable gap. Organizations need to be aware of the Act, how violating it could affect their organization, and implement practices to help conform to the Act. Above all, employees should be paid equally and fairly for the work they do, regardless of their gender.
References
Brunner, B. (2004, December 27). The wage gap: A history of pay inequity and the Equal Pay Act. Retrieved December 27, 2004, from http://www.infoplease.com/spot/equalpayact1.htmlCraver, C. B. (2004, May). If women don't ask: Implications for bargaining encounters, the Equal Pay
Act, and Title VII. Michigan Law Review, 102/6, p. 1104. Retrieved January 3, 2005, from the EBSCOhost database.
Department of Labor State of Illinois (2003). Equal Pay Act of 2003. Retrieved December 27, 2004, from http://www.state.il.us/agency/idol/news/epa.htmDfEE. A guide to the Equal Pay Act 1970. Retrieved December 27, 2004, from http://www.womenandequalityunit.gov.uk/pay/eq-pay-act-guide.pdfEqual Opportunities Commission (2004). What does the Equal Pay Act say. Retrieved December 27, 2004, from http://www.eoc.org.uk/cseng/legislation/the_equal_pay_act_an_overview.aspHerrington, P. (2004, August/September). Discrimination in employment. British Journal of Administrative Management, Issue 42, p. 18. Retrieved January 3, 2005, from the EBSCOhost database.
Nolo (2004). Equal pay for equal work. Retrieved December 27, 2004, from http://www.nolo.com/lawcenter/ency/article.cfm/objectID/D45FD4DD-19EA-4AA9-B6402D6DD6F7B5E6PageWise, Inc. (2002). The Equal Pay Act of 1963. Retrieved December 27, 2004, from http://nc.essortment.com/equalpayact_rvwx.htmThe U.S. Equal Employment Opportunity Commission (1997, January 15). The Equal Pay Act of 1963. Retrieved December 27, 2004, from http://www.eeoc.gov/policy/epa.htm
Related Topics