The Cultural Limitations of the Diagnostic and Statistical Manual of Mental Health Disorders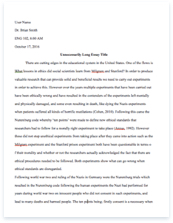 The whole doc is available only for registered users
A limited time offer! Get a custom sample essay written according to your requirements urgent 3h delivery guaranteed
Order Now
Abstract:
Cultural issues play major role in determining a situation where mental illness grows. This article is about the cultural limitations that DSM face in diagnosing the personality disorders in African American Community.
Introduction:
With the development of the Third edition of the Diagnostic and Statistical Manual of Mental Health Disorders (DSM) researches are very confident to make reliable psychiatric diagnoses. But many authors, who are taught in a sociological institution, believe that DSM has some cultural limitations. Especially those authors who are working in North America (Escobar, Javier I. & Vega, William A., 2006).
In the following paragraphs we will study about the cultural limitations of the DSM, specifically to the Borderline Personality disorders in the African American Community.
Personality Disorders:
Personality disorders can be defined as persistent and rigid characteristics, which impede an individual to work effectively. These disorders can commonly arise in a psychiatric patient and can cause difficulties in their treatment (Samuels, Jack, 2002).
A survey, The Hopkins Epidemiology of Personality Disorder Study, was done in the Baltimore and the result concluded that among the subjects, sixty percent were White and thirty seven percent were African American. Approximately ten percent had one or more DSM-IV Personality disorders (Samuels, Jack, 2002).
Cultural Limitations of the DSM:
Cultural background of a community plays a key role in determining the course of mental illness. Mental Health Professionals observed that in the whole community, African Americans are unfriendlier, less spoken, unenthusiastic, intellectually mediocre and having character disorder. Their family life and the way of rearing a child were found psychologically vicious. Social conditions like poverty and crime has increased their mental illness. Due to this, mental health professionals also seem uninterested, which is like an obstacle before any research and the health care delivery.
In a psychiatric practice multiculturalism is not very well understood. The critics of multiculturalism believe that it should be substituted by those rules and ideas, which are universally accepted. They argue that the encouragement of the multiculturalism in psychiatry is clinically not good (Harris, Herbert, W., Felder, Diane & Clark, Michelle, O., 2004).
The role that culture plays in mental health service provision is accepted in the Fourth Edition of Diagnostic and Statistical Manual of Mental Health Disorders. It acknowledges that the 'cultural relativity' is the nature of human behavior and some mistakes can be done while applying psychiatric diagnostic criteria when the ideas of a person's cultural background are neglected.
It has been found that racial and ethnic differences create psychiatric disorders. This is also well understood that over diagnosis and under diagnosis of mental disorders in African Americans can be the reason of some important suggestions for the treatment as well as the outcome of mistreatment. Some diagnostic mistakes can occur due to the misunderstanding of the observations. Even the way of making a hairstyle and the manner of wearing a dress that has been done culturally can be recognized strange by others. Inconvenience in understanding the language can prevent a proper informative exchange (Harris, Herbert, W., Felder, Diane & Clark, Michelle, O., 2004).
Some factors like lack of knowledge of spiritual belief and the occurrence of body abuse can create problem in diagnosing any psychotic illness.
References:
Escobar, Javier I. & Vega, William A., "Cultural issues and psychiatric diagnosis: providing a general background for considering substance use diagnoses", 2006, American Psychiatric Association, Journal Compilation, Society for the Study of Addiction, Addiction, 101(Supp.1), 40-47
Harris, Herbert, W., Felder, Diane & Clark, Michelle, O., "A Psychiatric Residency Curriculum on the Care of African American Patients", 2004, Academic Psychiatry 28:226-239
Samuels, Jack; Eaton, William W.; Bienvenu, O. Joseph; Brown, Clayton H.; Costa, Paul T.; Nestadt, Gerald, "Prevalence and correlates of personality disorders in a community sample", 2002, The British Journal of Psychiatry, 180: 536-542
Related Topics