The Case of Bradley EnnisThe Case of Bradley Ennis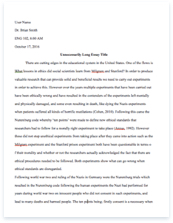 The whole doc is available only for registered users
A limited time offer! Get a custom sample essay written according to your requirements urgent 3h delivery guaranteed
Order Now
The Ennis and All Saints' Hospital case discusses the dismissal of Bradley Ennis from the hospital for excessive absenteeism (17.5 percent versus a hospital average of 7 percent). The grievant, Bradley Ennis, was employed as a trauma nurse from May 1, 1991 to December 3, 2008. For a 16 year period, up to January 2008, Mr. Ennis' work performance was rated satisfactory (2 on a scale of 3) for most years and superior (3 on a scale of 3) for his last three years by his employer. In fact, during this 16 year period there were no complaints regarding the quality and accuracy of the employee's work. As well, over the course of his employment, Mr. Ennis maintained his certification as a trauma specialist, a requirement of the trauma unit. In December 2007 Mr. Ennis's five-year-old daughter died unexpectedly. After his daughter's death, Mr. Ennis began to have attendance issues and was reprimanded on 3 separate occasions on January 27,2008, July 23, 2008, and October 3, 2008 for being absent from work without permission. Three warnings were issued; one verbal counseling and two written warnings. In December 3, 2008, Mr. Ennis was terminated by his employer.
The incident of his daughter's death led him to rely on sleeping pills to cope. However, this addiction has caused a drop in Mr. Ennis' work performance. Before Mr. Ennis's discharge, Ennis sought treatment for a drug and alcohol addiction and he is attempting to return to work through arbitration. Ennis's addiction counselor, Dr. Cooper, claimed that Ennis has an 80 percent chance of remaining chemical-free and maintain an acceptable attendance as well as performance record after returning to work. Considering Ennis's previous abnormally high absenteeism record and his three relapses after stopping his counseling, the management of the hospital should not grant Mr. Ennis an opportunity to return to work. The management has sufficient reasons to reject Ennis's reinstatement. First, proof has to be made against Mr. Ennis showing evidence of his absenteeism. Secondly, the management must convince their opponents that the disciplinary action was justified. Proof of absenteeism wasn't difficult to obtain, however; because the justifications of disciplinary action is debatable, management must show that the griever, Ennis, is culpable, or guilty.
To show that Ennis is culpable, it is important that management provide evidence to prove Ennis was aware of his responsibilities as an employee, of the necessary precautions and steps required of him during the time period of accusation. Management must also prove that Ennis was capable of carrying out these tasks, and finally prove that he chose to do otherwise. Without all of these "elements of culpability", management cannot prove Mr. Ennis was guilty. To prove Ennis was absent for 17.5%, nearly 10% more than the hospital usual, analysis was taken into the counseling sessions that he missed, as well as the relapses in May 2008, November 2008, and October 2009, to show Mr. Ennis' lack of consistent attendance. This is paired with the fact that his absences were unaccounted for, which would include failing to call in sick. A large part of evidence to prove Ennis' absenteeism is his most recent relapse occurred on October 25, 2009, which was only four months prior to the date set for arbitration.
This showed a lack of enthusiasm for returning to work, despite the effort Dr. Cooper, his addiction counselor, had put forth stating that Ennis had an 80% chance of being sober. Eighty percent, however; is not an ideal number for Ennis, who will be handling the potentially lethal drugs, a risk too great for both the patients and Ennis himself. Also, despite the fact that there was another employee who had attained a 13% (about one eighth) absence, Ennis, who had a percentage nearly a fifth of his expected work hours, was deemed too inappropriate, especially for a position that other lives depend on. Thus, management doubts his capability to reach his previous, satisfactory, performance level. Agreed upon by the management of the hospital, situations like this were to be dealt with using the concept of progressive discipline, which is similar to having 3 strikes. It would be a method to ensure that Ennis, as well as a union representative, are aware of the disciplinary action that could ensue if Ennis continued his poor performance.
It was agreed that verbal counseling would be the first step prior to any other disciplinary actions. If the employee does not improve their performance, the normal progression of discipline will be followed through (Hebdon & Brown, 2008). Ennis' actions lead management through the entire progression of discipline, and by the end, after the second written warning, gave them no other choice but to discharge him from his position. This is a major factor in why management have 'just cause' for terminating Bradley Ennis from his position here at All Saint's Hospital, because both the union and the hospital agreed upon these terms. Management feels that Mr. Ennis does not show any reason to be an exception to these terms. Management feels that they did not treat Ennis with unfair or unjust discipline, and due to his action we feel the final step of termination was the only option. There are a number of commonly accepted rules to whether an employer has used 'just cause' in the cases of discipline and discharge.
Management feels that there is without question just cause in this case. According to the textbook chapter 9 "Strikes and dispute resolution", during an arbitration process, representing just cause to discipline is definitely the key point for both unions and management. Generally speaking, enough evidence, which was just cause for disciplinary actions, is presented by management (Hebdon & Brown, 2008). Ennis's termination followed the procedures regulated in the Collective Agreement Clause, since the necessary verbal counseling and two written warnings for excessive absenteeism (17.5 percent as against a hospital average rate of 7 percent) were given on January 27, 2008, June 23, 2008, and October 15, 2008, respectively. Although the step of suspension without pay was skipped, the termination was still considered justified based on the clause that certain offences are sufficiently serious to warrant immediate discharge and/or a faster progression through the process (Hebdon & Brown, 2008). According to the Article 32-Corrective Action And Discipline: "32.1 Employees can be disciplined only for just cause. Such discipline must be reasonable and commensurate with the seriousness of the violation"
When relating to the case, Ennis failed to call in sick too many times, and as mentioned above, have stressed both employees and patients with his negligence. Moreover, because his daughter died at the hospital he worked at, it should make sense that preventing another incident from happening to someone else would be an imperative for Ennis, as well as the hospital. As support for grounds to terminate, based on absenteeism, several cases are presented. Management found a reference from National Auto Radiator Mfg. Co. Ltd. and U.A.W., Local 195 (1976), 11 L.A.C. (2d) 48 (Brandt) at pp. 52-3, the arbitrator stated: "It is clear in law that an employer can terminate employment for "blameless absenteeism""
Another reference, see Re United Rubber Workers and Seiberling Rubber Co. Ltd. (1969, 20 L.A.C. 267 (Weiler); and Re U.A.W. and Massey-Ferguson Ltd. (1969)0 20 L.A.C. 370 (Weiler).
As with the cases presented above, the employer may terminate, in a non-disciplinary manner, if an employee fails to deliver the services, which are stated in the contract of employment. It is the employer's right to demand he have this vantage point, which provides enough of a reason for termination, aside from discipline for culpable absenteeism. It is commonplace to ask whether the employer's rule or order is reasonably related to the efficiency and safety of operations. In the case of Mr. Ennis the employer's rule is for an employee to call in and notify management of a future absence from work. This is most certainly related to the efficient and safe operations of a hospital. If a nurse as important as Ennis, a long serving "trauma specialist", is missing in action without pre-warned notification then someone is not receiving the care they need. If Ennis does not show up for work, and does not call in sick then there is no way of adequately filling his spot. The case clearly states that Ennis had excessive absenteeism and was not calling in his absence. In turn, Ennis was repeatedly making his workplace less of an efficient and safe operation.
These absences would not have required such drastic measures had Ennis called and informed his employer of his absences. According to 34 L.A.C. (3d) 296, 1988 CLB 11915, 9 C.L.A.S. 100, the griever's employment was terminated. The letter of termination stated that, "these reasons include inability to perform your job responsibilities and lack of required attendance at work to uphold your part of the employment contract, both of which have continued after several verbal and written warnings". This case is similar to Mr. Ennis's case. He had excessive absenteeism to perform his job responsibilities and lack of required attendance at work.According to 193 L.A.C. (4th) 190, 2010 CLB 4419, 101 C.L.A.S. 163, the Hospital says that the griever's employment was terminated for innocent absenteeism. The discharge letter reads, in part, as follows: "I regret to inform you that your employment with the Sault Area Hospital will be terminated due to your excessive absenteeism.
We have been meeting on a regular basis to discuss your sick time, which has been consistently and significantly above the departmental and hospital average. Despite all efforts to modify your job duties and work environment to accommodate your abilities, you remain unable to attend work on a regular basis". Same as Mr. Ennis's case, his excessive absenteeism rate is 17.5 percent as against a hospital average of 7 percent. Hence, he is no doubt to be terminated. More specifically, by examining the first requirement of culpability to prove Ennis' guilt, the management points out that he, the griever, was aware of what was required of him (Hebdon & Brown, 2008). Ennis was hired since May 1, 1992 by the trauma unit of All Saints' Hospital and was responsible for monitoring patient care, administrating potentially lethal drugs, monitoring patient regimes, and counseling patients and their families concerning care options. For a "trauma specialist", it should be obvious that Ennis not only knew what should have been done, but was trained as well, to cope with his daughter's death. Not only that, the fact that Mr. Ennis sought treatment for his daughter's death shows that he was capable of coping properly, which is the second requirement; proving the griever was capable of performing.
The last requirement to prove Ennis' guilt is to show that the griever chose not to perform what was required of him. An obvious point in this regard is the fact that Ennis did not call in sick for a three day absence. Another major point is the advice management provided to Ennis on October 15, 2008, which was a reminder that the hospital had resources, specifically the confidential Employee Assistance Plan (EAP), to help employees cope, which includes issues involving drug and alcohol addiction, and the "recent death of his daughter that might be affecting his attendance". Not only did management provide an outlet for Mr. Ennis, Ennis chose not to utilize the opportunity for help, proving that he "chose to do otherwise". Management makes sure the rules, orders, and penalties are applied evenhandedly and without discrimination. The terms of discipline were agreed upon in a collective agreement. This means that in any case that needs discipline, the same progression of discipline will be followed unless a case proves to be a dramatic exception. Therefore, as Mr. Ennis's case did not show any reason to be an exception, it followed the normal, agreed upon progression of discipline. Although Ennis did not have previous record, the rapid decline in performance is outstanding.
This criterion is satisfied because of the repetitiveness of Ennis absences. With repeat absences and use a drug and alcohol, we see termination as the sole penalty for the offences. Based on the above analysis, managements feel that it is clear the 'just cause' was use in the discharge of Bradley Ennis. Bradley Ennis should not be allowed to get his position back. He was terminated December 3, 2008 for failing to call in sick, excessive absenteeism. Given the significance of the duty of a trauma nurse, any negligence may lead to serious consequences. Though Ennis had received a performance rating of satisfactory or superior before the offences and actively sought treatment after the discharge, there is no guarantee that Mr. Ennis will not get involved in another relapse. Ennis's dishonesty has ruined the trust that he built with his employer. The misfortune Ennis suffered and the past good performances cannot justify his return to the position.
Reference
Hebdon, R. & Brown, T. C. (2008). Industrial Relations in Canada. Toronto: Nelson Education Ltd.
National Auto Radiator Mfg. Co. Ltd. and U.A.W., Loc. 195 (1976), 11 L.A.C. (2d) 48 (Brandt)
Re United Rubber Workers and Seiberling Rubber Co. Ltd. (1969), 20 L.A.C. 267 (Weiler);
Re U.A.W. and Massey-Ferguson Ltd. (1969), 0 20 L.A.C. 370 (Weiler).
Children's Aid Society of Metropolitan Toronto and C.U.P.E., Loc. 2316 (Re), 34 L.A.C. (3d) 296, 1988 CLB 11915, 9 C.L.A.S. 100,
Re Sault Area Hospital and C.A.W.-Canada, Loc. 1120 (Re) (2010), 193 L.A.C. (4th)190, 2010 CLB 4419, 101 C.L.A.S. 163
Related Topics