"Thank you Ma'm" by Langston Hughes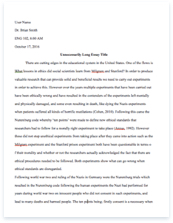 The whole doc is available only for registered users
A limited time offer! Get a custom sample essay written according to your requirements urgent 3h delivery guaranteed
Order Now
'Thank you Ma'm' is a short story written by a male African-American writer, Langston Hughes, around 1930's where the racism was a big issue in the U.S. society. The story talks about an unexpected meeting between Mrs. Luella Jones Bates Washington Jones, a tough and independent black lady, and Roger, a little poor kid who tries to snatch Mrs. Jones purse. However, he fails and gets caught by Mrs. Jones, but instead of dragging him to a police, she takes him to her home, takes good care of him and kindly gives him some money and a life lesson before letting him go.
Besides the story is very well-known and admired by lots of people around the world because of its meaningful themes and some moral lessons, this short story is also valuable since it would be a great piece of work to be analyzed in terms of literary criticism. According to the story, the most distinctive and outstanding literary theories reflecting from the story are feminist and psychoanalytic criticism.
In this story, the concept of feminism is mainly portrayed via a main female character, Mrs. Jones. However, there are two characteristics of feminism shining from her. The first one is the modern feminism or the deconstructed feminism which focus on the power of women. Mrs. Jones introduces the new role of women which is women do not need to be weak all the time or under controlled by men. According to the story, Mrs. Jones is single and she has her own job. She is far from the power of any men since she is the one who takes care of herself. She can stay alone without any protection from a husband and she can make money by herself.
The readers can find this point in the part that says "…Instead, as they ate, she told him about her job in a hotel beauty shop that stayed open late, what the work was like, and how all kind of women came in and out, blondes, red-heads, and Spanish…" Also, she is a real fighter which seems to be obviously different from any other women. When she is attacked by a street kid who tries to steal her purse, she immediately fights back when she get a chance. She does not scream with nervousness and waits for help for a man who might pass by like other women would do. Instead, she chooses to protect herself. The reader will find this at the almost of the beginning part that says "…the boy fell on his back on the sidewalk, and his legs flew up. The large woman simply turned around and kicked him right square in his blue- jeaned sitter…"
However, no matter how tough and strong Mrs. Jones is, she still maintains a characteristic of traditional feminism which is a traditional role of women that they are just servants and moral supporters. From the story, after she takes Roger with her to her home, she treat him very well by giving him a clean towel for him to watch his face, preparing a meal for him to eat even though Roger is a stranger who tries to snatch her purse in the first time they met. Besides, Mrs. Jones also doses an important job of women as a moral supporter by sharing her own experience with Roger in order to give him an indirect moral lesson. The writer shows it in the part that says "… "I were young once and I wanted things I could not get."… "Um-hum! You thought I was going to say but, didn't you? You thought I was going to say, but I didn't snatch people's pocketbooks. Well, I wasn't going to say that."… "I have done things, too, which I would not tell you, son—neither tell God, if he didn't already know…"… "
The other theory of literary criticism which can be applied in this story is psychoanalysis. A significant aspect of this theory talks about some conflicts or problems that are deep down inside human beings' minds or something which are desired by humans' subconscious. According to the story, once when Mrs. Jones was young, she has done something bad in order to get what she wanted. So, when she becomes elder and accidentally meets Roger, a skinny black boy, who tries to snatch her purse and she found out later that he did it because he wanted money to buy a pair of shoes he could not afford, it seems to her that she is watching a circle of life. Roger is not someone else but herself when she was a kid; a kid who has a tough childhood; a poor kid who just wants something but never been taught what is right or wrong. Now, she sees a chance to fix the problem in her mind; a chance to solve the guilt that has always haunted her, so she gives Roger a chance by forgiving him which mean the guilt in her heart finally gets fixed too.
Although 'Thank you Ma'm' is just a three-pages-long short story, it gives reader lots of beautiful things and valuable lessons such as forgiving, giving other people a chance or a meet that could change you forever including the theme 'black is beautiful'. Thus, in my opinion, this is one of the masterpieces of Langston Hughes that everyone should not miss.
Related Topics