Technology Is a Huge Contribution to Childhood Obesity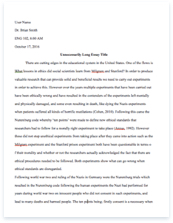 The whole doc is available only for registered users
A limited time offer! Get a custom sample essay written according to your requirements urgent 3h delivery guaranteed
Order Now
Everyone knows that from today too tomorrow technology is always changing. Because children want these thing parents usually buy it for them not realizing that accidently they are putting their children's health at risk if they don't regulate it properly. Children don't have the thought process to control the amount of time they use these things so they spend hours watching TV, playing games, and using cellphones which makes them inactive. They just sit down and start using their electronics for long hours that they totally forget about exercise. There is no productivity going on so there is no way they will be burning the calories, that these children consume daily.
A study showed that those who spent more time watching television and less time doing rigorous activities or sports ended up with a higher BMI. In the process of watching television, energy is expended without any real exercise, therefore making the children stationary, and obese children often have a lower metabolic rate while watching television as opposed to normal weight children. Therefore, it can be concluded that television has a big effect on metabolic rate reduction, which in turn has an effect on obesity and BMI levels. (Pařízková and Hills 72-73) When you pair this with the decrease in high schools having physical education it is a formula for more children to become obese "In 2015, 51.6% of high school students attended physical education classes in an average week, and only 29.8% of high school students attended physical education classes daily"( Kann, Laura, et al). These inactive hobbies such as watching T.V leads to snacking, which the snacks they choose are usually junk food such as cookies, candy, chips, and soda. A article by CNN said that "Children 8 and younger spent about 15 minutes a day staring at a mobile screen in 2013 and now they spend 48 minutes a day they also found that 42% of children 8 and younger now have their own tablet devices, a steep increase from 7% four years ago and less than 1% in 2011".
Decisions like this can't be left up to the children it's a responsibility of the parent. This could be considered neglect on the parents side and be a leading reason why obesity continues. Without the encouragement to do certain activities, children will spend their time playing around with these devices , therefore not expending the energy they have. An imbalance of energy input and output is one contributing factor to weight gain. Not only that, but also can be a factor to a child become overweightness before they learn the skills to make the right health choices.
Many families live in areas that do not have affordable access to healthy foods. The environment that these families live in contributes to the children not having the proper nutrition which later down the line leads to obesity. This can be called poverty which contributes to many different variety of problems but one problem it produces that lead to childhood obesity is food insecurity. What makes a household food insecure is when it doesn't have consistent access to adequate food due to a lack of money, lack of food in the area or the resources to get food. There are many facts that show that Children that experience poverty were more likely to have adverse BMI growth trajectory eating and sedentary behaviors compared with the never poor. "The recurrently poor children (12.8%) had the fastest BMI trajectory, highest overweight/obesity prevalence from 5 to 16 years old and highest proportion of excessive soda/fast food consumption and irregular exercise at 8th grade than did other."( Min, J., et al) There are numerous ways that food insecurity impacts childhood obesity.
Households with food insecurities usually have low intakes of fruit and vegetables. The reason for this is because Fruits and vegetables aren't the cheapest foods to purchase, and families in poverty cannot afford them. Being in poverty sometimes mean that these families usually consume insufficient calories, and families often cope with limited food dollars by purchasing less expensive but higher fat foods. This than causes them to be deficient in numerous other nutrients. It boils down to the fact that foods that are cheap are lower in nutritional value and are usually higher in the things that lead to obesity.
Another attribute of poverty is hunger, which also creates food insecurity. If children are uncertain where their next meal will come from, they tend to overindulge for the meals they know they will be eating. Their food insecurity compels them to try to produce the security for themselves by overeating. Overeaters are expected to be obese, even if they do not overeat on a consistent basis. They do not have the resources to plan healthy menus or spend hours grocery shopping, most of these things are luxuries that come with eating healthy or having money. They are merely not able to plan like other families, and in some cases, they may not even have the knowledge to plan effectively. Areas that are low income areas have less grocery store options than a higher income area which also contributes to people in these areas eating fast food because they have more of these options available to them. The United States Department of Agriculture says that there are "23.5 million poor people have limited access to fresh food. The USDA also says that most of them have access to a car. This shows that they would be capable of making a trip to an area that has fresh fruits , vegetables and all around healthier options but that doesn't change that these options cost more than they can afford.
Obesity doesn't only affect children on a physical level but it also affects them on a psychological and social level. Obesity isn't just a lone disease it also leads to other disorders like depression. It is more common for obese adults to become depressed due to their obesity, but that does not stop children from having this problem. If a child continues on the track of obesity through adulthood he is likely to suffer from depression. The reason for this is most adults are more aware than children of the fact that they are overweight or obese, which means that children do not exactly know what they have gotten into, so it's less likely to affect them. However, those that are aware do not like the way the look, and they have a hard time dealing with their weight, leading to clinical depression.