SWOT Analysis Argumentative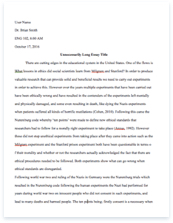 The whole doc is available only for registered users
Pages: 23
Word count: 5621
Category: Economics
A limited time offer! Get a custom sample essay written according to your requirements urgent 3h delivery guaranteed
Order Now
A scan of the internal and external environment is an important part of the strategic planning process. Environmental factors internal to the firm usually can be classified as strengths (S) or weaknesses (W), and those external to the firm can be classified as opportunities (O) or threats (T). Such an analysis of the strategic environment is referred to as a SWOT analysis. The SWOT analysis provides information that is helpful in matching the firm's resources and capabilities to the competitive environment in which it operates. As such, it is instrumental in strategy formulation and selection. The following diagram shows how a SWOT analysis fits into an environmental scan:
SWOT Analysis Framework
Environmental Scan
Internal Analysis
External Analysis
Strengths Weaknesses Opportunities Threats
Strengths
A firm's strengths are its resources and capabilities that can be used as a basis for developing a Competitive advantage. Examples of such strengths include:
patents
strong brand names
good reputation among customers
cost advantages from proprietary know-how
exclusive access to high grade natural resources
favorable access to distribution networks
Weaknesses
The absence of certain strengths may be viewed as a weakness. For example, each of the following may be considered weaknesses:
lack of patent protection
a weak brand name
poor reputation among customers
high cost structure
lack of access to the best natural resources
lack of access to key distribution channels
In some cases, a weakness may be the flip side of a strength. Take the case in which a firm has a large amount of manufacturing capacity. While this capacity may be considered a strength that competitors do not share, it also may be a considered a weakness if the large investment in manufacturing capacity prevents the firm from reacting quickly to changes in the strategic environment.
Opportunities
The external environmental analysis may reveal certain new opportunities for profit and growth. Some examples of such opportunities include:
an unfulfilled customer need
arrival of new technologies
loosening of regulations
removal of international trade barriers
Threats
Changes in the external environmental also may present threats to the firm. Some examples of such threats include:
shifts in consumer tastes away from the firm's products
emergence of substitute products
new regulations
increased trade barriers
SWOT Analysis of ITC
ITC is one of India's biggest and best-known private sector companies. In fact it is one of the World's most high profile consumer operations. This SWOT analysis is about ITC. Its businesses and brands are focused almost entirely on the Indian markets, and despite being most well-known for its tobacco brands such as Gold Flake, the business is now diversifying into new FMCG (Fast Moving Consumer Goods) brands in a number of market sectors – including cigarettes, hotels, paper, agriculture, packaged foods and confectionary, branded apparel, personal care, greetings cards, Information Technology, safety matches, incense sticks and stationery. Examples of its successful new FMCG products include:
1. Aashirvaad – India's most popular atta brand with over 50% market share. It is also present in spices and instant mixes.
2. Mint-o – Mint-0 Fresh is the largest cough lozenge brand in India.
3. Bingo! – a new introduction of finger snacks.
4. Kitchens of India – pre-prepared foods designed by ITC's master chefs. 5. Sunfeast – is ITC's biscuit brand (and the sub-brand is also used on some pasta products).
Strengths
ITC leveraged it traditional businesses to develop new brands for new segments. For example, ITC used its experience of transporting and distributing tobacco products to remote and distant parts of India to the advantage of its FMCG products. ITC master chefs from its hotel chain are often asked to develop new food concepts for its FMCG business. ITC is a diversified company trading in a number of business sectors including cigarettes, hotels, paper, agriculture, packaged foods and confectionary, branded apparel, personal care, greetings cards, Information Technology, safety matches, incense sticks and stationery.
Weaknesses
The company's original business was traded in tobacco. ITC stands for Imperial Tobacco Company of India Limited. It is interesting that a business that is now so involved in branding continues to use its original name, despite the negative connection of tobacco with poor health and premature death. To fund its cash guzzling FMCG start-up, the company is still dependant upon its tobacco revenues. Cigarettes account for 47 per cent of the company's turnover, and that in itself is responsible for 80% of its profits. So there is an argument that ITC's move into FMCG (Fast Moving Consumer Goods) is being subsidised by its tobacco operations. Its Gold Flake tobacco brand is the largest FMCG brand in India – and this single brand alone hold 70% of the tobacco market.
Opportunities
Core brands such as Aashirvaad, Mint-o, Bingo! And Sun Feast (and others) can be developed using strategies of market development, product development and marketing penetration. ITC is moving into new and emerging sectors including Information Technology, supporting business solutions.
e-Choupal is a community of practice that links rural Indian farmers using the Internet. This is an original and well thought of initiative that could be used in other sectors in many other parts of the world. It is also an ambitious project that has a goal of reaching 10 million farmers in 100,000 villages. Take a look at eChoupal here http://www.itcportal.com/agri_exports/e-choupal_new.htm ITC leverages e-Choupal in a novel way. The company researched the tastes of consumers in the North, West and East of India of atta (a popular type of wheat flour), then used the network to source and create the raw materials from farmers and then blend them for consumers under purposeful brand names such as Aashirvaad Select in the Northern market, Aashirvaad MP Chakki in the Western market and Aashirvaad in the Eastern market. This concept is tremendously difficult for competitors to emulate.
Chairman Yogi Deveshwar's strategic vision is to turn his Indian conglomerate into the country's premier FMCG business. Per capita consumption of personal care products in India is the lowest in the world offering an opportunity for ITC's soaps, shampoos and fragrances under their Wills brand. Threats The obvious threat is from competition, both domestic and international. The laws of economics dictate that if competitors see that there is a solid profit to be made in an emerging consumer society that ultimately new products and services will be made available. Western companies will see India as an exciting opportunity for themselves to find new market segments for their own offerings. ITC's opportunities are likely to be opportunities for other companies as well. Therefore the dynamic of competition will alter in the medium-term. Then ITC will need to decide whether being a diversified conglomerate is the most competitive strategic formation for a secure future.
PESTEL analysis of the macro-environment
There are many factors in the macro-environment that will effect the decisions of the managers of any organisation. Tax changes, new laws, trade barriers, demographic change and government policy changes are all examples of macro change. To help analyse these factors managers can categorise them using the PESTEL model. This classification distinguishes between: 
Political factors. These refer to government policy such as the degree of intervention in the economy. What goods and services does a government want
to provide? To what extent does it believe in subsidising firms? What are its priorities in terms of business support? Political decisions can impact on many vital areas for business such as the education of the workforce, the health of the nation and the quality of the infrastructure of the economy such as the road and rail system.
Economic factors. These include interest rates, taxation changes, economic growth, inflation and exchange rates. As you will see throughout the "Foundations of Economics" book economic change can have a major impact on a firm's behaviour. For example:
– higher interest rates may deter investment because it costs more to borrow – a strong currency may make exporting more difficult because it may raise the price in terms of foreign currency
– inflation may provoke higher wage demands from employees and raise costs – higher national income growth may boost demand for a firm's products
Social factors.
Changes in social trends can impact on the demand for a firm's products and the availability and willingness of individuals to work. In the UK, for example, the population has been ageing. This has increased the costs for firms who are committed to pension payments for their employees because their staff are living longer. It also means some firms such as Asda have started to recruit older employees to tap into this growing labour pool. The ageing population also has impact on demand: for example, demand for sheltered accommodation and medicines has increased whereas demand for toys is falling.
Technological factors: new technologies create new products and new processes. MP3 players, computer games, online gambling and high definition TVs are all new markets created by technological advances. Online shopping, bar coding and computer aided design are all improvements to the way we do business as a result of better technology. Technology can reduce costs, improve quality and lead to innovation. These developments can benefit consumers as well as the organisations providing the products.
Environmental factors: environmental factors include the weather and climate change. Changes in temperature can impact on many industries including farming, tourism and insurance. With major climate changes occurring due to global warming and with greater
environmental awareness this external factor is becoming a significant issue for firms to consider. The growing desire to protect the environment is having an impact on many industries such as the travel and transportation industries (for example, more taxes being placed on air travel and the success of hybrid cars) and the general move towards more environmentally friendly products and processes is affecting demand patterns and creating business opportunities.
Legal factors: these are related to the legal environment in which firms operate. In recent years in the UK there have been many significant legal changes that have affected firms' behaviour. The introduction of age discrimination and disability discrimination legislation, an increase in the minimum wage and greater requirements for firms to recycle are examples of relatively recent laws that affect an organisation's actions. Legal changes can affect a firm's costs (e.g. if new systems and procedures have to be developed) and demand (e.g. if the law affects the likelihood of customers buying the good or using the service).
Different categories of law include:
consumer laws; these are designed to protect customers against unfair practices such as misleading descriptions of the product competition laws;
these are aimed at protecting small firms against bullying by larger firms and ensuring customers are not exploited by firms with monopoly power employment laws;
these cover areas such as redundancy, dismissal, working hours and minimum wages.
They aim to protect employees against the abuse of power by managers health and safety legislation; these laws are aimed at ensuring the workplace is as safe as is reasonably practical. They cover issues such as training, reporting accidents and the appropriate provision of safety equipmen
Typical PESTEL factors to consider include:
Factor
Could include:
Political
e.g. EU enlargement, the euro, international trade, taxation policy
Economic
e.g. interest rates, exchange rates, national income, inflation, unemployment, Stock Market
Social
e.g. ageing population, attitudes to work, income distribution
Technological
e.g. innovation, new product development, rate of technological obsolescence
Environmental
e.g. global warming, environmental issues
Legal
e.g. competition law, health and safety, employment law
By using the PESTEL framework we can analyse the many different factors in a firm's macro environment. In some cases particular issues may fit in several categories. For example, the creation of the Monetary Policy Committee by the Labour government in 1997 as a body that was independent of government but had the ability to set interest rates was a political decision but has economic
consequences; meanwhile government economic policy can influence investment in technology via taxes and tax credits. If a factor can appear in several categories managers simply make a decision of where they think it best belongs.
However, it is important not to just list PESTEL factors because this does not in itself tell managers very much. What managers need to do is to think about which factors are most likely to change and which ones will have the greatest impact on them i.e. each firm must identify the key factors in their own environment. For some such as pharmaceutical companies government regulation may be critical; for others, perhaps firms that have borrowed heavily, interest rate changes may be a huge issue. Managers must decide on the relative importance of various factors and one way of doing this is to rank or score the likelihood of a change occurring and also rate the impact if it did. The higher the likelihood of a change occurring and the greater the impact of any change the more significant this factor will be to the firm's planning.
It is also important when using PESTEL analysis to consider the level at which it is applied. When analysing companies such as Sony, Chrysler, Coca Cola, BP and Disney it is important to remember that they have many different parts to their overall business – they include many different divisions and in some cases many different brands. Whilst it may be useful to consider the whole business when using PESTEL in that it may highlight some important factors, managers may want to narrow it down to a particular part of the business (e.g. a specific division of Sony); this may be more useful because it will focus on the factors relevant to that part of the business. They may also want to differentiate between factors which are very local, other which are national and those which are global.For example, a retailer undertaking PESTEL analysis may consider:
Local factors such as planning permission and local economic growth rates
Global factors such as the opening up of new markets making trade easier. The entry of Bulgaria and Rumania into the European Union might make it easier to enter that market in terms of meeting the various regulations and provide new expansion opportunities. It might also change the labour force within the UK and recruitment opportunities.
This version of PESTEL analysis is called LoNGPESTEL. This is illustrated below: LOCAL
GLOBAL
POLITICAL
Provision of services by local council
World trade agreements e.g. further
expansion of the EU
ECONOMIC
Local income
Overseas economic growth
SOCIAL
Local population growth
Migration flows
TECHNOLOGICAL
Improvements in local technologies e.g.
availability of Digital TV
International technological
breakthroughs e.g. internet
ENVIRONMENTAL
Local waste issues
Global climate change
LEGAL
Local licences/planning permission
International agreements on human
rights or environmental policy
In "Foundations of Economics" we focus on the economic environment. We examine issues such as the effect of interest rate changes, changes in exchange rates, changes in trade policy, government intervention in an economy via spending and taxation and economic growth rates. These can be incredibly important factors in a firm's macro-environment. The growth of China and India, for example, have had massive effects on many organisations. Firms can relocate production there to benefit from lower costs; these emerging markets are also providing enormous markets for firms to aim their products at. With a population of over 1 billion, for example, the Chinese market is not one you would want to ignore; at the same time Chinese producers should not be ignored either. However, the relative importance of economic factors compared to other factors will depend on the particular position of a business. Exchange rate fluctuations may be critically important to a multinational but less significant to a local window cleaner. Rapid economic growth or economic decline may be very significant to a construction business that depends heavily on the level of income in the economy but may be slightly less significant to a milk producer whose product is less sensitive to income. So whilst the economy is important to all firms on both the supply side (e.g. unemployment levels affect the ease of recruitment) and demand side (e.g. income tax affects spending power) the relative importance of specific economic factors and the relative importance of the economy compared to, say, regulation or social trends will vary. Whilst we hope this book provides a good insight into the economy and the possible effects of economic change on a business these must be considered in the light of other macro and micro factors that influence a firms' decisions and success.
Porter's Five Forces
The model of pure competition implies that risk-adjusted rates of return should be constant across firms and industries. However, numerous economic studies have affirmed that different industries can sustain different levels of profitability; part of this difference is explained by industry structure. Michael Porter provided a framework that models an industry as being influenced by five forces. The strategic business manager seeking to develop an edge over rival firms can use this model to better understand the industry context in which the firm operates.
Diagram of Porter's 5 Forces
SUPPLIER POWER
Supplier concentration
Importance of volume to supplier
Differentiation of inputs
Impact of inputs on cost or differentiation
Switching costs of firms in the industry
Presence of substitute inputs
Threat of forward integration
Cost relative to total purchases in industry
BARRIERS
TO ENTRY
Absolute cost advantages
Proprietary learning curve
Access to inputs
Government policy
Economies of scale
Capital requirements
Brand identity
Switching costs
Access to distribution
Expected retaliation
Proprietary products
THREAT OF
SUBSTITUTES
-Switching costs
-Buyer inclination to
substitute
-Price-performance
trade-off of substitutes
BUYER POWER
Bargaining leverage
Buyer volume
Buyer information
Brand identity
Price sensitivity
Threat of backward integration
Product differentiation
Buyer concentration vs. industry
Substitutes available
Buyers' incentives
DEGREE OF RIVALRY
-Exit barriers
-Industry concentration
-Fixed costs/Value added
-Industry growth
-Intermittent overcapacity
-Product differences
-Switching costs
-Brand identity
-Diversity of rivals
-Corporate stakes
I. Rivalry
In the traditional economic model, competition among rival firms drives profits to zero. But competition is not perfect and firms are not unsophisticated passive price takers. Rather, firms strive for a competitive advantage over their rivals. The intensity of rivalry among firms varies across industries, and strategic analysts are interested in these differences. Economists measure rivalry by indicators of industry concentration. The Concentration Ratio (CR) is one such measure. The Bureau of Census periodically reports the CR for major Standard Industrial Classifications (SIC's). The CR indicates the percent of market share held by the four largest firms (CR's for the largest 8, 25, and 50 firms in an industry also are available). A high concentration ratio indicates that a high concentration of market share is held by the largest firms – the industry is concentrated. With only a few firms holding a large market share, the competitive landscape is less competitive (closer to a monopoly). A low concentration ratio indicates that the industry is characterized by many rivals, none of which has a significant market share. These fragmented markets are said to be competitive.
The concentration ratio is not the only available measure; the trend is to define industries in terms that convey more information than distribution of market share. If rivalry among firms in an industry is low, the industry is considered to be disciplined. This discipline may result from the industry's history of competition, the role of a leading firm, or informal compliance with a generally understood code of conduct. Explicit collusion generally is illegal and not an option; in low-rivalry industries competitive moves must be constrained informally. However, a maverick firm seeking a competitive advantage can displace the otherwise disciplined market. When a rival acts in a way that elicits a counter-response by other firms, rivalry intensifies. The intensity of rivalry commonly is referred to as being cutthroat, intense, moderate, or weak, based on the firms' aggressiveness in attempting to gain an advantage. In pursuing an advantage over its rivals, a firm can choose from several competitive moves: Changing prices – raising or lowering prices to gain a temporary advantage. Improving product differentiation – improving
manufacturing process and in the product itself.
features,
implementing
innovations
in
the
Creatively using channels of distribution – using vertical integration or using a distribution channel that is novel to the industry. For example, with high-end jewelry stores reluctant to carry its watches, Timex moved into drugstores and other non-traditional outlets and cornered the low to mid-price watch market.
Exploiting relationships with suppliers – for example, from the 1950's to the 1970's Sears, Roebuck and Co. dominated the retail household appliance market. Sears set high quality standards and required suppliers to meet its demands for product specifications and price. The intensity of rivalry is influenced by the following industry characteristics: A larger number of firms increases rivalry because more firms must compete for the same customers and resources. The rivalry intensifies if the firms have similar market share, leading to a struggle for market leadership.
Slow market growth causes firms to fight for market share. In a growing market, firms are able to improve revenues simply because of the expanding market.
High fixed costs result in an economy of scale effect that increases rivalry. When total costs are mostly fixed costs, the firm must produce near capacity to attain the lowest unit costs. Since the firm must sell this large quantity of product, high levels of production lead to a fight for market share and results in increased rivalry.
High storage costs or highly perishable products cause a producer to sell goods as soon as possible. If other producers are attempting to unload at the same time, competition for customers intensifies.
Low switching costs increases rivalry. When a customer can freely switch from one product to another there is a greater struggle to capture customers.
Low levels of product differentiation is associated with higher levels of rivalry. Brand identification, on the other hand, tends to constrain rivalry.
Strategic stakes are high when a firm is losing market position or has potential for great gains. This intensifies rivalry.
High exit barriers place a high cost on abandoning the product. The firm must compete. High exit barriers cause a firm to remain in an industry, even when the venture is not profitable. A common exit barrier is asset specificity. When the plant and equipment required for manufacturing a product is highly specialized, these assets cannot easily be sold to other buyers in another industry. Litton Industries' acquisition of Ingalls Shipbuilding facilities illustrates this concept. Litton was successful in the 1960's with its contracts to build Navy ships. But when the Vietnam war ended, defense spending declined and Litton saw a sudden decline in its earnings. As the firm restructured, divesting from the shipbuilding plant was not feasible since such a large and highly specialized investment could not be sold easily, and Litton was forced to stay in a declining shipbuilding market. A diversity of rivals with different cultures, histories, and philosophies make an industry unstable.
There is greater possibility for mavericks and for misjudging rival's moves. Rivalry is volatile and can be intense. The hospital industry, for example, is populated by hospitals that historically are community or charitable institutions, by hospitals that are associated with religious organizations or universities, and by hospitals that are for-profit enterprises. This mix of philosophies about mission has lead occasionally to fierce local struggles by hospitals over who will get expensive diagnostic and therapeutic services. At other times, local hospitals are highly cooperative with one another on issues such as community disaster planning.
Industry Shakeout. A growing market and the potential for high profits induces new firms to enter a market and incumbent firms to increase production. A point is reached where the industry becomes crowded with competitors, and demand cannot support the new entrants and the resulting increased supply. The industry may become crowded if its growth rate slows and the market becomes saturated, creating a situation of excess capacity with too many goods chasing too few buyers. A shakeout ensues, with intense competition, price wars, and company failures. BCG founder Bruce Henderson generalized this observation as the Rule of Three and Four: a stable market will not have more than three significant competitors, and the largest competitor will have no more than four times the market share of the smallest. If this rule is true, it implies that: If there is a larger number of competitors, a shakeout is inevitable Surviving rivals will have to grow faster than the market
Eventual losers will have a negative cash flow if they attempt to grow
All except the two largest rivals will be losers
The definition of what constitutes the "market" is strategically important. Whatever the merits of this rule for stable markets, it is clear that market stability and changes in supply and demand affect rivalry. Cyclical demand tends to create cutthroat competition. This is true in the disposable diaper industry in which demand fluctuates with birth rates, and in the greeting card industry in which there are more predictable business cycles.
II. Threat of Substitutes
In Porter's model, substitute products refer to products in other industries. To the economist, a threat of substitutes exists when a product's demand is affected by the price change of a substitute product. A product's price elasticity is affected by substitute products – as more substitutes become available, the demand becomes more elastic since customers have more alternatives. A close substitute product constrains the ability of firms in an industry to raise prices. The competition engendered by a Threat of Substitute comes from products outside the industry. The price of aluminum beverage cans is constrained by the price of glass bottles, steel cans, and plastic containers. These containers are substitutes, yet they are not rivals in the aluminum can industry. To the manufacturer of automobile tires, tire retreads are a substitute. Today, new tires are not so expensive that car owners give much consideration to retreading old tires. But in the trucking industry new tires are expensive and tires must be replaced often.
In the truck tire market, retreading remains a viable substitute industry. In the disposable diaper industry, cloth diapers are a substitute and their prices constrain the price of disposables.
While the threat of substitutes typically impacts an industry through price competition, there can be other concerns in assessing the threat of substitutes. Consider the substitutability of different types of TV transmission: local station transmission to home TV antennas via the airways versus transmission via cable, satellite, and telephone lines. The new technologies available and the changing structure of the entertainment media are contributing to competition among these substitute means of connecting the home to entertainment. Except in remote areas it is unlikely that cable TV could compete with free TV from an aerial without the greater diversity of entertainment that it affords the customer.
III. Buyer Power
The power of buyers is the impact that customers have on a producing industry. In general, when buyer power is strong, the relationship to the producing industry is near to what an economist terms a monopsony – a market in which there are many suppliers and one buyer. Under such market conditions, the buyer sets the price. In reality few pure monopsonies exist, but frequently there is some asymmetry between a producing industry and buyers. The following tables outline some factors that determine buyer power.
Buyers are Powerful if:
Example
Buyers are concentrated – there are a few buyers
with significant market share
DOD purchases from defense contractors
Buyers purchase a significant proportion of
output – distribution of purchases or if the
product is standardized
Circuit City and Sears' large retail market
provides power over appliance manufacturers
Buyers possess a credible backward integration
threat – can threaten to buy producing firm or
rival
Large auto manufacturers' purchases of tires
Buyers are Weak if:
Example
Producers threaten forward integration – producer Movie-producing companies have integrated can take over own distribution/retailing
forward to acquire theaters
Significant buyer switching costs – products not
standardized and buyer cannot easily switch to
another product
IBM's 360 system strategy in the 1960's
Buyers are fragmented (many, different) – no
buyer has any particular influence on product or
price
Most consumer products
Producers supply critical portions of buyers' input
Intel's relationship with PC manufacturers
– distribution of purchases
IV. Supplier Power
A producing industry requires raw materials – labor, components, and other supplies. This requirement leads to buyer-supplier relationships between the industry and the firms that provide it the raw materials used to create products. Suppliers, if powerful, can exert an influence on the producing industry, such as selling raw materials at a high price to capture some of the industry's profits. The following tables outline some factors that determine supplier power.
Suppliers are Powerful if:
Example
Credible forward integration threat by suppliers
Baxter International, manufacturer of hospital
supplies, acquired American Hospital Supply, a
distributor
Suppliers concentrated
Drug industry's relationship to hospitals
Significant cost to switch suppliers
Microsoft's relationship with PC manufacturers
Customers Powerful
Boycott of grocery stores selling non-union picked
grapes
Suppliers are Weak if:
Example
Many competitive standardized suppliers product is Tire industr manufacturers relationship to automobile.
Purchase commodity products
Credible backward purchasers integration Grocery store brand label products threat by Timber producers relationship to paper companies Concentrated purchasers Garment industry department stores relationship Customers Weak to major
Travel agents' relationship to airlines
V. Barriers to Entry / Threat of Entry
It is not only incumbent rivals that pose a threat to firms in an industry; the possibility that new firms may enter the industry also affects competition. In theory, any firm should be able to enter and exit a market, and if free entry and exit exists, then profits always should be nominal. In reality, however, industries possess characteristics that protect the high profit levels of firms in the market and inhibit additional rivals from entering the market. These are barriers to entry. Barriers to entry are more than the normal equilibrium adjustments that markets typically make. For example, when industry profits increase, we would expect additional firms to enter the market to take advantage of the high profit levels, over time driving down profits for all firms in the industry. When profits decrease, we would expect some firms to exit the market thus restoring a market equilibrium. Falling prices, or the expectation that future prices will fall, deters rivals from entering a market. Firms also may be reluctant to enter markets that are extremely uncertain, especially if entering involves expensive start-up costs. These are normal accommodations to market conditions. But if firms individually (collective action would be illegal collusion) keep prices artificially low as a strategy to prevent potential entrants from entering the market, such entry-deterring pricing establishes a barrier.
Barriers to entry are unique industry characteristics that define the industry. Barriers reduce the rate of entry of new firms, thus maintaining a level of profits for those already in the industry. From a strategic perspective, barriers can be created or exploited to enhance a firm's competitive advantage. Barriers to entry arise from several sources:
Government creates barriers. Although the principal role of the government in a market is to preserve competition through anti-trust actions, government also restricts competition through the granting of monopolies and through regulation. Industries such as utilities are considered natural monopolies because it has been more efficient to have one electric company provide power to a locality than to permit many electric companies to compete in a local market. To restrain utilities from exploiting this advantage, government permits a monopoly, but regulates the industry. Illustrative of this kind of barrier to entry is the local cable company. The franchise to a cable provider may be granted by competitive bidding, but once the franchise is awarded by a community a monopoly is created. Local governments were not effective in monitoring price gouging by cable operators, so the federal government has enacted legislation to review and restrict prices. The regulatory authority of the government in restricting competition is historically evident in the banking industry. Until the 1970's, the markets that banks could enter were limited by state governments. As a result, most banks were local commercial and retail banking facilities. Banks
competed through strategies that emphasized simple marketing devices such as awarding toasters to new customers for opening a checking account. When banks were deregulated, banks were permitted to cross state boundaries and expand their markets. Deregulation of banks intensified rivalry and created uncertainty for banks as they attempted to maintain market share. In the late 1970's, the strategy of banks shifted from simple marketing tactics to mergers and geographic expansion as rivals attempted to expand markets.
Patents and proprietary knowledge serve to restrict entry into an industry. Ideas and knowledge that provide competitive advantages are treated as private property when patented, preventing others from using the knowledge and thus creating a barrier to entry. Edwin Land introduced the Polaroid camera in 1947 and held a monopoly in the instant photography industry. In 1975, Kodak attempted to enter the instant camera market and sold a comparable camera. Polaroid sued for patent infringement and won, keeping Kodak out of the instant camera industry. Asset specificity inhibits entry into an industry. Asset specificity is the extent to which the firm's assets can be utilized to produce a different product. When an industry requires highly specialized technology or plants and equipment, potential entrants are reluctant to commit to acquiring specialized assets that cannot be sold or converted into other uses if the venture fails. Asset specificity provides a barrier to entry for two reasons: First, when firms already hold specialized assets they fiercely resist efforts by others from taking their market share. New entrants can anticipate aggressive rivalry. For example, Kodak had much capital invested in its photographic equipment business and aggressively resisted efforts by Fuji to intrude in its market. These assets are both large and industry specific. The second reason is that potential entrants are reluctant to make investments in highly specialized assets.
Organizational (Internal) Economies of Scale. The most cost efficient level of production is termed Minimum Efficient Scale (MES). This is the point at which unit costs for production are at minimum – i.e., the most cost efficient level of production. If MES for firms in an industry is known, then we can determine the amount of market share necessary for low cost entry or cost parity with rivals. For example, in long distance communications roughly 10% of the market is necessary for MES. If sales for a long distance operator fail to reach 10% of the market, the firm is not competitive. The existence of such an economy of scale creates a barrier to entry. The greater the difference between industry MES and entry unit costs, the greater the barrier to entry. So industries with high MES deter entry of small, start-up businesses. To operate at less than MES there must be a consideration that permits the firm to sell at a premium price – such as product differentiation or local monopoly.
Barriers to exit work similarly to barriers to entry. Exit barriers limit the ability of a firm to leave the market and can exacerbate rivalry – unable to leave the industry, a firm must compete. Some of an industry's entry and exit barriers can be summarized as follows:
Easy to Enter if there is:
Difficult to Enter if there is:
Common technology
Patented or proprietary know-how
Little brand franchise
Difficulty in brand switching
Access to distribution channels
Restricted distribution channels
Low scale threshold
High scale threshold
Easy to Exit if there are:
Difficult to Exit if there are:
Salable assets
Specialized assets
Low exit costs
High exit costs
Independent businesses
Interrelated businesses
Related Topics