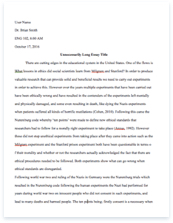 The whole doc is available only for registered users
A limited time offer! Get a custom sample essay written according to your requirements urgent 3h delivery guaranteed
Order Now
StrengthsOpportunities
It is the only indoor ice rink in a northern U.S. city.
Newly installed soft lights and selected music.
The rink is big enough to have 700 people at one time.
Offering ice skating program.
Winter is a popular season to skating.
Holding some "social activity" as roller skating rinks do. Weaknesses
Threats
Weather variability
The program does not attract as many people as Swan think.
Generating more cost and less revenue
The city's recreation department operates outdoor rinks in the winter.
Online games and networking makes more youth stay home rather than meet friends in weekend evening.
Profits come from customers. As long as Swan wants to make profits, he should satisfy target customers' needs. He has included 14 public skating sessions in his ice schedule. Some sessions are successful while some failed. Saturday and Sunday afternoon sessions —- "kidsitting" session —- are most successful. Friday and Saturday evening sessions —– teenager and young couple session —- are failed. I think Swan can change teenager and young couple session to obese teenager session. The teenagers eat many high calorie foods and drinks, and they always stay at home play on-line games on weekend evening as SWOT analysis indicates.
That's why they get fat. At the same time, young girls always want a good fit and boys want to catch girls attention by doing sports. Swan should make a strategy to attract those teenagers, because skating is a perfect choice for these teenagers. He can hire a trainer and hold a competition which can appeal teenagers to exercise in the rink. Get what teenage wants can make a profit. After determining the target market, Swan will decide the 4Ps — product、place、promotion、price. He provides a service. The indoor rink is competitive advantage as SWOT discussion. There are too many ways to do great promotion, e.g. advertising. Price should be economic. Q2:
In my opinion, Swan determined the style "color important;" target market by using combined target market. He scheduled the public program into different session but the charge is same ($5 per person). From the other perspective, he segmented the market into two kinds—-hockey and public skating program. Hockey is charged $200 an hour (plus concession sales) for entire rink which is different from the public skating program. This is a multiple target market. We only focus on the public skating program. If I were a marketing manager, I choose the multiple target market, but a little difference in public program. Swan already has 14 sessions which cannot be more specific. What he needs is more specific strategy for different sessions. Market segmentation is necessary and useful. Treat different market with different strategy is effective, although it may increase cost. When you find the right strategy for target customer, you will make more profit than you can imagine. Q3:
As I mentioned in Q1, Swan will attract the teenager from other entertainment on weekend evening. That expands our competitor to several entertainment companies. But we will try to focus on the main competitor—- the outdoor rink. We can see from the case that the competitor of Swan's ice rink is outdoor rink build by the city's recreation center. This situation is monopolistic competition. I have mentioned in Q1 that Swan's will have an obese teenage session. Does the outdoor rink can imitate Swan's rink. I don't think so. First, the outdoor rink is for the people who want to play skating. The Swan's has more specific target market — the obese teenage. Second, weather has a big influence to outdoor rink. The Swan's ice rink will never worry that. Third, Swan can hire a professional trainer and hold a competition. From this point, outdoor rink can do it too. Finally, I think indoor ice rink is a competitive advantage. From what we analysis, I believe Swan' ice rink can avoid head-on competition. Q4:
Swan's ice rink has 14 public sessions. The Friday and Saturday evening is disappointed, so we focus on this session. We surround by fast food, and intake high calories everyday. Especially teenagers, they eat snacks all the time and lack of exercise. Obesity is common phenomenon in the society. For parents, they concern obesity may cause some diseases. For girls, they concern their figure. Besides the figure, Weekend evening is off school, the have plenty time to come to ice rink do some exercises. Also, Swan found that youth like to race in the rink. So target market of this session will be obese teenagers who want to keep their figure and who want to learn a sport. Our service is to train these teenagers. Skating is not only an entertainment, but also a kind of sport. Youth will keep their figure and learn something at the same time. Swan can hire a professional trainer.
Rink will also supply organic coffee and healthy food. At the finally part of the training, Swan will hold a competition or performance between teenagers, and winner get great trophy. Competition will encourage them practice. The service place—- training place—- is Swan's ice rink. Training time will be at 8 to 10 on Friday and Saturday evening. There are many ways to promote. The training needs a slogan, e.g. KEEP FIT, KEEP HEALTH. Swan can print some brochures to introduce the training program. On the cover print a lady with great figure, dancing in a skating. He also can put some advertisement in Internet、television and newspapers. The rink can make its own web-site, either. There price will be $15 per hour. First 10 teenagers who get enrolled can get a discount coupon. Swan may change his target market of weekend evening session to make more profit.
Related Topics