Strategies to Help Students With Challenging Behaviors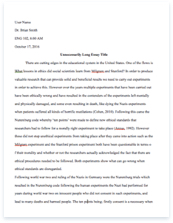 The whole doc is available only for registered users
A limited time offer! Get a custom sample essay written according to your requirements urgent 3h delivery guaranteed
Order Now
Abstract
Challenging behaviors can be very frustrating to the child, teacher, and family. It is especially frustrating when you do not know the exact reason behind the behavior and therefore makes it difficult to assist the child. The articles I researched explained the specific reasons one might show these behaviors and real-life examples. Not only is it important to know why the child is showing these behaviors, but it is also important to know how to resolve and minimize the behaviors. The articles explain strategies to use inside and outside the classroom to reduce the challenging behaviors that will benefit the teacher, child, and family.
Introduction
I chose the topic "Strategies To Help Children With Challenging Behaviors" because I am a special education major and I know this is a problem I am going to face while being in the classroom and I wanted to understand and develop strategies to handle it. Challenging behavior is defined as any repeated pattern of behavior, or perception of behavior, that interferes with or is at the risk of interfering with optimal learning or engagement in pro-social interaction with peers and adults (Smith & Fox, 2003, p. 6). There are many reasons children develop these behaviors and there are positive techniques teachers can use today can minimize this behavior.
The first article I read was "Strategies for Helping Parents of Young Children Address Challenging Behaviors in the Home." This article was based on Sara, a three-year-old girl with developmental delays and little expressive language to communicate. In Sara's home, the primary language is Chinese, due to this it makes it difficult for her to communicate her needs and wants in the classroom. She uses pointing and crying to express what she needs and or wants in class and at home.
This can be considered a challenging behavior which can be defined as "any repeated pattern of behavior, or perception of behavior, that interferes with or is at the risk of interfering with optimal learning or engagement in pro-social interaction with peers and adults" (Smith & Fox, 2003, p. 6). Due to her crying in the classroom, it distracts the other classmates from learning important material. This problem was improved by the teacher implementing replacement behaviors which reduced her crying in class but not at home. The article then explained the importance of parent involvement and helping the family teach replacement skills. Implementing these strategies at home and in the class will allow the child to develop these skills faster. Examples of these strategies are to reduce distractions in the environment, use cues, and give choices.
This next article is titled "Positive DISCIPLINE." This article is mainly about the negative effects of suspension and expulsion and other positive ways to discipline students. A study found that one million secondary students determined that practices of individual administrators all other causes related to high suspension rates, including race, culture, economics and district policy (CSG Justice Center, 2011.) On top of this, they found that students with disabilities make up more than half of all suspensions. The thought behind suspension is that a student is removed from school for a limited time who was seen as a threat or disruption and that the student will then change his behavior or drop out of school.
But this suspension could lead to many consequences such as less opportunity to learn and graduate from school, increased unsupervised time to create obstructive activities, reduced job opportunities, the opportunity to associate with youth who are also unsuccessful in school, and more. This is a disadvantage to all children but especially children with disabilities. Many schools have a rule where if you are suspended once and another incident happens you are then expelled. Because more than half of these children have disabilities this means that they are not able to receive an education that they need. Positive discipline requires that teachers are prepared with structures and formats to help children mature socially and emotionally.
This third article I read is titled "Culturally Responsive Strategies to Support Young Children With Challenging Behavior." This article is based on a preschool classroom with a student named Miles who exhibits challenging behaviors. It explains the five culturally responsive strategies that encourage positive teacher relationships with students and decrease challenging behaviors. The first strategy the article suggests is that you learn about the children and families. Teachers can use this information to support the child's social and emotional change in the environment. The second strategy is to develop and teach expectations.
These expectations should be connected to the child's way of life and should consistently be encouraged to prevent challenging behavior. The third strategy is to develop empathy and teach it. Teachers can do this by creating lessons and activities that relate closely to respect, kindness, compassion, responsibility, and more. The fourth strategy is perspective-taking. This can be defined as the capacity to understand another's thoughts, feelings, or internal states (DeBernardis, Hayes & Fryling 2014). The last strategy is using group time to discuss conflicts. This will promote inclusion instead of exclusion.
This last article is titled "Understanding Challenging Behaviors of Students With Autism Spectrum Disorder in Physical Education" The other articles I read were about challenging behaviors in the overall school setting while this is relating to a specific subject. The article explains that most children with Autism Spectrum Disorder (ASD) present challenging behaviors such as aggression, self-injury, class disruptions, and more. Physical education can be a hard class for children with ASD due to various colors, shapes of equipment, peers running and talking loudly, and teachers' commands which all can cause sensory overload. This article suggests strategies to minimize the challenging behaviors that might occur. For example, if the challenging behavior is due to a sensory overload the teacher can resolve this by covering distracting objects, or be conscious to the noise level.
Conclusion
My topic was strategies to help children with challenging behaviors. The articles I researched included what challenging behaviors are and many examples of them. It also included why these children are displaying these behaviors and many strategies to minimize these challenging behaviors inside and outside the classroom. After researching this topic I feel I will be prepared to deal with this problem in the classroom and know exactly how to handle it.
Related Topics