Southern Idiom of Zora Neale Hurston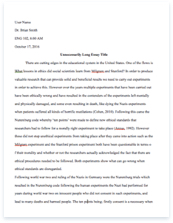 The whole doc is available only for registered users
A limited time offer! Get a custom sample essay written according to your requirements urgent 3h delivery guaranteed
Order Now
Zora Neale Hurston, scholar, novelists, folklorist, and anthropologist, was a major figure of the Harlem Renaissance. Her writing career elaborated the rich black vernacular from her southern upbringing and also of her anthropology training from the prestigious Barnard College (Slawson 209). Hurston grew up in Eatonville, Florida. It was one of the first all-black towns to be formed after the Emancipation Proclamation in 1863, and is thought to heavily influence and inspire Hurston's writings (Wall 380). The death of her mother when she was only nine marked a turning point that redirected her life ("Hurston, Zora Neale" 527). She ended up landing a job working as a wardrobe girl with a Gilbert and Sullivan repertory theater company (Wall 382). After separating from the touring group Hurston began working her way through school by pure determination. She attended high school at night in Baltimore, focusing on English and then she eventually was accepted and started attending Howard College. It was there that she began to realize the literary potential to develop the cultural surrounding and the artistry of the folktales that would launch a remarkable career as a creative writer ("Hurston, Zora Neale" 527).
Hurston arrived in Harlem in 1925, the peak of the Harlem Renaissance; however she had no problem settling in and finding her place among the elites. During the 1920's, it was by no means an easy time for a single black woman to establish herself as a writer, most black women were employed as domestic help or store clerks. She must be seen as "living against the grain" and her "ideals and standards of traditional womanhood" were tremendously different at that time for both black and white women ("Hurston, Zora Neale" 527). Upon her arrival, she immediately became an active participant with painters, musicians, sculptors, entertainers, and writers who all gathered from around the country to participate in Harlem's zenith crusade of black arts (McKay 1084). Additionally, she studied at Barnard College under the supervision of the renowned anthropologist Dr. Franz Boas. She became the first African American women to graduate in 1928 and at a nontraditional age of 37 with a B.A. ("Hurston, Zora Neale" 528)
Furthermore, Dr. Franz Boas and Mrs. Osgood Mason, who sponsored Hurston's fellowship, helped stimulate Hurston's anthropological interests allowing her to have a completely different analytical approach on the black culture (McKay 1085). This allowed her to stand out among black writers of her time and was also able to be an innovative participant in the cultural movement of the Harlem Renaissance. Some of her closest friends she worked with include Carl Van Vechten, Locke, Langston Hughes, and Wallace Thurman (Wall 382).
Hurston studied the rich folk culture of her own hometown. She believed "that despite slavery and its resulting social inequality, African-descended people retained and continue to pass down folktales" and she wanted to contribute the southern culture of blacks into cultural anthropology. Hurston's writing embodies storytelling as a distinct culture marker of the communities she has studied (Slawson 210). Many of her Renaissance contemporaries accused Hurston not confronting issues of race and politics that they dedicated themselves to exposing (Wall 382).
Reviews of Hurston's books in her time were mixed. White reviewers praised her for the richness of the language but were unable to further understand the depth. Black critics thought she focused on positive aspects of black folk's life and left out the racial conflicts in her work (Slawson 1084). Her books did not sell substantially for her to make a living. Hurston spent her last years in Florida where she worked as a librarian, newspaper freelancer, substitute teacher, and maid. On January 28th, 1960, the once-famous Hurston died penniless and was buried in an unmarked grave (Wall 383).
Alice Walker revived the interest in Hurston in 1975 from her publication "In Search of Zora Neale Hurston" in Ms. Magazine. Walker, traveled to Florida to find her grave and place a gravestone that read "Zora Neale Hurston, A genius of the South, Novelist, Folklorist, Anthropologist, 1901-1960" ("Hurston, Zora Neale" 211). Hurston's most famous novel "Their Eyes Were Watching God" was recognized by all women scholars as being the first black feminist novel. In 2005, the novel was made into a movie starring Academy Award-winning Halle Berry (McKay 1085).
Hurston held proudly a passion for commitment in preserving the African American folk culture. She was able to challenge the literary, social science and social conventions during her time. The way Hurston has defied social conventions, she had been able to preserve the black culture and to have brought a more "lighten perception towards black language" in a manner that has yet to be replicated to this day ("Hurston, Zora Neale" 528).
The Downhill Battle of the Southern African-American Farmers By 1910, African-American farmers were able to obtain 15 million acres in the United States due to the equality establishments that took place after the Emancipation Proclamation of 1863 and the ratification of the 13th amendment (1). Ever since they obtained the land, the African-American farmers faced a downhill battle of keeping the land they rightfully owned. In the South, segregation was enforced despite the equality laws (3). Segregations only facilitated a growing resentment from the whites towards the blacks, which led to lynchings and other hateful crimes towards the African-Americans (2). By 1930, approximately 1 million African-Americans moved to the North for more opportunities to live better. The Great Depression in 1929 had hit the South long before the stock market crashed. Through the process of the 1910's and 1920's, the African-American landowners and farm tenants slowly lost their land (3). The cotton the prices spiraled down and with the pressure of racism that the African-Americans had faced, on top of other obstacles, like the majority of black-owned banks that closed down, led most of the farmers to move up North.
The ones that stayed only faced more obstacles on trying to keep their land (3). Government relief programs were developed for all farmers during the Great Depression. In spite of this, these programs were systematically set up to discriminate specifically towards African-American farmers (4). The government programs that President Theodore Roosevelt implemented allowed opportunities for all farmers to receive tax credits from the Federal Farm Loan Act, the Agricultural Adjustment Administration and the Federal Emergency Relief Administration, but these opportunities were granted priority for the White Farmers rather than African American Farmers (4). The only rationale reason for this treatment that the Whites was that "Black Farmers could survive on less" (5). Then in 1937, African-American farmers were given a small window of opportunity to make loans. Once again, this allowed African-American farmers to purchase small farms. Nevertheless, this only created new obstacles for them (6). As every acre gained, thousands were lost to heir and property laws. More blacks continued to move north. To this day Lawyers, large landowners and developers used tax and property laws as their new weapon to return black land to white control (6).
Work Cited
HOMECOMING… SOMETIMES I AM HAUNTED BY MEMORIES OF RED DIRT AND CLAY. Dir. Charlene Gilbert. California Newsreel, n.d. Transcript. PBS. PBS. Web. 28 Jan. 2013. <http://www.pbs.org/itvs/homecoming/pdfs/homecoming_history.pdf>. "Hurston, Zora Neale." International Encyclopedia of the Social Sciences. Ed. William A. Darity, Jr. 2nd ed. Vol. 3. Detroit: Macmillan Reference USA, 2008. 526-529. Gale Virtual Reference Library. Web. 10 Jan. 2013. McKay, Nellie Y. "Hurston, Zora Neale." Encyclopedia of African-American Culture and History. Ed. Colin A. Palmer. 2nd ed. Vol. 3. Detroit: Macmillan Reference USA, 2006. 1082-1085. Gale Virtual Reference Library. Web. 10 Jan. 2013. Slawson, Jayetta. "Hurston, Zora Neale." Encyclopedia of African American History. Ed. Leslie M. Alexander and Walter C. Rucker. Vol. 1. Santa Barbara, CA: ABC-CLIO, 2010. 209-212. Gale Virtual Reference Library. Web. 10 Jan. 2013. Wall, Cheryl A. "Hurston, Zora Neale (1891–1960)." African American Writers. Ed. Valerie Smith. 2nd ed. Vol. 1. New York: Charles Scribner's Sons, 2001. 379-391. Gale Virtual Reference Library. Web. 10 Jan. 2013.
Related Topics