Socio-cultural Context can Play a Critical Role in the Prevention and Control of Malaria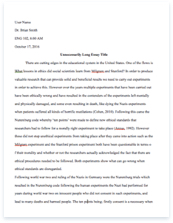 The whole doc is available only for registered users
A limited time offer! Get a custom sample essay written according to your requirements urgent 3h delivery guaranteed
Order Now
"KAP" study measures the Knowledge, Attitude and Practices of a community. It serves as an educational diagnosis of the community. Environmental factors and behavioural patterns of vectors and human populations combine to provide favourable conditions for malaria transmission. The community's socio-cultural context can play a critical role in the prevention and control of malaria. However, misconceptions about the cause and transmission of malaria still persist (Hausmann et al., 2003). Efficacy of the control plans is often influenced by the cultures related to beliefs and practices of malaria (Adera et al., 2003). For the operations of the effective interventions that are sustainable and culturally suitable, local awareness and perception related to malaria are vital (Vijayakumar et al., 2009).
Several research studies have shown that sufficient knowledge about malaria among a community enables the practice of preventive and control strategies (Hlongwana et al., 2009). The inability of programs to attain sustainable control is often contributed by the failure of considering the community's knowledge, attitude, and practice (Tyagi et al., 2005). In general, KAP surveys can be used to improve the design of community-based malaria control programs and help identify indicators of program effectiveness (World Health Organization, 2011). For the identification and targeting susceptible populations and confirming effective implementation and strengthening of malaria control efforts, It is important to understand that who has awareness on malaria, its prevention and has adopted the preventive measures for avoiding mosquito bites and malaria (Adongo et al., 2005).
Earlier studies on knowledge, attitude and practices related to malaria have verified that direct interaction with the community plays a significant role in the spreading of malaria (Mazigo et al., 2010). The awareness of the community about malaria, its cause, identification of symptoms, its treatment and preventive measures are often ignored in control efforts and it varies on the community levels and among the individual households also (Deressa et al., 2003; Rodriguez et al., 2003). For the establishment of epidemiological and behavioural baselines, and to recognise indicators for monitoring programmes, KAP studies are suitable to design and progress malaria control activities (Schultz et al., 1994).
Previous studies have reported that knowledge of aetiology, symptoms and treatment of malaria is generally poor, and self-treatment and delaying of malaria treatment are widely practised throughout the world (Booth et al., 2001; McCombie et al., 1996). Despite the high prevalence and awareness of malaria in rural communities, there are still some misconceptions about its transmission and prevention. Studies have revealed that from various regions of the world, people residing in rural areas have a good recognition of the threat of malaria, but their understanding and practices concerning health behaviour are poor (Williams et al., 2004). There is a requirement for imparting health messages towards inadequately educated people in order to empower them with the awareness and means to recognize and accomplish their health-related problems (Ibidapo et al., 2005).
Related Topics