Social Work Student's Perspectives on the Decriminalization of Marijuana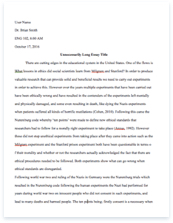 The whole doc is available only for registered users
Pages: 3
Word count: 683
Category: Hiv
A limited time offer! Get a custom sample essay written according to your requirements urgent 3h delivery guaranteed
Order Now
South Africa recently joined a number of countries such as Canada, America, Netherlands and Portugal by decriminalizing the personal use of marijuana (Minister of Justice vs Prince, 2018). Up until 18 September 2018, the consumption of marijuana in South Africa has always been illegal and in some instances it carried a long prison sentence such as in the case of Mr Hennings who was sentence to 12 years in prison on his criminal trial for the possession of weed (Child, 2017). It was the case of Mr Gareth Prince Vs the Minister of Justice that eventually led to the decriminalization of marijuana in South Africa after he protested he's right to be a Rastafarian and also practice religious freedom just like any citizen in South Africa (de Villiers, 2018). Loosely translated, the word 'Decriminalization' can be defined as a system that punishes offenses by means of alternative sentencing to imprisonment or incarceration (Rolles, 2012). In the case of marijuana it is usually limited to possession and growth of small quantities (Drug Policy Forum of Texas May, 2011).
This move elicited different reactions from South African citizens at large, one part of the nation felt that this was an unfavorable move and it could have adverse consequences on the nation's long term viability such as the increased criminality and high rates of unemployment, while the other group felt appeased by it, as it served to liberate the freedoms of the people, case in point – being the case of Rastafarians who cultivate weed for religious purposes (Gwala, 2018).
Marijuana, also known as weed, dagga, pot, ganja and cannabis to name a few, is a psychoactive drug derived from the cannabis plant that is used for medical purposes and recreational purposes as well (Sunday Times, 2018).
Medical marijuana is said to have a lot of benefits, for one, people with HIV/Aids, medical marijuana is used to induce a healthy appetite, while those suffering from multiple sclerosis or any form of illness where they suffer from severe pain, medical marijuana is used to reduce pain and avoid the use of Opioids (Myhre & Sifris, 2018) . According to Cavalet (2016), medical marijuana is used to stop the effects of chemo-therapy in cancer patients. Medical marijuana is also known for its anti-anxiety and anti-inflammatory properties and may also be used by patients suffering from sleep disorders (Cavalet, 2016).
Looking at the negative implication of marijuana, the findings by Dr. Peter Gates (2018) hold that regular use of weed is associated with high levels of unemployment and criminality. His study found out that heavy smokers end up being unemployable and this results in them engaging in criminal activities in search of better life. Dr David Hall-Flavin's (2017) study discovered that there is a correlation between marijuana and depression. For people with mental conditions, it was discovered that smoking weed actually aggravates their condition (Hall-Flavin, 2017).
The subject of decriminalization of marijuana is of paramount importance to the profession of social workers for one, we are dealing with a social issue. The key critical issue here is that this subject is a social issue of which social workers must have an opinion in the matter since our profession deals with social issues such as unemployment, crime and depression that may result from the use of marijuana. Social workers are part of policy making bodies in the nation, therefore our opinions do matter (Clark, 2013).
For social work students, it's very much important to get their views on this particular matter especially since they are prospective social workers. According to Stats in the United States of America Lourier (2008) maintains that at least 84% of the public believes that weed should be used for medical purposes while 61% believes it should be used for recreational purposes.
We would want to know how they feel about the government's decision to decriminalize this substance that according to statistics have adverse long term repercussions for the nation at large and as far as campus is concerned we want to get their perspectives on whether they think that the university should allow marijuana to be used on campus for private cultivation.
Related Topics