Social Responsibilities of Advertisers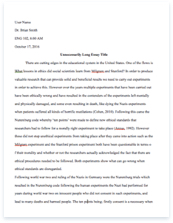 The whole doc is available only for registered users
A limited time offer! Get a custom sample essay written according to your requirements urgent 3h delivery guaranteed
Order Now
Every advertiser must remember that products and the method in which they were advertised produce a profound impact on the psychological domain of the targeted consumers. Some of the social responsibilities they should consider are the following: body and self-image problems, sex in advertising, and advertising controversial products.
The issue about whitening creams and slimming products mushroomed due to the demand of women to look whiter and sexier. The problem with this is that the advertisers implicitly tell the audience that being white and sexy is beautiful. This undermines the color of other races and particularly shifts the glory aspect to some races who are white. This is demanding on the part of teens who could go all the way to rejecting their cultural and racial history for a rather bended and curved truth. Furthermore, the problem with anorexics has steadily grown over the years, especially also with teens, and many studies show that it is correlated with the rise of commercials pertaining to slimmer bodies. The effect of such advertisements is evident on how teens see themselves in the light of the commercials shown on TV. Examples of whitening and slimming product advertisements are Nivea Whitening Body Lotion and Xenical.
Sex has been largely used in various advertisements to cater to this particular human drive for attention and association. For instance, in a Samsung advertisement, ladies in lingerie play with a soccer ball. The ad hopes to associate the "beautiful performance" to the TV. The problem with this is that children, or non-targeted audience, see the publicity and make an incomplete picture about the topic. Early but limited exposure to such controversial topics contributes to rather hazy and vague interpretation of sex among children. This might lead to early unprotected sex, a concern even to the lawmakers of the time.
Controversial products such as alcoholic beverages and cigarettes did not evade the eyes of the lawmakers. Indeed, certain laws have been passed to control the medium in which these products are advertised. Certain warnings are needed such as "Cigarette smoking is bad for your health," and "Avoid drinking while driving." Examples of these ads are San Miguel Beer and Marlboro cigarette.
Related Topics