Soaring Fuel Prices Ground Airlines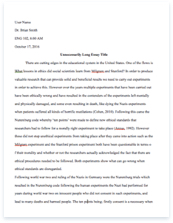 The whole doc is available only for registered users
Pages: 5
Word count: 1229
Category: Oil
A limited time offer! Get a custom sample essay written according to your requirements urgent 3h delivery guaranteed
Order Now
As a married man with 3 children ages 10, 5, and 3 I'm faced annually with the question of where to spend our family vacation. We like swimming, the sun, and the beach. Who doesn't, right? So we start to chart possible locations referencing school schedules, work schedules, and whether the grandparents are going to meet us. This all sounds good until I remember that I live in Cincinnati, OH and the closest ocean or swimmable beach is at best 10-12 hours away. Driving this is not necessarily an attractive option considering the 3 kids, and a car load full of items to keep their interest away from killing one another.
However, the sad truth is that it's our only realistic option. With airlines ticket prices soaring upward like a 747 with a tailwind, our only options are driving to our destination or taking the ever popular "stay-cation". You see, airlines are directly affected by fluctuating oil prices in the form of increased operating costs in fuel charges, less passenger disposable incomes and the result of increased competition caused by the Airline Deregulation Act of 1978.
Airlines saw annual revenue and operating costs grow from 1950 to 1970 as a result of more flights and a stable market environment. In 1973 the oil crisis, as a result of the Arab Oil Embargo, quadrupled crude oil prices. And oil prices continued to increase over time. They rose increasingly from 1974-1982. With more competition and less demand, operating costs soared and profit margins dwindled. Expanding airlines saw their rapid boom eclipsed by massive debt and unsustainable growth. At the same time Americans saw a reduction in disposable income. Oil remained a focus for airlines as American demand for gasoline expanded from 1985 to 2009. When oil reached an average annual all-time high of $92 a barrel, in 2008, passenger loads for all airlines were greatly reduced. Passengers were flying less as a result of less disposable income.
The airline industry will always be affected by the price of oil, because jet fuel is a product of the oil refining process. Fuel budgeting can reflect over 50 percent of airlines operating costs. Fluctuations in fuel prices are going to have a direct affect on the bottom line profitability of any airline. As a result, airlines were forced into finding new revenue streams. They began to impose new checked baggage fees and fuel surcharges to particular destinations. Today, baggage fee revenues for all airlines average in the billions of dollars. These fees remain in effect, as airlines fear future oil price instabilities, in spite of passengers' negative reaction.
A SWOT analysis – a review of strengths, weaknesses, opportunities, and threats – is a core requirement of any organization, and essential to understand any industry. The volatile airline industry is no exception. While individual airlines each analyze and make decisions based on their own situations, there are overall industry similarities that all airlines face, with each endeavoring to maximize strengths and opportunities while minimizing weaknesses and threats. Strengths
A major strength of any airline is the product itself – air travel. Despite downturns, over time air travel continues to grow, not only due to population growth, but also due to an increased propensity to fly. Another strength is the safety record, and the associated public acceptance of air travel as both a fast and safe way to travel. Both traditional, brand recognized airlines and new low cost carriers share this strength. Airline staff is highly trained and experienced, from pilots and flight attendants to mechanics and ground staff. Businesswise, airlines have the ability to segment the market, even on the same routes. This allows airlines to establish different levels of service and make associated pricing decisions. Weaknesses
Airlines have a high "spoilage" rate compared to most other industries. Once a flight leaves the gate, an empty seat is lost and non-revenue producing. Aircraft is expensive and requires huge capital outlays. The return on investment can be different than planned. Large workforces spread over large geographic areas, including international points, require continual communication and monitoring. This can be exacerbated during operational irregularities, such as bad weather. While the business climate can change quickly, airlines have difficulty making quick schedule and aircraft changes due to leases, staffing commitments and other factors. Opportunities
Airline market growth offers continual expansion opportunities for both leisure and business destinations. This is particularly true for international destinations. Technology advances can result in cost savings, from more fuel efficient aircraft to more automated processes on the ground. Technology can also result in increased revenue due to customer-friendly service enhancements like in-flight Internet access and other value added products for which a customer will pay extra. Link-ups with other carriers can greatly increase passenger volumes. By coordinating schedules, airlines can offer service to destinations via a code share agreement with a partner carrier. Threats
A global economic downturn negatively affects leisure, optional travel, as well as business travel. The price of fuel is now the greatest cost for many airlines. An upward spike can destabilize the business model. A plague or terrorist attack anywhere in the world can negatively affect air travel. Government intervention can result in new costly rules or unexpected new international competition. Executive Summary
When reviewing industry SWOT analyses, we should take note that each airline will approach the analysis differently. For instance, an airline that "hedged" fuel purchases will find a fuel price increase much less of a threat than an airline that must purchase fuel on the open market. Fuel prices have a profound effect on the airline industry. Much of an airline's pricing and cost structure is based on fuel being available at a certain price. If the price changes then airlines must make drastic adjustments. The drastic increase in oil prices in the early to mid-2000s devastated airline profits. To generate extra revenue, airlines developed fees for previously free items such as checked bags, blankets and food.
Another result of the rising fuel prices was a decrease in the total number of flights on its schedules to conserve fuel and raise the "load factor," or the number of paying passengers per available seat. And it goes without saying, per my opening comments, that higher ticket prices also come as a result of skyrocketing fuel prices – free enterprise and "Capitalism 101" would dictate this as a means to generate more revenue. Despite the reduction in costs by scaling back flights and the revenue generated by increasing prices and fees, airlines still saw record losses during the early to mid-2000s as a result of rising fuel prices.
Fuel prices have dropped dramatically as a result of the global recession of the late 2000s and early 2010s. Despite the recession, many airlines have returned to profitability, in large part due to cheaper fuel prices. Despite the decrease in fuel costs, airlines have maintained their fees on previously free items and reduced flight schedules. And, as a result, my family and I will still be driving 12 hours to North Myrtle Beach, NC in March.
References
Castagna, E. (2008). High fuel prices change the trucking landscape. Business Credit, 110(7), 34-35. Retrieved from http://ezproxy.bellevue.edu:80/login?url=http://search.proquest.com/docview/230135463?accountid=28125 Essentials of Capitalism, VOPP (Voice over PowerPoint) by Dr. Hewlett Westnedge, Elias "How Have Fuel Prices Affected the Airlines Industry?" http://www.ehow.com/facts_6723953_fuel-prices-affected-airline-industry_.html
Related Topics