Side Effects From Taking Insulin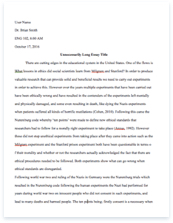 The whole doc is available only for registered users
A limited time offer! Get a custom sample essay written according to your requirements urgent 3h delivery guaranteed
Order Now
Common side effects of insulin are hypoglycemia, weight gain, fluid retention, and lipodystrophy. Lipodystrophy can be avoided by rotating injection sites (Chaudhury, et al., 2017). Hypoglycemia is defined as "all episodes of abnormally low plasma glucose that expose the individual to potential harm" (Seaquist, Anderson, Child, et al., 2013) and "limits long-term treatment intensification and optimization" (Cryer, 2014). Hypoglycemia can be asymptomatic or symptomatic in which the patient requires extra assistance to administer glucose. Some signs and symptoms of hypoglycemia include dizziness, blurred vision, sweating, tachycardia, and weakness (Chatterjee, Khunti, and Davies, 2017).
A common medical procedure for patients with type 2 diabetes is bariatric surgery (Kashyap, Gatmaitan, Schauer, 2010). Obesity is one of the determinant risk factors for the development and progression of type 2 diabetes (Deshpande, Harris-Hayes, and Schootman, 2008) therefore, it is essential to manage weight as a component of managing diabetes. Bariatric surgery enforces caloric restriction, enhances insulin sensitivity, and increases insulin secretion. There are two common types of bariatric procedures: gastric restrictive and intestinal bypass procedures. Gastric restrictive procedures decrease gastric volume which restricts the patient's intake of calories by initiating satiety. Like gastric restrictive procedures, intestinal bypass procedures also restrict caloric intake. The small intestine is shortened by gastric banding and vertical gastroplasty (Kashyap, Gatmaitan, Schauer, 2010).
Some indications for bariatric surgery are having a BMI over 40 kg/m² and BMI between 35-40 kg/m² with at least 2 obesity-related comorbidities. Bariatric surgery may be warranted if the patient has not been able to lose weight with other weight-loss approaches (Kashyap, Gatmaitan, Schauer, 2010). Some short-term effects of bariatric surgery are bowl anastomosis, hemorrhages, gastric perforation, and pulmonary embolisms. Patient's may experience vitamin deficiencies such as Vitamin A, E, D and B12. Patient's may also experience protein- caloric malnutrition in which patients do not adequately consume protein which leads to edema, hypoalbuminemia, and hair loss (Kashyap, Gatmaitan, Schauer, 2010).
Progression of type 2 diabetes can occur from medication, decline in B-cell function, and the progressive growth of obesity. Pani, Nathan, and Grant (2008), researched that in one year of diagnosed type 2 diabetes, patients who had a HbA1c of greater than 7% needed progression of medications. Studies show that metformin, sulfonylurea, or insulin provided an increase of glycemic control over time. However, over 11 years of usage of metformin, sulfonylurea, or insulin, loss of glycemic control increased. B-cell function declines throughout the disease process and hyperglycemia continues to increase despite treatment. HbA1c is predicted to increase 1% every 2 years even with oral or injectable agents. Therefore, it is vital to implement interventions to prevent the worsening effects hyperglycemia and glucose toxicity (Fonesca, 2009). Those who had an increase in weight gain had a likely chance of progressing into type 2 diabetic complications. Insulin users experienced weight gain over 10 years with the use of sulfonylurea, and when the patients were switched over to metformin and insulin, there was a decrease in weight within the first year (Fonesca, 2009).
Over the past 2 decades, living with type 2 diabetes has been associated with diabetic- related distresses. These distresses include being over-whelmed, concerned, and guilty. Patients feel over-whelmed because of the new lifestyle routine they must adhere to, concerned of the possibility to develop complications resulting in death, and guilt when they feel like they are managing their disease poorly. The burden of the disease and distresses may result in poor glycemic control, diabetic-related complications, and impaired quality of life (Ducat, Philipson, Anderson, 2014).
Related Topics