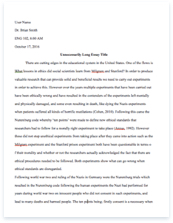 The whole doc is available only for registered users
A limited time offer! Get a custom sample essay written according to your requirements urgent 3h delivery guaranteed
Order Now
Practitioners working with disabled children and young people with specific needs must have a working knowledge of the legislation and guidelines that affect their practice. For the interview, you have been asked to prepare a twenty minute presentation demonstrating your knowledge of the relevant legislation and guidelines for the country where you live and work. Your answer can be submitted using a power point presentation with notes, detailed written notes or any other method you choose.
When working with disabled children and young people with specific needs in England there a number legislations must be followed. The legislations include; The Children's Act 1989
The Children's Act 2004
The Education Act 2002
The Equality Act 2010
Special Educational Needs and Disability (SENDA) Act 2001
The Disability Discrimination Act (DDA) 1995
United Nations (UN) Convention on Rights of a Child 1989
Health and Safety at Work Act 1974
The Children's Act 1989
The Children Act 1989 recognised that the welfare of the child is paramount and set out an overarching system for safeguarding children and the roles different agencies play. It introduced the concept of parental responsibility rather than parental rights. A key principle is that Local Authorities have a duty to provide services for children and their families and all children and young people should have access to the same range of services.
The act is important because it stresses the importance of putting the child first.
The acts states;
What is best for the child must always be first consideration. Whenever possible children should be brought up in their own families. Unless the child is at risk of harm, a child should not be taken from their family without family's agreement. Local authorities must help families with children in need.
Local authorities must work with parents and children.
Courts must put children first when making decisions.
Children being looked after by the local authorities have rights, as do their parents.
The Children's act 2004
Lord Lemmings report, on the death of Victoria Climbie in February 2000, brought into force The Children's Act 2004 which requires all local authorities across England and Wales to set up a local safeguarding children board. This states that each area should promote and safeguard the welfare of children and young people. An assessment is carried out annually to make sure all agencies are working to promote safeguarding and welfare of children. EVERY CHILD MATTERS. All adults wanting to work with children whether it is paid or voluntary must be checked, commonly known has having a criminal record check, which is only done by Disclosure and Barring Service (DBS). This is a merge of The Criminal Records Bureau (CRB) and the Independent Safeguarding Authority (ISA).
The Children's Act 2004 has only 5 outcomes for a child;
Be healthy.
To be safe.
To enjoy and achieve through learning.
Children to make positive contributions to society.
Achieve economic well-being.
The Education Act 2002
This act sets out the responsibilities of the Local Educational Authorities
(LEAs), governing bodies, head teachers and for others working in the schools to make sure the children and young people are safe and away from harm.
The main provisions of the act are;
Power to innovate (sections 1-5)
Earned autonomy (sections 6-10)
School companies (sections 11-13)
Grant-making power (sections 14-18)
Governance (sections 19-40)
School funding (sections 41-45)
Powers of intervention (sections 54-64)
Academies (sections 65-69)
Early years (sections 149-156)
Independent schools (sections 157-174)
Student loans (section 186)
Inter-authority recoupment (sections 206-207)
The Equality Act 2010
The Equality Act 2010 was brought in to replace previous anti-discriminatory laws, to remove any inconsistencies and to make the law simpler and easier to understand. It identifies nine 'protected characteristics' these are;
Age
Disability
Marriage/civil partnership
Pregnancy/maternity
Race
Religion/belief
Gender
Sexual orientation
Gender reassignment.
There have been changes in relation to harassment, victimisation and positive action in relation to all nine 'protected characteristics'.
Anti-discriminatory law has changed mostly in relation to disability with new legislation now covering discrimination by association, perception and indirect discrimination. The law relating to direct disability discrimination now covers access to goods and services and not just work related discrimination.
Under the new Act reasonable adjustments must be made where there is a substantial disadvantage. Service providers are now required to take steps in advance to address barriers that impede disabled people and not wait until a disabled person experiences difficulty before making a necessary adjustment.
Special Educational Needs and Disability Act 2001
The Special Educational Needs and Disability Act 2001 (SENDA) establishes legal rights for disabled students and those with Special Educational Needs (SEN) in pre- and post-16 education.
The Act introduces the right for those students not to be discriminated against in education, training and any services provided wholly or mainly for students, and for those enrolled on courses provided by 'responsible bodies', including further and higher education institutions and sixth form colleges.
This means it is unlawful for responsible bodies to treat a those students 'less favourably' than a non-disabled person for a reason that relates to the person's disability or need. If they become at a 'substantial disadvantage', responsible bodies are required to take reasonable steps to prevent that disadvantage. These might include; Changes to policies and practices.
Changes to course requirements or work placements.
Changes to the physical features of a building.
The provision of interpreters or other support workers.
The delivery of courses in alternative ways.
The provision of material in other formats.
The steps that are reasonable all depends on the circumstances of the case. This will vary according to; The type of services being provided.
The nature of the institution or service and its size and resources. The effect of the disability on the individual disabled person or student.
Some of the factors that might have to be taken into account are;
The financial resources available to the responsible body.
The cost of taking a particular step.
The extent to which it is practicable to take a particular step.
Health and safety requirements.
The relevant interests of other people.
United Nations (UN) Convention on Rights of a Child 1989
The United Nations Convention on the rights of a child 1989 was approved by the UK in December 1991, The Convention says that every child has; The right to a childhood (including protection from harm). The right to be educated (including all girls and boys completing primary school). The right to be healthy (including having clean water, nutritious food and medical care). The right to be treated fairly (including changing laws and practices that are unfair on children). The right to be heard (including considering children's views).
Health and Safety at Work Act 1974
Health and safety legalisation places overall responsibility for health and safety with the employer. However, as an employee working within a school, you also have responsibilities with regard to maintaining health and safety.
All employees have the following responsibilities under the Health and Safety at Work Act 1974; To take reasonable care for the health and safety of themselves and of any person who might be affected by their acts or omissions at work. To co-operate with the relevant authorities (e.g. Ofsted) in meeting safety requirements. To not interfere with or misuse anything provided in the interests of health, safety and welfare. To make themselves aware of all safety rules, procedures and safe working practices applicable to their posts. To ensure that tools and equipment are in good condition and report any defects to the delegated person. To use protective clothing and safety equipment provided and to ensure that these are kept in good condition. To ensure that any accidents, whether or not an injury occurs, are reported to the delegated person. To report potential hazards or any possible deficiencies in health and safety arrangements to the delegated person.
As well as the legislations, listed above, there are a number of guidelines these include; Safeguarding Children
SEN Code of Practice
Practice Guidance for the Early Years Foundation Stage (EYFS) 2012
Safeguarding Children
All education professionals who work with children, young people and families should be able to; Understand risk factors and recognise children and young people in need of support and/or safeguarding. Recognise the needs of parents who may need extra help in bringing up their children, and know where to signpost those to access support appropriate for them. Communicate effectively with children and young people and stay focused on the child's safety and welfare. Liaise closely with other agencies, including other health professionals, and share information as appropriate. Assess the needs of children and the capacity of parents/carers to meet their children's needs. Plan and respond to the needs of children and their families, particularly those who are vulnerable.
Contribute to planning and commissioning support for children who are suffering, or likely to suffer, significant harm. Ensure that children who have been abused or neglected and parents under stress have access to services to support them. Be alert to the strong links between adult domestic violence and substance misuse and child abuse and recognise when a child is in need of help. Where appropriate, play an active part, through the child protection plan, in keeping the child safe. As part of generally safeguarding children and young people, provide ongoing promotional and preventative support, through proactive work with children, families and expectant parents.
Special Educational Needs (SEN) Code of Practice
The SEN Code of Practice provides practical advice to LEAs, maintained schools, early education settings and others on carrying out their statutory duties to identify, assess and make provision for children's special educational needs.
The fundamental principles of the code are;
A child with special educational needs should have their needs met. The special educational needs of children will normally be met in mainstream schools or settings. The views of the child should be sought and taken into account. Parents have a vital role to play in supporting their child's education. Children with special educational needs should be offered full access to a broad, balanced and relevant education, including an appropriate curriculum for the foundation stage and the National Curriculum.
The code is broken down into 10 chapters;
Principles and Polices
Working in Partnership with parents
Pupil Participation
Identification, Assessment and Provision in Early Education Settings Identification, Assessment and Provision in the Primary Phase Identification, Assessment and Provision in the Secondary Sector Statutory Assessment of SEN
Statements of SEN
Annual Review
Working in Partnership with Other Agencies
Practice Guidance for the Early Years Foundation Stage (EYFS) 2012
The Practice Guidance for the EYFS uses four principles these are; A Unique Child – Every child is a competent learner from birth who can be resilient, capable, confident and self-assured. Positive Relationships – Children learn to be strong and independent from a base of loving and secure relationships with parents and/or a key person. Enabling Environments – The environment plays a key role in supporting and extending children's development and learning. Learning and Development – Children develop and learn in different ways and at different rates and all areas of Learning and Development are equally important and inter-connected.
These four important Principles, underpin effective practice in the care, development and learning of young children. Each Principle is supported by four commitments which describe how the Principle can be put into practice.
A Unique Child
1. Child Development – Babies and children develop in individual ways and at varying rates. Every area of development physical, cognitive, linguistic, spiritual, social and emotional is equally important.
2. Inclusive Practice – The diversity of individuals and communities is valued and respected. No child or family is discriminated against.
3. Keeping Safe – Young children are vulnerable. They develop resilience when their physical and psychological well-being is protected by adults.
4. Health and well-being – Children's health is an integral part of their emotional, mental, social, environmental and spiritual well-being and is supported by attention to these aspects.
Positive Relationships
1. Respecting Each Other – Every interaction is based on caring professional relationships and respectful acknowledgement of the feelings of children and their families.
2. Parents as Partners – Parents are children's first and most enduring educators. When parents and practitioners work together in early year's settings, the results have a positive impact on children's development and learning.
3. Supporting Learning – Warm, trusting relationships with knowledgeable adults support children's learning more effectively than any amount of resources.
4. Key Person – A key person has special responsibilities for working with a small number of children, giving them the reassurance to feel safe and cared for and building relationships with their parents.
Enabling Environments
1. Observation, Assessment and Planning – Babies and young children are individuals first, each with a unique profile of abilities. Schedules and routines should flow with the child's needs. All planning starts with observing children in order to understand and consider their current interests, development and learning.
2. Supporting Every Child – The environment supports every child's learning through planned experiences and activities that are challenging but achievable.
3. The Learning Environment – A rich and varied environment supports children's learning and development. It gives them the confidence to explore and learn in secure and safe, yet challenging, indoor and outdoor spaces.
4. The wider Context – Working in partnership with other settings, other professionals and with individuals and groups in the community supports children's development and progress towards the outcomes of Every Child Matters: being healthy, staying safe, enjoying and achieving, making a positive contribution and economic well-being.
Learning and Development
1. Play and Exploration – Children's play reflects their wide ranging and varied interests and preoccupations. In their play children learn at their highest level. Play with peers is important for children's development.
2. Active Learning – Children learn best through physical and mental challenges. Active learning involves other people, objects, ideas and events that engage and involve children for sustained periods.
3. Creativity and Critical Thinking – When children have opportunities to play with ideas in different situations and with a variety of resources, they discover connections and come to new and better understandings and ways of doing things. Adult support in this process enhances their ability to think critically and ask questions.
4. Areas of Learning and Development – The EYFS is made up of six areas of Learning and Development. All areas of Learning and Development are connected to one another and are equally important. All areas of Learning and Development are underpinned by the Principles of the EYFS.
Related Topics